Composer Brian Schober had been vacationing for at least a decade in Ocho Rios, Jamaica when one day he discovered the legendary Rose Hall, a plantation house located outside of Montego Bay. The property turned out to have a fascinating back story dating back hundreds of years. A woman named Annie Palmer once lived there, born in Haiti to English-Irish diplomats. After her parents' death she was raised by her Haitian nanny, who practiced voodoo and taught the little girl the black arts. Annie eventually met and married John Palmer and lived with him at Rose Hall in Jamaica.
Schober told me that the legend goes that Annie Palmer used voodoo to kill her husband and two subsequent spouses. Possessed of an insatiable sexual appetite, she also murdered a series of lovers and rivals, including plantation slaves, in cold blood. Palmer met her comeuppance when one of her former slave lovers used voodoo to kill her during a slave uprising. "Legend has it that she arises each night and prowls around the house and grounds," said Schober.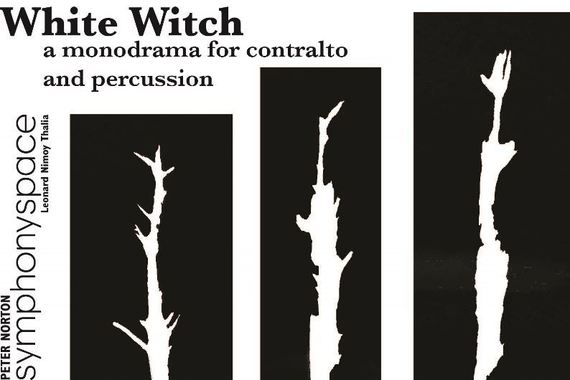 The story of this famous Jamaican legend intrigued him and friends pointed out that it had all the elements of a great opera. Schober subsequently wrote White Witch: A One-Act Monodrama for Contralto & Percussion and found a wonderful librettist, Joan Ross Sorkin, to bring the story to life. With critically lauded director/choreographer Lynn Neuman directing, Schober and Sorkin will present the eerie story of Rose Hall at the Leonard Nimoy Thalia at Peter Norton Symphony Space on Manhattan's upper west side.
The score is suggestively evocative and exotic, both captivating and deeply psychological. Contralto Christina Ascher, who plays the title role, has soloed with the Berlin Philharmonic and the Royal Philharmonic of London. Percussionist Jared Soldivero appears frequently with the Albany Symphony and has also performed with the New York Phiharmonic and the American Ballet Theatre, among others.
Brian Schober's career is long and varied as a composer of vocal and instrumental media, as well as a performer, in the United States and Europe. After studying at the Eastman School of Music and the Paris Conservatory, he received many awards from BMI, the National Endowment for the Arts, The American Music Center and the Aaron Copeland Fund for Music, to name a few.
Librettist Joan Ross Sorkin is an opera librettist, playwright, musical theatre bookwriter and lyricist whose credits include Strange Fruit (Premiere: Long Leaf Opera; Concert: Harlem School of the Arts/New York City Opera; New York City Opera VOX) and The Reef (Center for Contemporary Opera, Prima le Parole, Libretto Slam!) as well as Monet and (mis)Understanding Mammy: The Hattie McDaniel Story (which was nominated for a Drama Desk award for Capathia Jenkins, who played Hattie).
Malinda Crump designed the costumes; her career spans well over a decade for both stage and fashion clients. Crump is also a dancer and choreographer. Video and production design is handled by Gail Scott White, a new media scenographer and animator who creates "Live Movies," a hybrid art form that synthesizes cinematic art with live performances for opera, dance and theatre.
The story of Annie Palmer and Rose Hall is perfectly timed for those who want to start getting into the Halloween spirit a few days early. A Q&A with the artists and members of the creative team will follow the performances on Thursday October 23, Friday October 24 and Saturday October 25. Tickets can be purchased at the box office or online. Seats are $25 for the general public and $15 for Symphony Space members, seniors and students.
REAL LIFE. REAL NEWS. REAL VOICES.
Help us tell more of the stories that matter from voices that too often remain unheard.