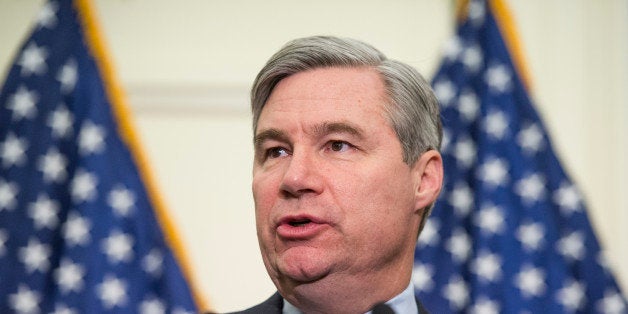 For those who say the government is overburdening businesses with regulations, Sen. Sheldon Whitehouse (D-R.I.) has a proposal.
How about a "regulatory holiday" -- one day where the United States could experience life totally free of regulations, the senator suggested Thursday.
During a speech heavy on sarcastic rhetoric at an event at the Center for American Progress, the senator said this "holiday" would give industries the liberty to do "whatever they wanted."
Companies, Whitehouse said, could "stop making cars with seat belts and airbags." They could "market whatever kind of junk financial products they wanted to and crank whatever inedible product they wanted out of their factories making food products." They could "put whatever junk they wanted to in their pills in the medicine we create and see what the results were," Whitehouse said.
"That, I think, would change everybody's mind very quickly," he said. It would "remind folks how in their daily lives, step by step, they are actually protected, and markets are enhanced and the operation of government is improved by much of regulation."
Whitehouse is among the most vocal members of Congress warning about the environmental threats of greenhouse gas emissions. He also is a proponent of improving oversight of financial firms, and rules regarding the management and disposal of chemicals.
After a chemical spill this month left 300,000 West Virginians without safe tap water for days, surveys found that half of Americans favor tighter regulations to protect public water supplies.
Whitehouse has previously warned that, for years, special interest groups have too much influence over the rule-making at federal agencies, resulting in weaker regulations. He called this "agency capture." A bill he proposed in 2011 would have established an agency to review whether agencies had experienced "capture" and require them to report publicly if an outside group had influenced their rule-making.
While the bill did not advance out of committee, Whitehouse said he continues to push for tougher regulations and expose groups advocating for deregulation of certain industries.
"You put some of these organizations up and you look behind them and ... they're all funded by the same organizations and I think a little bit more of a spotlight on the machinery that spews the mythology might help us debunk some of that mythology," Whitehouse said.
Popular in the Community