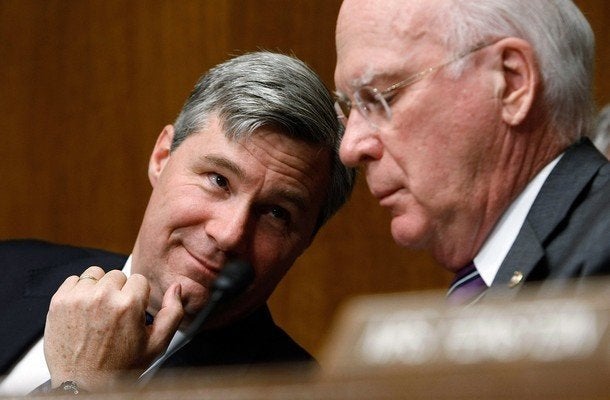 For the most part, Monday's hearing for Judge Sonia Sotomayor avoided political debate. But when it came time for Sen. Sheldon Whitehouse (D-R.I.) to begin his opening statement, he didn't shy away from discussing what was on everyone's mind.
The two selections by a Republican president have resulted in a more conservative Supreme Court, Whitehouse noted.
As long as Whitehouse has broached the subject, perhaps it is time to take a look at the old canard of activist judges only being liberals.
The "umpire" analogy is belied by Chief Justice Roberts, though he cast himself as an "umpire" during his confirmation hearings. Jeffrey Toobin, a well-respected legal commentator, has recently reported that "[i]n every major case since he became the nation's seventeenth Chief Justice, Roberts has sided with the prosecution over the defendant, the state over the condemned, the executive branch over the legislative, and the corporate defendant over the individual plaintiff." Some umpire. And is it a coincidence that this pattern, to continue Toobin's quote, "has served the interests, and reflected the values of the contemporary Republican party"? Some coincidence.

For all the talk of "modesty" and "restraint," the right wing Justices of the Court have a striking record of ignoring precedent, overturning congressional statutes, limiting constitutional protections, and discovering new constitutional rights: the infamous Ledbetter decision, for instance; the Louisville and Seattle integration cases; the first limitation on Roe v. Wade that outright disregards the woman's health and safety; and the DC Heller decision, discovering a constitutional right to own guns that the Court had not previously noticed in 220 years. Some "balls and strikes." Over and over, news reporting discusses "fundamental changes in the law" wrought by the Roberts Court's right wing flank. The Roberts Court has not kept the promises of modesty or humility made when President Bush nominated Justices Roberts and Alito.

So, Judge Sotomayor, I'd like to avoid codewords, and look for a simple pledge from you during these hearings: that you will respect the role of Congress as representatives of the American people.
Whitehouse wasn't the only senator on the committee to use Roberts as a benchmark by which to evaluate Sotomayor. And while he may have been blunter than his fellow members, he certainly wasn't the only one to address the political subtext of the Supreme Court confirmation candidly. As a Democratic operative pointed out, Sen. Lindsey Graham (R-S.C.) also left subtlety at the door in his opening statement.
"The Hispanic element of this hearing is important, but I do not want it to be lost," Graham said. "This is mostly about liberal and conservative politics more than anything else."
Popular in the Community