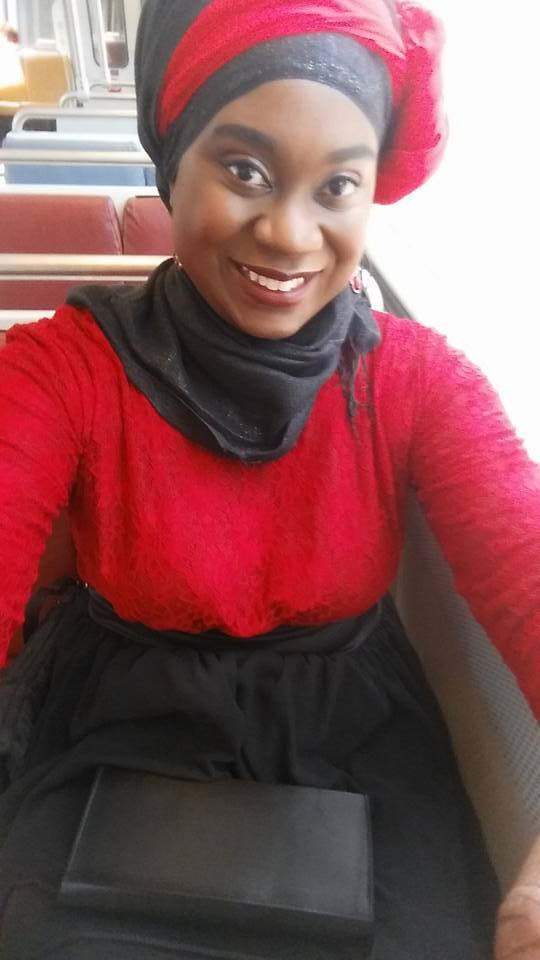 On Thursday, July 21st, 2016 I had the pleasure to visit The White House and shake the hand of President Barack Obama. I remember back when I was a college student in 2008 as I waited anxiously with my peers for the results of the 2008 election. When it was announced that President Obama won, cheers of sheer joy and ecstasy ensued. We ran outside of our dorms, spilling into the courtyard, celebrating, beating on drums and hugging each other. John McCain supporters looked down solemnly from their dorm windows watching us show out below. We were a part of history! Someone who looked like me was going to the Oval office. I felt like I was living in a dream and if someone pinched me I would jolt awake. An African American Man was going to lead our Nation. I really thought a new leaf was turning in regards to racism and a new America lay at our footsteps.I said to myself, it would be such an honor to meet him.
When I received the invitation to attend The White House Eid celebration, I thought, this must be a mistake. They definitely must have sent this to the wrong person. I re-read the invitation and yes, my name was typed clear as day. I literally fell to the floor. My mind raced back to that moment in the courtyard 8 years ago. My dream was finally coming true.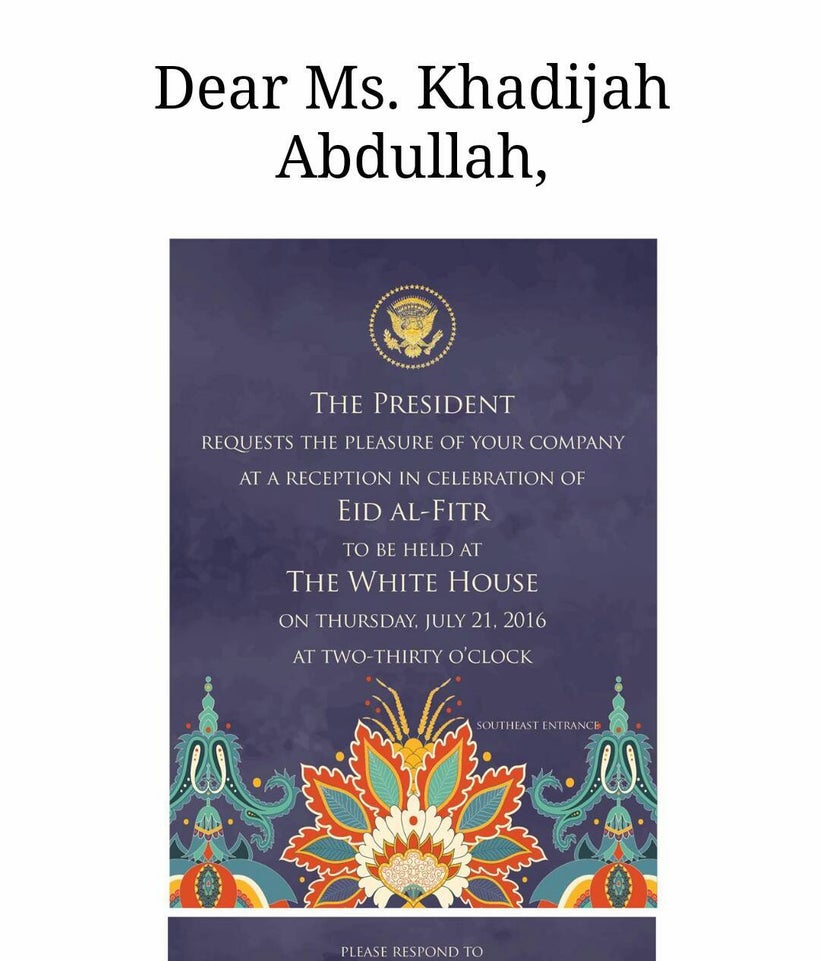 At the Celebration I was among a crowd of at least 400 activists, change makers, and influencers. I felt so honored and humbled to be among this crowd of pioneers and asked myself once again, how did I get here? Any minute now, secret service is going to tell me "Sorry Miss, we didn't mean to invite you" and escort me out. I kept peeking over my shoulder just in case. But that didn't happen. Instead I met amazing people like Linda Sarsour, Rabia Chaudry, Bilqis Abdul-Qadir, Husain Abdullah, Dr. Su'ad Abdul Khabeer, Margari Hill, Donna Auston, Faisal Alam, Ibtihaj Muhammad, Jaha Mapenzi Dukureh, Muhammad Ali and Malcolm X's daughters and the list goes on. I went selfie crazy! This moment in history would never repeat itself and these memories I wanted to capture forever.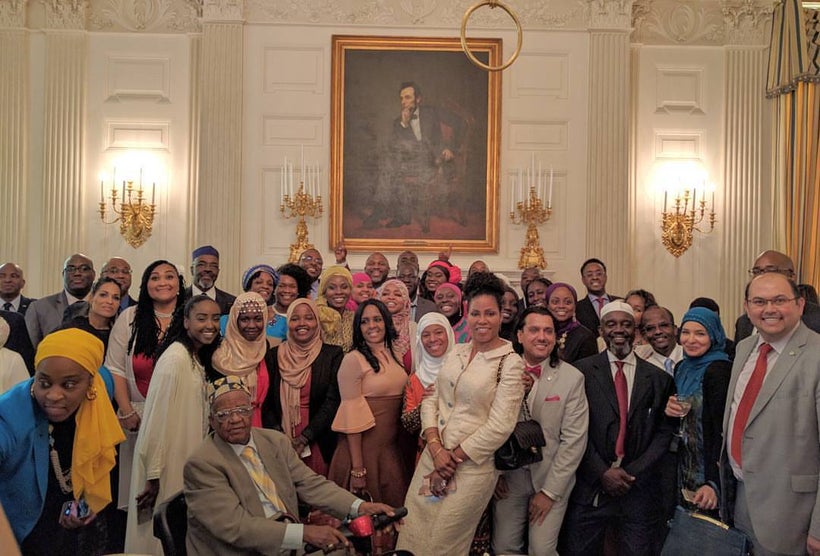 I eventually found my way to the area where President Obama would speak. A small crowd had already gathered and I ended up standing in the third row. I stood there for about 2 hours and crowd continued to grow until a sea of people surrounded me. But I was in front, I would get to see him up close and standing was well worth the wait. When President Obama came out, I felt my excitement build like I was at a music concert. A smile immediately took over my face. Here he was!. In the flesh! President Obama! The sea of Muslims around me cheered and he began. When he finished his speech, to my surprise he came off the stage and started shaking hands. The crowd went into a frenzy. When he got to my area, I reached my hand out. I didn't expect him to take it as many others wanted his attention. Then it happened. President Obama looked me right in the eye, smiled and shook my hand. I froze. No words could come out. All the words I told myself I would say didn't happen. I wanted to tell him all about RAHMA and our vision. Nothing. I wanted to tell him about how my life was changed forever when he became President. Nope. I wanted to tell him so much but only a gasp came out. And just like that he moved on to the next person. I didn't have time to capture this moment with a camera, instead it is captured in my mind forever. I met President Barack Obama. I met him and did not say one word.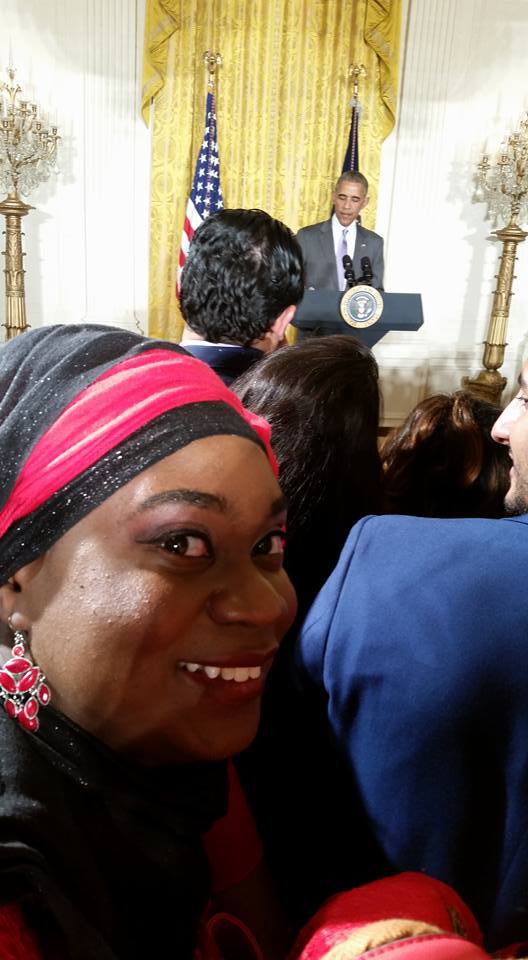 This is an experience I will never forget. Meeting the President, being surrounded by amazing activists, influencers and just awesome people has reinforced the fact that the work we do at RAHMA is important. It sure ain't easy trying to make waves and sometimes the sharks come out, but that is the nature of it all. There were many times I just wanted to give up on RAHMA. I asked myself several times, is it really worth it? I just can't anymore. Is ‪#RAHMA‬ really making a difference? But somehow I kept on pushing. Because I realized it is not about me. It is about the people we serve. The people whose lives we impact. The people we have the potential to reach.
Being around those today who leave their marks in this world has given me the extra kick that I needed. Being invited to The White House is great, but I know there is still a LOT of work left to do and I am ready! Now is NOT the time to stop. I only hope that I can really reach ALL HIV positive Muslims in America and their allies and stop the stigma that so many face. I pray that I stay humble, focused and determined, ameen!
Visiting The White House is indeed an experience I will never forget. It will remain in my memory books for times to come. Even though I had this opportunity, I refuse to lose sight of my real purpose. There are still so many communities who are in need of HIV and AIDS education. There are so many people living with HIV who are still facing stigma daily and do not have the support or love that is needed to thrive. HIV affects all of us. It is not a Gay disease. It is not a They disease. It is an Our disease. Only together we can stand up and combat HIV stigma. I invite you to join RAHMA on our journey as we work hard to make a difference.
Calling all HuffPost superfans!
Sign up for membership to become a founding member and help shape HuffPost's next chapter
This post was published on the now-closed HuffPost Contributor platform. Contributors control their own work and posted freely to our site. If you need to flag this entry as abusive,
send us an email
.