Following the killing of Whitey Bulger in a federal prison in West Virginia, Federal Bureau of Prisons employees say the high-profile gangster should never have been transferred there in the first place.
Hazelton, the U.S. penitentiary where Bulger was sent on Oct. 29 and found dead the next morning, is considered one of the most dangerous federal prisons in the country, which many blame on its understaffing and inmate population.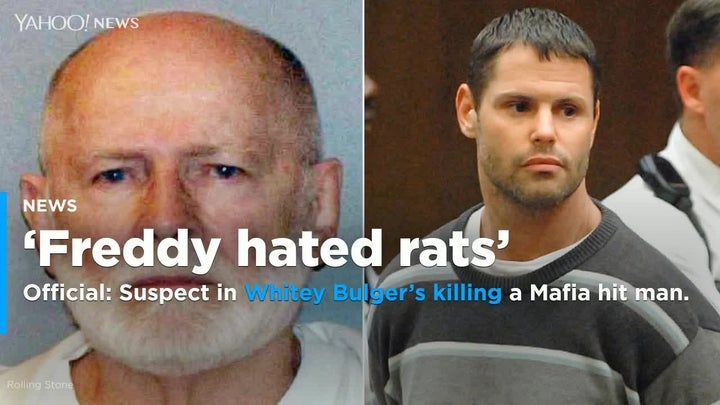 Bulger, who was 89 and in a wheelchair, was beaten to death by fellow inmates, employees told HuffPost. Multiple news outlets have reported that Fotios "Freddy" Geas, who has mob ties, is one of the suspects. Bulger's fame, status as an informant, advanced age and health issues made him a vulnerable target, four prison bureau employees said.
"They screwed up. I don't know who picked Hazelton ― it's one of our most violent institutions," said Joe Rojas, the union president for correctional staff at Coleman, a penitentiary in Sumter County, Florida. Bulger had been incarcerated at Coleman for four years until his transfer to Oklahoma's Federal Transfer Center on Oct. 23 and his subsequent arrival at Hazelton.
"That's the last place you want to send a high-profile inmate," Rojas said of Hazelton.
"Sending him there is like a death sentence. It's like going on death row," he added.
"The administration is directly responsible for Whitey Bulger. You can't run the prisons on the cheap, and that's what we have ― executive staff running prisons on the cheap."
Rick Heldreth, the union president for correctional staff at Hazelton, cited two other murders and estimated there were over 200 violent incidents at the facility so far this year. He said he thinks the violence is only getting worse due to understaffing.
Just five days before Bulger's death, lawmakers including Sen. Joe Manchin (D-W.Va.) sent a letter to Attorney General Jeff Sessions about the staffing issues at Hazelton and other federal prisons in Pennsylvania and West Virginia. They had been raising concerns about Hazelton for the last year, according to Eric Young, the national president of the Council of Prison Locals.
Eleanor Holmes Norton, the nonvoting delegate in Congress for Washington, D.C., also called for an investigation earlier this month into the unsafe conditions at Hazelton.
"Mr. Bulger is a result of the staffing problems of the facility," Young said. "Unfortunately, I truly believe because of the staffing shortages officers can't be everywhere they need to be. And the result is a dead inmate."
Based on documents reviewed by HuffPost, Bulger had been disciplined at Coleman before his transfer for threatening a staff member this spring. But BOP employees said they didn't know why he was ultimately transferred.
The Bureau of Prisons declined to disclose the reason why Bulger was transferred, per BOP policy.
Coleman, unlike Hazelton, is known for being in the "triangle" of safe prisons for someone like Bulger, Rojas said. He explained that Coleman and U.S. penitentiaries in Terre Haute, Indiana, and Tucson, Arizona ― where Bulger resided prior to his transfer four years ago to Coleman ― are considered "drop-out" prisons that provide a safe environment for people who might be targets in a normal prison ― places for "snitches, for high-profile inmates, and for people that drop out of gangs," Rojas said.
Bulger could be considered all three: He had served as an FBI informant, was on the Ten Most Wanted List and informed on gangs.
It's ludicrous anyone would even consider sending Bulger to Hazelton from a prison like Coleman that's within the "triangle," a correctional officer who has worked in two penitentiaries and who requested anonymity to protect his job told HuffPost.
"Our yard is a very violent yard," Heldreth said of Hazelton. "Why he ended up in general population, given his history .… Obviously, the agency knows what type of inmates we house at this facility and their background. It's pretty surprising."
"Him being killed does not surprise me one bit, because of the lack of staffing [at Hazelton] and he's been labeled a snitch," the correctional officer said. "The old saying is 'snitches get stitches and end up in ditches.' I guarantee, whoever killed him, it's a huge badge of honor to take him out."
While no one knows why Bulger was transferred, Rojas believes it may have had to do with friction between the inmate and a female supervisor. According to Rojas, Bulger told the supervisor this spring: "Your day of reckoning is coming."
Prison documents (shared with HuffPost by a staffer who asked to remain anonymous for fear of losing their job) confirm that Bulger was sentenced to 30 days in solitary confinement for threatening staff. Those documents showed that Bulger remained in special housing ― where he only got an hour of yard time and lost all his privileges ― for six months until he was transferred.
But that still leaves questions unanswered. Rojas said an inmate would typically be sent back to regular housing once the 30 days were up. And nothing explains why Bulger was sent to Hazelton after his extended time in the special housing unit.
"The old saying is 'snitches get stitches and end up in ditches.' I guarantee, whoever killed him, it's a huge badge of honor to take him out."
All of the Bureau of Prisons employees HuffPost interviewed also blamed the violence on ongoing staffing shortages at Hazelton ― and federal prisons across the country.
The Trump administration is currently looking to cut up to 14 percent of prison jobs throughout the BOP ― some 6,000 positions ― many of which were already vacant. Cutting positions papers over the decrease in staff, Young and other employees told HuffPost. Those staffing shortages mean that teachers and other prison workers are being called upon to execute correctional officers' responsibilities, The New York Times first reported this summer.
A BOP spokesperson said the staffing levels at Hazelton are commensurate with staffing at BOP prisons across the country. Which is exactly the problem, Young said.
"We've got a serious problem, and it's not only Hazelton ― this is system-wide," Young argued. "The administration is directly responsible for Whitey Bulger. You can't run the prisons on the cheap and that's what we have ― executive staff running prisons on the cheap."
Hazelton is down 77 positions, 42 of them for correctional officers, Hazelton union president Heldreth told HuffPost. Heldreth believes the staffing issues are to blame for the uptick in violence. Since the facility opened in 2004, he said, the prison usually averaged one murder a year, not three. And violent incidents now occur almost daily.
"It's getting worse and worse," Heldreth said. More staff would mean more supervision, more checks on inmates, more chances to stop assaults or confiscate contraband. "I don't want to see anyone else die."
Which is exactly what Young thinks will happen if the staffing levels don't change.
"I can almost guarantee before we turn the new year, there will be other inmates killed at that place," he said. "We've never had this many inmates killed in that short a period of time."
Heldreth says an official told him that staffing levels should return to 100 percent following Bulger's murder, but he says he's heard that before.
"I'll believe it when I see it," he told HuffPost. "I'm hopeful this will have an impact on them and shame them into [doing what] we need to do."
Have a tip? Reach out to Lauren Weber at lauren.weber@huffpost.com.
Popular in the Community