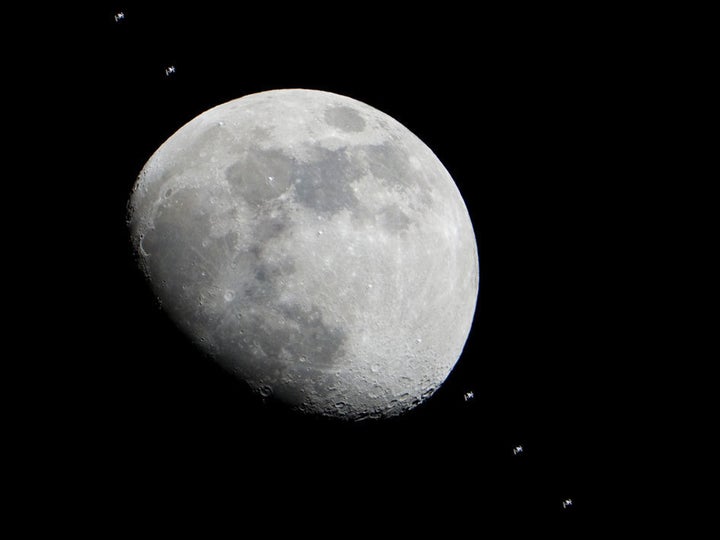 It seems there might be a new space race on, and some people think it's a gas!
But hold on, before we get too lost in star-gazing, I thought we still had a few problems on Earth...
It all brings to mind one of my favorite poems, "Whitey on the Moon," by the late, great Gil Scott-Heron. Though the space program today may look a little more diverse than it did in Scott-Heron's day, and "Whitey" is no longer walking on the moon, or sitting in the Oval Office for that matter, essentially the spirit remains the same, rooted firmly in a European tradition of competitive exploration and conquest in the name of 'expanding horizons' for humankind.
Don't believe me? Just read up on how NASA was founded specifically and exclusively to compete with the Russians. And now that China has announced its own plans for a trip to the moon, and potentially beyond, we can see the fires of competition being stoked, especially since Americans, specifically white men, have held the monopoly on that experience to this point in history. Besides which, having already claimed the New World for our own, we won't stand for anyone else claiming a newer one.
You can bet that "Whitey's" going back to the moon again, and possibly beyond, depending on what the competition does. And it still doesn't make sense to the people struggling at the base of society, no matter what color we happen to be or wish we were.
So with no further hesitation and profound respect for Scott-Heron and his original work, I present both Scott-Heron's "Whitey on the Moon," and my version of/tribute to his brilliant poem, updated for the times, "Whitey on the Moon, Again?"
Whitey on the Moon
By Gil Scott-Heron
A rat done bit my sister Nell.
(with Whitey on the moon)
Her face and arms began to swell.
(and Whitey's on the moon)
I can't pay no doctor bill.
(but Whitey's on the moon)
Ten years from now I'll be paying still.
(while Whitey's on the moon)
The man just upped my rent last night.
('cause Whitey's on the moon)
No hot water, no toilets, no lights.
(but Whitey's on the moon)
I wonder why he's upping me?
('cause Whitey's on the moon?)
I wuz already paying him fifty a week.
(with Whitey on the moon)
Taxes taking my whole damn check,
Junkies making me a nervous wreck,
The price of food is going up,
An' as if all that shit was't enough:
A rat done bit my sister Nell.
(with Whitey on the moon)
Her face and arm began to swell.
(but Whitey's on the moon)
Was all that money I made last year
(for Whitey on the moon?)
How come there ain't no money here?
(Hmm! Whitey's on the moon)
Y'know I just about had my fill
(of Whitey on the moon)
I think I'll send these doctor bills,
Airmail special
(to Whitey on the moon)
Whitey on the Moon, Again?
By Matthis Chiroux
Another vet just blew his life to Hell.
(with Whitey on the moon, again)
The pain he felt was just too real.
(and Whitey's on the moon, again)
Thought he was still patrolling the hills.
(but Whitey's on the moon, again)
And VA didn't help him; they gave him the pills!
(while Whitey's on the moon, again)
And the banks can't seem to get it right.
('cause Whitey's on the moon, again)
No hope for a job unless you can fight.
(but Whitey's on the moon, again)
I wonder why they keep taxin' ME?
('cause Whitey's on the moon, again?)
I already struggle. I live week-to-week!
(with Whitey on the moon, again.)
Rent and bills takin' my whole damn check,
Violent cops makin' me a nervous wreck,
The price of EVERYTHING's goin' up,
And as if all that shit wuzn't enough:
Another vet just blew his life to Hell.
(with Whitey on the moon, again)
The pain he felt was just too real.
(and Whitey's on the moon, again)
Was all that fighting I did those years
(for Whitey on the moon, again?)
Is that why now I can't seem to feel
(for Whitey on the moon, again?)
You know, I think I've had my fill
(of Whitey on the moon, again)
I think I'll send my bills to heal,
C-O-D
(to Whitey on the moon, again)
Popular in the Community