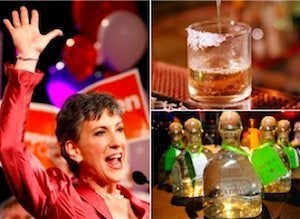 Meg Whitman and Carly Fiorina appeared Friday night at the Hispanic 100 Lifetime Achievement Award dinner and accepted a toast of tequila shots.
The two self-funded political upstarts seeking office in California downed the libations to the smooth musical stylings of a mariachi band before taking the stage.
"Muchas gracias. Muchas gracias. You know I must say this evening has spoiled me forever, I mean from now on, I want to follow Paul Rodriguez [the emcee], I want to follow an incredible mariachi band... and I don't know, I think every speech should begin with a shot of tequila," Fiorina said, before doing her best attempt to show that she could roll her r's.
"I'm with Carly Fiorina, we oughta do more events like this," Whitman said.
Whitman's campaign has reportedly spent millions of dollars in an operation to drum up support from Latino voters. Her efforts included a Spanish-language ad that touted her reluctance to support Arizona's controversial immigration law. But her mission to court Latinos in California was complicated last month when her harsh stance on the employment of undocumented workers was twisted by the revelation that she had employed a Mexican housekeeper who was in the United States illegally. She has claimed that Whitman was aware of her immigration status as early as 2003, but Whitman denies these allegations.
Fiorina's electoral chances may also weigh heavily on the Latino vote, an issue that she has complicated by announcing her support of Arizona's immigration law. The National Organization for Marriage has come to her aid, however, releasing a Spanish-language ad attempting to convince conservative Hispanic voters that she will stand with them on social issues.
Meanwhile, Brave New Films has released a web video that seeks to highlight Fiorina as a self-centered and extravagant former CEO who outsourced jobs while furthering her own personal wealth. Another video from the group has painted her as a Sarah Palin hybrid who will support racial discrimination and the harsh enforcement of deportation.
Watch Carly Fiorina and Meg Whitman take tequila shots:
Popular in the Community