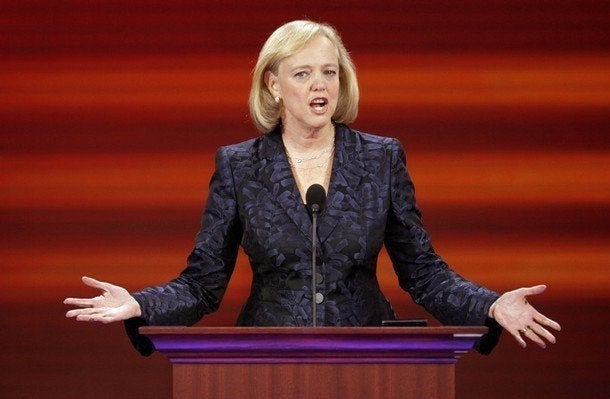 Former eBay CEO Meg Whitman addressed the Republican National Convention.
Like Louisiana Governor Bobby Jindal's rebuttal to President Barack Obama's speech to the joint session of Congress, former eBay CEO Meg Whitman's moves at this past weekend's California Republican Party convention point up the crisis afflicting the Republican Party.
Jindal, in a not quite deer-in-the-headlights debut on the national stage, stuck to the age-old conservative Republican script. Government is the problem, and there's nothing that can't be solved with a tax cut. And getting government out of the way. Including, oddly, dealing with hurricanes and volcanoes.
While Rush LImbaugh -- an early touter of Sarah Palin -- defended the substance of Jindal's message, saying that performance is over-rated, it was all just preaching to the right-wing choir.
Which brings us to Meg Whitman, the former CEO of eBay, touted as a fresh moderate Republican voice on the scene, and her performance in the roll-out of her likely candidacy for governor of California.
Her speech and press conference at the California Republican convention (both of which I filmed), and statements before and after that, left one veteran Republican expert saying "she's joined the Sarah Palin wing of the Republican Party."
Meg Whitman and House Minority Whip Eric Cantor criticize President Barack Obama's program.
She is certainly hugging the hard right rail on the race track. Like another super-rich Republican candidate and putative moderate who may actually be the Republican frontrunner, state Insurance Commissioner Steve Poizner, who made his fortune by coming up with the device that enables the tracking of cell phones.
Whitman appeared with her mentor, former conservative Republican presidential candidate Mitt Romney, and Reagan era education secretary Bill Bennett, at her convention address. For her press conference, she was flanked by Romney and conservative San Diego Congressman Darrell Issa, the controversial car alarm magnate who funded the recall of Governor Gray Davis in 2003.
Whitman ripped into the state budget deal finally arrived at by Governor Arnold Schwarzeneggger, Democratic legislative leaders, and just enough Republican legislators to surmount California's very unusual requirement of a two-thirds vote for passage.
Why? Because it includes temporary tax hikes, along with big program cuts and borrowing against future state lottery earnings.
Rather airily, she declared to the Republican activists that, as a longtime CEO, she could have balanced the budget without any taxes. How? By implementing the recommendations of something called the California Performance Review, something Schwarzenegger initiated in 2004.
In Whitman's account, the state's budget deficit, which was $42 billion deficit over 18 months, could all be made up by new efficiencies contained in the performance review report. But it was shelved by Schwarzenegger, in her telling, under pressure from Democratic special interests. While it's true that various interests were against the project, it fell victim to internal infighting in the Schwarzeneger Administration, with some of Whitman's own folks helping shoot it down.
The performance review was an interesting project, flawed in some ways -- its officials met extensively with corporate executives and lobbyists but not with environmental, labor, or consumer advocates -- yet useful in others. But not even its advocates would claim that it would make up anywhere near that sort of budget gap.
Asked about the state budget deal later at a press conference, Whitman had a different answer. She said that she would have gone after the state workforce across the board, first by doubling the number of furlough days that Schwarzenegger ordered -- which would amount to a 20% pay cut for all state employees -- and then by eliminating 10% of the state workforce.
The reporter who asked that question of Whitman is a fellow named Dan Walters, a veteran conservative columnist first with the defunct right-wing Sacramento Union and now with the Sacramento Bee. An inveterate critic of Democrats such as Jerry Brown and Willie Brown, in the '90s, he touted the idea that Republican Governor Pete Wilson marked the advent of a strong Republican era in the state. It didn't. Notwithstanding his politics, Walters is a realist, and he pointed out to Whitman that those sorts of workforce cuts wouldn't begin to make up the budget gap, asking her again if she knew that most of the state's spending is actually locked down for education and other services that the state workforce does not provide.
Instead of answering Walters' follow-up, she abruptly called on someone else. Which prompted him to say, in a loud voice as she left the room at the end of her press conference: "Ready for eBay, not ready for prime time."
Louisiana Governor Bobby Jindal's rebuttal to Obama bombed, even on Fox News.
Whitman clearly has no interest in crossing the far right ideologues who presently run the state's beleaguered Republican Party, which saw Barack Obama sweep to victory over John McCain in California by a whopping 61% to 37%. Their last gasp priority as a party, as laid out in the banquet address by the California far right's longtime ideological vicar, Congressman Tom McClintock, is opposition to taxes and insistence on a much smaller government. For the state that is the biggest and one of the fastest-growing in the country.
That's why Whitman has been saying for the past few days that she opposes an initiative on the state's May 19th special election ballot to create a state budget spending cap. That is a long-sought goal for many conservatives and moderates in the state.
But Whitman is against it. Why? Because its passage would extend the state's temporary tax hikes for a couple of years. (It's part of a complex calculation to block the state's public employee unions from killing the spending cap, as that would create an immediate revenue crisis and calls for more cuts.)
That's something Schwarzenegger and others came up with to get the deal through.
Again, the no tax hike mantra trumps all else.
When asked, Whitman said she supports the open primary proposal passed by the Legislature as part of the budget deal. That would be in keeping with her touted moderate views.
But actually, she does not support an open primary. When asked at her press conference, she explained that supports an open primary which is not an open primary; namely, the current system which allows independents to choose to vote in a partisan primary.
An open primary, as a knowledgeable politician would know, has all the candidates run together in the primary, with the top two candidates, no matter their party registration, facing off in the general election. As is the case in non-partisan elections for city and county office in California.
Since it turns out that Whitman hasn't voted very often -- because, she says, of her busy job as CEO of eBay -- this may explain her lack of familiarity with how these elections work.
So how then is Whitman a moderate?
Well, she is pro-choice on abortion.
But she came out against California's Proposition 8, the November initiative which knocked out the states new right to gay and lesbian marriage. She says she's against gay marriage because of her religious views.
Which do not extend so far as to cause her to oppose abortion.
Yet she supports the right of gay and lesbian couples to adopt a child.
Whitman says she is strong on the environment, and has a green-colored backdrop on her campaign web site.
But she's for offshore oil drilling and is against California's landmark climate change program, backed by Schwarzenegger. Why?
Well, she says that it would hurt business, in particular, the cement business. In her telling, a cement business located on the border between California and Nevada would never expand again in California. It would expand in Nevada.
But she repeatedly mispronounces the name of Nevada, something which infuriates people in Nevada, as people who spend time there know, and as George Stephanopoulos instantaneously learned when he moderated the first Democratic presidential forum in 2007.
As part of her seeking the favor of the right-wing activist base, Whitman apologized for re-registering Republican in 2007. Prior to that, she was a registered independent, decline-to-state in the technical California parlance.
She changed her registration to independent when she joined eBay, she says, because she didn't want to offend the diverse eBay community with her Republicanism.
Which changes her legend completely.
While there are those who say she wasn't a Republican before, the fact is that she was very close to Mitt Romney when she worked for Bain & Company, the management consulting and equity investment firm. That's why Whitman, who was also a supporter of the very conservative former Virginia Senator George Allen, joined Romney's conservative presidential campaign early on as a national finance co-chair.
That's why Romney came to California for her when she asked him to to tout her candidacy at the state Republican convention dominated by right-wing activists who mostly supported him in the California presidential primary he lost last year to John McCain.
McCain was happy to take her on as a national co-chair of his presidential campaign after he clinched the nomination. And she was happy to run a town hall meeting for McCain of Silicon Valley types last spring, at which she laid out a classically conservative view on the economy, complete with a call for corporate tax cuts.
It will be interesting to see how her candidacy fares.
Whitman says she will spend as much as $150 million on her campaign, presumably mostly from her own accounts, though she has lined up a team of big-name Republican fundraisers. She is a billionaire, after all. Or at least she was before the financial crisis.
Far right personality Glenn Beck, calling California "crazy," interviews Meg Whitman.
That would hardly guarantee a win for someone of her views and background in California.
Former Governor Pete Wilson has signed on as her campaign chairman. And she has some veterans of Arnold Schwarzenegger's gubernatorial campaign. But the top strategists from both of Schwarzenegger's landslide election wins -- two separate groups, actually -- as governor are not supporting Whitman. In fact, two of the top strategists who helped revive Schwarzenegger after his failed "Year of Reform" in 2005, when he was widely seen as having veered to the right, McCain campaign director Steve Schmidt (who ran Schwarzenegger's re-election campaign) and Adam Mendelsohn (who was Schwarzenegger's gubernatorial communications director), ended their consulting relationship with Whitman last year.
Super-rich candidates, while impressing the press, have generally not done well in California, especially when they start out running for the top spots. I'll write again about why that is.
Suffice to say that Whitman, pushing policies that resonate on the far right of American politics even as some doubt her sincerity, has her work cut out for her in winning the governorship of blue state California.
Popular in the Community