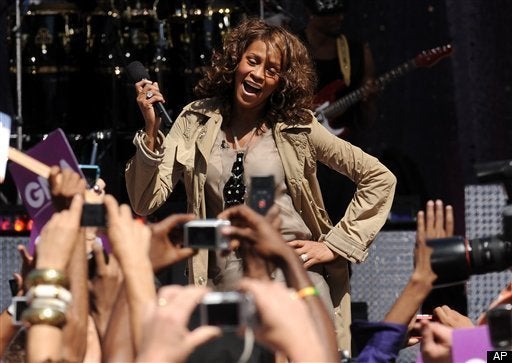 The AP reports Wednesday that Whitney Houston has postponed more concert dates (full article below) at the same time a celebrity weekly features an interview alleging she's doing drugs again.
In Touch interviewed someone who says Whitney showed up a club and snorted white powder from a baggie.
From the In Touch press release:
In Touch can reveal shocking claims from onlookers at the Beverly Wilshire hotel in LA who were surprised on March 10 when the singer walked into the bar, appearing disheveled and out of it. According to eyewitness Marlon David, Whitney was with her ex-husband, Bobby Brown, and she seemed oblivious to who might be watching when she began screaming, "I want a f***in' drink!" followed by expletives. While Whitney's rep vehemently denies that she's using drugs, David, who was sitting just a table away from Whitney and Bobby, tells In Touch exclusively: "I saw her pull a plastic bag out, put a folded bill to her nose and discreetly snort a line from it of what to me certainly looked like cocaine. She's extremely thin and looks like a disaster. She's a hot mess."
NEW YORK - Whitney Houston has again pushed back the European leg of her first tour in years on the advice of doctors who are encouraging her to take time to recover from a respiratory illness, according to a statement issued Wednesday.

Houston had already postponed the European kickoff, originally scheduled for Tuesday in Paris, because of illness. A statement from a representative said doctors advised Houston to reschedule concerts Thursday and Friday in Manchester, England, and a Sunday performance in Glasgow, Scotland.

All dates are being rescheduled, and the 46-year-old singer's tour is now supposed to start next Tuesday in Birmingham, England.

"Doctors visited Whitney late last night in Paris and confirmed that she was suffering from an upper respiratory infection," the statement read. "Upon medical advice Whitney has been advised that she cannot perform to allow her time to recover."

The statement noted she delayed the tour with "great disappointment."

Houston, one of pop's all-time best-selling artists, had been on a hiatus from music as she battled drug addiction and ended a tumultuous marriage to singer Bobby Brown. But with her new CD, "I Look to You," she returned on the top of the charts and declared herself healthy and free from substance abuse.

The superstar has been on a world tour to promote the CD, which has sold more than 1 million copies in the United States alone.

However, the tour has been troubled; performances in Australia and elsewhere were negatively received by some fans and critics, who complained Houston did not showcase the majestic voice she is known for.

Video snippets of her performances showed Houston sweating and struggling to hit notes, leading some to wonder about her health.

In February, her representative issued a statement denying any troubles, saying, "Whitney is in great health and having a terrific time on her tour and with her fans."
Popular in the Community