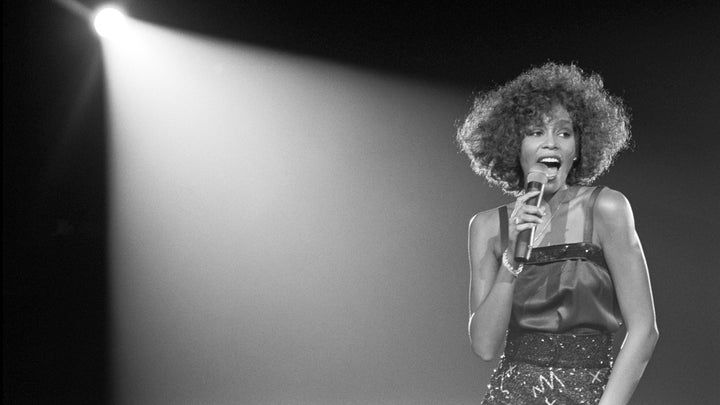 Five years after Whitney Houston's untimely death, two new documentaries have evaluated her role as a black pop star packaged for white audiences. Coupled, they present conflicting perspectives on an artist whose personal trials eclipsed her professional triumphs.
One, Showtime's "Whitney: Can I Be Me," centers on Houston herself, who experienced a meteoric rise to fame at the untaught age of 22. The other, "Clive Davis: The Soundtrack of Our Lives," intersperses the singer's biography throughout its hagiographic account of the titular record executive's career. Both premiered at the recently wrapped Tribeca Film Festival, where it was jarring to see the documentaries' clashing viewpoints within days of each other.
Whereas "Whitney: Can I Be Me" is critical of the way industry moguls engineered Houston's image, "Clive Davis: The Soundtrack of Our Lives" presents a fawning portrait of its subject as the foreman of Houston's success.
"Can I Be Me" touts Houston as the first black woman to debut atop the pop charts. Read critically, that's a euphemism for the effort by Davis and his Arista Records team to make her palatable for white America. As the documentary tells it, Arista didn't want a female James Brown. The label aimed to bury the New Jersey native's "hood" upbringing and make her "classy," according to members of the singer's entourage. She was a pop princess.
Davis gave her songs like "Greatest Love of All," "I Wanna Dance with Somebody (Who Loves Me)" and "How Will I Know" ― polite bangers that targeted mainstream Top 40 over the less lucrative R&B market. Even though Houston's hits saw significant airtime on R&B radio, her manicured image angered a portion of the black community, as evidenced by the 1989 Soul Train Awards crowd booing Houston during the presentation of Best R&B/Urban Contemporary Single. (It was also the night she met future husband Bobby Brown, with whom she had a volatile, drug-fueled relationship.)
"You're not black enough for them," the seven-time Grammy winner later said in an interview, recounting her detractors' complaints. "You're not R&B enough. You're very pop. The white audience has taken you away from them."
Across her first two albums, Arista apparently vetoed anything too "black-sounding." The Soul Train Awards episode became a turning point for Houston, who decided she wanted her next record to be edgier. "That moment was devastating," saxophonist and collaborator Kirk Whalum says in the film. "I don't think she ever recovered. When the boxes are ticked on why she perished, that was a big one."
In "Soundtrack of Our Lives," Davis, who signed Houston when she was 19, purports to have encouraged the transition she sought. Davis claims an integral role in her rebranding, recognizing that hip-hop was infiltrating music in the early '90s. For his part, Davis was hip to the trend, acquiring Babyface and L.A. Reid's LaFace Records (which housed TLC, Usher and Goodie Mob) in 1989 and Puff Daddy's Bad Boys Records (Notorious B.I.G., Mase, Faith Evans) in 1993.
But "Can I Be Me" doesn't make it sound so seamless: Whalum says Houston's tactic was to avoid making "another Clive Davis record" chasing white acceptance. It was almost an act of rebellion.
When HuffPost sat down with "Can I Be Me" co-director Nick Broomfield on the morning of the movie's Tribeca premiere, he maintained that Houston's 1990 album, "I'm Your Baby Tonight," wasn't the direction Davis wanted. (Davis was interviewed for "Can I Be Me" but wouldn't sign the accompanying release form. He declined our interview request.)
At the time, because record labels were segregated, black artists "crossing over" to the pop charts required strategy. Arista brought in Doug Daniels, whose title was "VP of black music," to help Houston appeal to non-white audiences. The singer's associates stress she was clueless as to how much the label manipulated her image in the early days of her career.
"The notion of crossover artists was like crossing the color barrier," Broomfield said. "It was an enormous thing. She was very carefully manufactured to make this transition."
The title track on "I'm Your Baby Tonight," while still tame, had a certain bite to it, and the music video featured a leather-jacket-clad Houston riding a motorcycle. Ostensibly proving Davis' point that so-called urban records didn't sell as well, "Tonight" failed to match the success of Houston's first two albums. Despite producing two major pop hits ("I'm Your Baby Tonight" and "All the Man That I Need"), it peaked at No. 3, unable to knock Vanilla Ice's debut from the top spot. Houston didn't release another studio album for eight years, instead focusing on a movie career.
It's possible there's truth to Davis' summation in "Soundtrack of Our Lives" and the Houston camp's perspectives in "Can I Be Me." Record labels are gigantic entities, and they often wield heavy hands over artists' images. And anyway, Davis has admitted he didn't do enough to court black audiences: "Frankly, I was color-blind, and perhaps a little naïve in that I didn't try to find pure R&B songs that only black-oriented stations could claim for their own," he wrote in his 2013 autobiography, which serves as the documentary's source material. Houston was Davis' signature artist, and the two remained fiercely loyal. The night of Houston's drug-related drowning, she was scheduled to attend Davis' annual pre-Grammy bash.
We'll never know precisely how much Arista's supervision affected Houston. Regardless, "Can I Be Me" and "Soundtrack of Our Lives" encapsulate the complicated roles pop stars play in our lives ― or, more specifically, the roles record conglomerates play in how we consume pop stars' lives. Houston was signed at an impressionable age, only to have her career dictated by older, white, male millionaires. While Houston's upbringing has roots in drugs and domestic violence, it's now clear that the manipulation of her racial identity contributed to her waning self-esteem.
"From just talking to some of those executives at Arista who were involved in that creation, you realize that she was very manufactured, and she paid a massive price for it," Broomfield said. "They were slightly guilty. I think she was so young. She looked like a young doe. She had no idea what she was in for."
Whitney: Can I Be Me" airs on Showtime in August. Apple Music acquired the rights to "Clive Davis: The Soundtrack of Our Lives," but no release date has been set.
Popular in the Community