 UPDATE: An official from the L.A. County Coroner's office confirmed that some prescription medications were found in the hotel room where Whitney Houston died, but not in large quantities.
PREVIOUSLY: It's been two days since legendary singer Whitney Houston passed away at the age of 48 and details surrounding her death still remain largely unknown.
The singer was found submerged underwater in the bathtub of her Beverly Hills hotel room where she was pronounced dead, according to police. An autopsy was performed on Sunday; however officials say they are not releasing any information at the request of police who are investigating Houston's death, reports the Associated Press.
According to police reports, there was no indication of foul play and no obvious signs of trauma on Houston's body, but investigators are not ruling out any causes of death until the toxicology results are obtained, which may take up to six weeks.
Though details have yet to be released, TMZ reported that Houston's family was told by L.A. County Coroner officials that the singer didn't die from drowning, but from a combination of Xanax and other prescription drugs that were mixed with alcohol. The coroner's office reportedly informed the family that there was not enough water in the singer's lungs to indicate that she drowned -- meaning she died before she slipped underwater.
The Associated Press also spoke with members of Houston's family, who say the singer's body will be taken to a funeral home in New Jersey later today and services will be held at the end of the week. Speaking on the condition of anonymity, family members say they are considering holding a wake Thursday and the funeral Friday at Newark's Prudential Center -- an arena that seats about 18,000.
Houston was in Beverly Hills for producer Clive Davis' annual pre-Grammy party, held at the Beverly Hilton, Saturday night. In the days leading up to her death, Houston made several public appearances and was said to have been acting strangely; she was spotted skipping around a ballroom and doing handstands near the hotel pool, reports the L.A. Times.
News of Houston's death was met with an outpouring of emotion from family, friends, colleagues and fans. On Sunday, Houston's family released a statement about the singer's death. "We are devastated by the loss of our beloved Whitney," the family told JustJared.com. "This is an unimaginable tragedy and we will miss her terribly. We appreciate the outpouring of love and support from her fans and friends. -- The Houston Family."
Houston's ex-husband, Bobby Brown, who broke down crying during a concert when he learned the news of Houston's passing and cancelled his concerts to be by his daughter's side. He released his own statement to People: "I am deeply saddened at the passing of my ex-wife, Whitney Houston. At this time, we ask for privacy, especially for my daughter, Bobbi Kristina. I appreciate all of the condolences that have been directed towards my family at this most difficult time."
On Sunday night, Jennifer Hudson paid tribute to Houston on stage at the 54th Annual Grammy Awards, singing a cover of "I Will Always Love You." At a pre-Grammy event, Hudson said the song inspired her, adding that she would "create duets with her because I wanted to sing with Whitney Houston." Hudson was reportedly in tears during rehearsals, but was able to make it through the performance.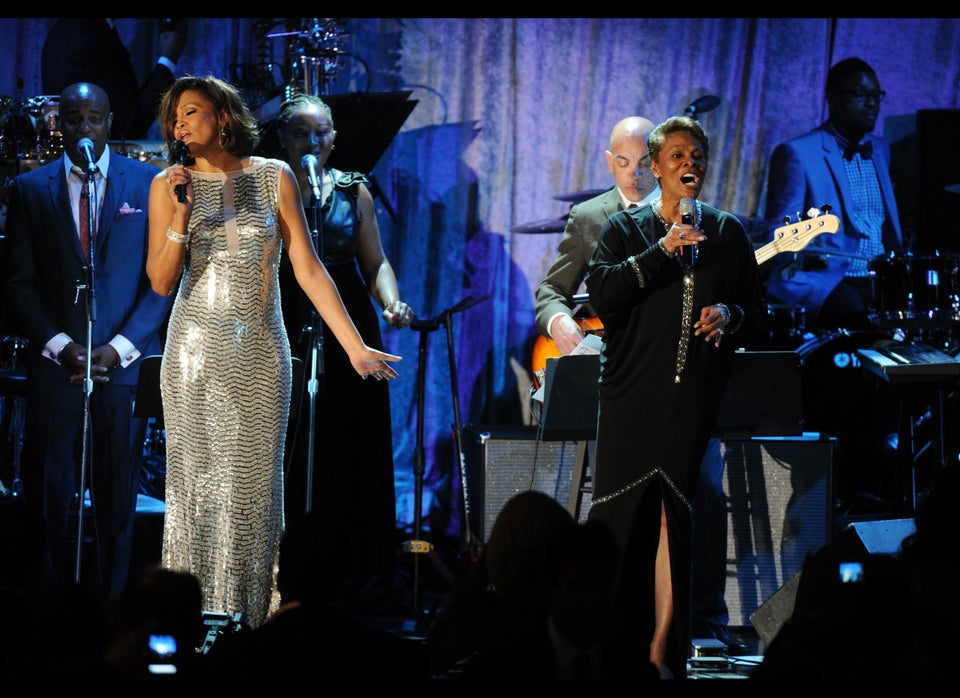 Remembering Whitney Houston
Popular in the Community