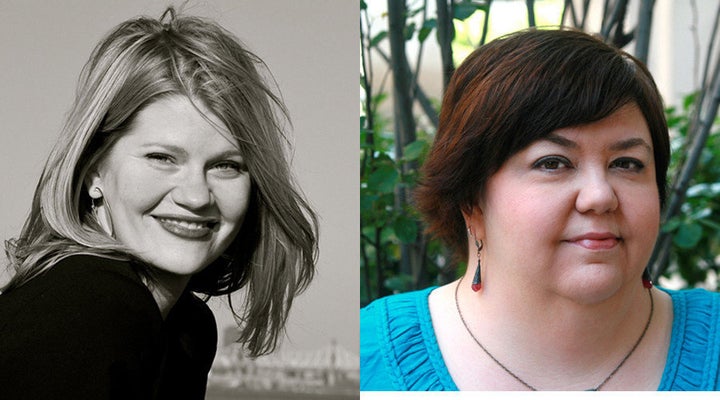 Earlier this year Gay Voices launched its Voice To Voice conversation series with a collection of interviews between lesbian, gay, bisexual, and transgender (LGBT) authors discussing queer topics and issues related to writing.
If February, in honor of Black History Month, we asked prominent, accomplished and incisive people who are black and LGBT to join the Voice To Voice series to help foster a better understanding of the issues and challenges that arise at the intersection of both communities.
Our first is between author Whitney Joiner and the American Civil Liberties Union's (ACLU) Chris Hampton.
Chris Hampton is the youth and program strategist for the LGBT Project at the American Civil Liberties Union and has been working on LGBT youth and schools issues at the ACLU for almost 10 years. Prior to joining the ACLU in 2002, she worked as managing editor at Lambda Legal. Hampton has also worked as a writer for a website offering practical how-to advice to nonprofit organizations, as an editor for a statewide LGBT newspaper, as a radio news director, and as an opinion columnist, and has volunteered in direct service and hotline work for two AIDS service organizations and a crisis counseling center.
Here Joiner and Hampton discuss what the ACLU is doing for LGBT teens, raising awareness, the power of gay-straight alliances, and more.
Whitney Joiner: Hey Chris! I'm so thrilled to be talking with you again, this time for the Huffington Post. The ACLU has been such an amazing advocate for LGBTQ teens -- as I'm well aware, since we've worked together on a few magazine stories about queer teens! -- and I'm hoping that, through this conversation, we can give readers a better sense of what's happening, from an ACLU perspective, around bullying and discrimination against gay teens. So, first off: let's talk about what's happened recently. We've been seeing more and more stories in the media over the past two years. Have you seen a much greater awareness around LGBT bullying?
Chris Hampton: Yes, I think there's definitely more awareness in the general public about LGBT bullying. With things like the It Gets Better Project and the movie "Bully," America seems to finally be at least thinking about this issue. Now that energy needs to be translated into genuine, meaningful action.
Whitney Joiner: Totally. What do you think started this wave of awareness? In the past year or two, we've regularly heard about new instances of bullying and discrimination around the country. How would you characterize the narrative, if that's the right word, around it? Were there a few big cases, like Mississippi teen Constance McMillen's fight to bring her girlfriend to prom, that sparked this new awareness, or is it thanks to the general focus on bullying all-around, or...?
Chris Hampton: I think it's been a combination of things -- Constance's case certainly got a ton of attention and I'd count it as part of what brought this wave of awareness around and then the It Gets Better Project came along not too long afterward, and the struggles of LGBT students in the Anoka-Hennepin school district in Minnesota also garnered some national attention, as did a campaign and lawsuit we did about anti-LGBT web filtering in public schools. It's impossible to point at any one situation and credit it with raising awareness -- it's been dozens of separate incidents and people.
Whitney Joiner: Yes, all of these added to the growing movement. Was there a moment when you realized you were getting more calls -- assuming you have been receiving more calls -- was there a moment when you and the ACLU felt like, "Wow, something's really happening or changing here."
Chris Hampton: Not exactly -- I've always gotten a lot of calls about bullying and harassment in schools. I should probably explain here that part of my job is handling calls from students and parents around the country who are looking for assistance with LGBT matters in schools. But I did notice an upswing in calls about gay-straight alliance club matters in the first semester, and I suspect that's because students all over the place are trying to GSA's as a way to make their schools safer and more welcoming for all students. And then quite a few of them are running into difficulties with their schools about starting the clubs, which is usually when they call us.
Whitney Joiner: And do those calls tell a similar story? Is it usually the same type of issue around problems starting a GSA or is each school district completely different?
Chris Hampton: It's almost always an administrator, usually the principal, trying to block the club from forming. They do it in different ways, but it's usually something like just flat out saying no to the students who want to start the club, or subtly intimidating any teachers who want to be faculty sponsors for the club, or claiming that a GSA is about sex -- even though there have been federal courts that have ruled that isn't the case and isn't a valid legal excuse to try to block a GSA from forming.
A lot of the time it seems that we're dealing with principals who are just acting illegally on their own and once the school district's attorney finds out what he or she has been up to that takes care of it.
A lot of school administrators are completely ignorant about their legal obligations to their students. And then a lot of them who do know about their legal obligations don't care and are banking on students not challenging them.
Whitney Joiner: Right, and that's where the ACLU comes in -- to defend those rulings and fight for the GSA. For queer teens, having a GSA at their school can make such a huge difference, right?
Chris Hampton: Yes, a GSA can make a tremendous difference. Students who go to schools that have GSA clubs routinely report feeling safer at school than students whose schools don't have them.
Whitney Joiner: In terms of legal protection, does it look like we're closer to passing the Student Non-Discrimination Act, which has been around for a few years now -- didn't President Obama just endorse it, or did I just hope that? And of course I read about the Tennessee "Don't Say Gay" bill -- yikes. Legally, where does it seem like we are in terms of ensuring equal rights for queer students?
Chris Hampton: Well, fortunately, the Tennessee legislature just recently ended its session without passing "Don't Say Gay" bill so that's off the table for now. Yes, the President endorsed SNDA, which we were of course very happy about! Federal legislation can take years to pass, though, and I'm hardly an expert on legislative things. To my understanding, right now we are hoping for more and more representatives and senators to sign on as co-sponsors to keep building momentum.
I think we've made progress, but things are still really tough for young people out there. Many states have anti-bullying laws now, but not all of them specifically protect students on the basis of sexual orientation or gender identity, and aren't as effective as they could be. And just passing laws and policies isn't enough -- we need a change in the attitudes of the people enforcing those laws and policies: school administrators, teachers, guidance counselors, and school boards. And in turn we need a change in the attitudes of the communities who elect school boards... we still have a ways to go.
Whitney Joiner: Right. And of course, the question everyone's asked recently: Do you think President Obama's public support of gay marriage could do anything to change attitudes?
Chris Hampton: Oh yes, I definitely think so! Anything that makes people stop and think about LGBT issues is helpful.
Whitney Joiner: Totally. And I know that legalizing gay marriage and making sure GSAs are allowed in schools are completely separate issues, but in terms of the general greater acceptance of LGBTQ issues in mainstream culture...
Chris Hampton: We've come a long way. Frankly, I think that anti-gay rhetoric is starting to really wear out its welcome with the public. And more importantly, there are fewer and fewer people who don't have at least one LGBT person in their lives that they know and care about because more and more people are out than ever. That makes a huge difference. People are getting that we're their neighbors, their coworkers, their relatives, their kids.
Whitney Joiner: I love that line, that anti-gay rhetoric has "worn out its welcome." That's how it feels, that it's seeming more and more fringe -- a desperate holding on to what's no longer the status quo. Anyway, that leads me ask about the media coverage of bullying/discrimination against gay teens. Is more media coverage always a good thing? I'm thinking of some of the discussion around the number of suicides last year. Some people worry that media coverage might be harmful in some ways. And then there are also discussions around the perceived pros and cons of the It Gets Better Project.
Chris Hampton: More media coverage is generally a good thing, but only when it's fair, accurate, and responsible -- but I think that's the case with media coverage on any issue!
Whitney Joiner: Yes, of course. What are you and the ACLU most hopeful about right now? What are you focusing on? And what can we do to help?
Chris Hampton: I think the thing we're most hopeful about right now is young people themselves -- I am constantly in awe of the resilience and tenacity of our youth.
And at the ACLU, since we're a legal organization, we're of course always putting efforts towards trying to educate young people about their rights and what they can do when those rights are violated, so we're always trying to get the word out about that kind of thing. For instance, we put out a video about how to start a gay-straight alliance a few months ago and we're coming out with a new brochure soon about the rights of transgender and gender-nonconforming students (there's a PDF of it online already).
We also did a campaign about anti-LGBT web filtering in public schools, taking on web filtering software that blocked perfectly "G-rated" LGBT sites like those of the Trevor Project or GLSEN while allowing students access to "pray away the gay" sites, and we got several of the major web filtering software companies to adjust their software to make it not discriminatory.
Adults who want to help young people can encourage their representatives in Congress to support the Student Non-Discrimination Act, get involved in your local LGBT youth organization, step up and offer to be a faculty sponsor for a GSA (if you're a teacher, of course), and most of all, let the young people in your life know that you care about them and will do everything you can to support them no matter who they are or how they identify.
REAL LIFE. REAL NEWS. REAL VOICES.
Help us tell more of the stories that matter from voices that too often remain unheard.