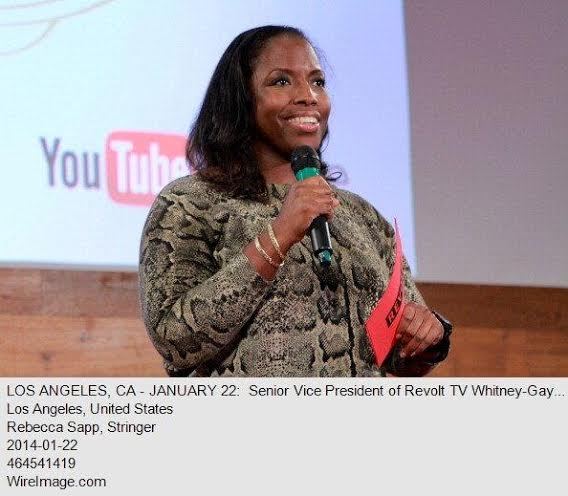 Whitney-Gayle Benta is SVP of Music and Talent at REVOLT TV
The Recording Academy presented GRAMMY Connect at YouTube Space Los Angeles recently. Where Music and Tech Collide was the theme, featuring various panelists, such as Whitney-Gayle Benta from Sean Combs latest venture, Revolt TV.
Robert Gagnier: When did Revolt officially launch?
Whitney-Gayle Benta: October 21 of this past year.
RG: What exactly is it that you do for Revolt TV?
WB: I am the Senior Vice President of Talent relations for Revolt TV. It's my job to be the conduit between music and celebrity talent, to really be on the pulse of up and coming artists, as well as to establish and strengthen relationships with current actors and musicians that are currently in the limelight.
RG: Is it safe to say that a large share of the initial content that will be offered to the viewer on Revolt will consist of music videos?
RG: Can we eventually expect to see any original programming such as reality based productions or even scripted content in the near future?
WB: Right now, the channel is 24/7 music programming. Down the line, in this particular year we are going to launch Revolt Live which is our new hour long destination music television show-we like to say its where Sports Center meets HLN. It will be where we spark conversations about music, talk about whats going on in social media, in the digital age. In addition, we have a show called On the Channel Now: In Harms Way which is a 30 minute Rock and Alternative videos as well interspersed with interviews and some times performances.
RG: Can you tell us about Revolt's new show, State of the Music?
WB: I'm really excited about that. Think of Hits Daily Double-its a music business television show-which has never been done before. It's an opportunity for people like me who was interested early on in joining the music industry to really learn about the major players behind both musicians and actors. Who are the people behind the mics and behind the screen, the people who make those guys who they are-you'll be able to find out on State of the Music.
RG: Can you tell us about the Breakfast Club?
WB: It's a New York based morning show that is hosted by DJ Envy, Angela Yee and Charlamagne Tha God. So Revolt is now going to be airing a segment of that program in our morning block. And that's going to be the programming structure for 2014. So with respect to potential reality or scripted television, that;s not necessarily our interest. We really want to stay true to our mission, which is celebrating music.
RG: Will Revolt have any documentary based programming?
WB: A good portion of our content will consist of documentary's. In fact, we had the opportunity to travel with the artist Wale to his native Nigeria. It was his first time ever going to Nigeria. He had the chance to meet his grandfather, whom he had never met before. It was a really special thing because Wale is kind of known as somewhat of a reclusive rapper, and not someone who shares a lot about his personal life. So for him to give us the opportunity to travel with him to Nigeria was huge. And to be so vulnerable on camera-that was one of the things that our consumers and music fans really love about an artist. That was one of my specialties while at MTV-doing documentaries and exposing artists. Because yes it is about the music but when you get a chance to understand the life that an artist has had via the documentary, it allows you to understand and appreciate them that much more as a musician.
RG: It's my understanding that you also have a documentary in the pipeline with renowned superstar Pharrell?
WB: We do, and it will air on the night of the Grammy's. We did about an hour and thirty minute sit down with him. We discussed things such as his evolution into being a music businessman, producer, fashion guru and so on.
RG: What's motivated Sean Combs to get Revolt off the ground, and where does his passion and fire stem from?
WB: Well I'm not sure if you recall, but when TRL, or Total Request Live (the former MTV show) went off the air and had its last goodbye, Mr. Combs came and cried. He was really devastated about the fact that TRL which had become a musical institution was now gone, and that there was no longer a place for avid music lovers to go. And so because he was an avid music lover, and was frustrated by the fact that there was so many people who had an appreciation for music but had few avenues on tv to go to. And so Revolt was in some ways born out of his desire and passion to fill that gap.
RG: With a legion of channels to watch in this day and age, why should the viewers, and more importantly lovers of music invest their time and energies and watch Revolt?
WB: Because the Revolt programming style will be completely fresh and unique. The methodology behind how the programming department will show the music videos and songs will be different. Revolt programming takes music video placement very seriously. It wont be about merely playing a top 40 record. For example, when we launched the channel, the second video we played was Audio Push, which was virtually an unknown group signed to Interscope. We then proceeded to play DJ Gesaffelstein who no one had ever heard of. And so that is what Revolt is all about-taking risks with music, and not necessarily sticking to what is popular, but rather what is cool.
RG: Is it safe to say that Revolt is here to take more chances than perhaps its competitors in terms of exposing potential talent that hasn't been noticed or previously exposed to the masses?
WB: Absolutely. We are constantly opening the doors to learn about different artist from social media to our own website where you can actually submit music whether or not you have a record label behind you. We are really open to hear just what the kids are doing.
RG: We talked a bit earlier about what helped fuel Mr. Combs' fire in terms of launching a channel such as Revolt. What is behind your passion in your current role in this venture?
WB: I really get excited about the process of discovery. For me, I get excited about being introduced to a new artist, and being a part of the marketing campaign that will make them big. It all starts with trusting the idea with this person is a star. I have gambled early on from my tenure at MTV up until now at Revolt. The passion comes out and I want to say, "man, I want to help you. I think you can make it..what can I do to support you?" And so for me that is what really drives me everyday. Being introduced to new artists that are virtually unknown and sharing them with my friends and then the masses. Lastly, I think of Rihanna when she first came to MTV, and nobody knew her. And now she is selling out arenas and I have to beg for a ticket! Lol That's when I can say ok, I did my job, and so for me that is really gratifying.
Popular in the Community