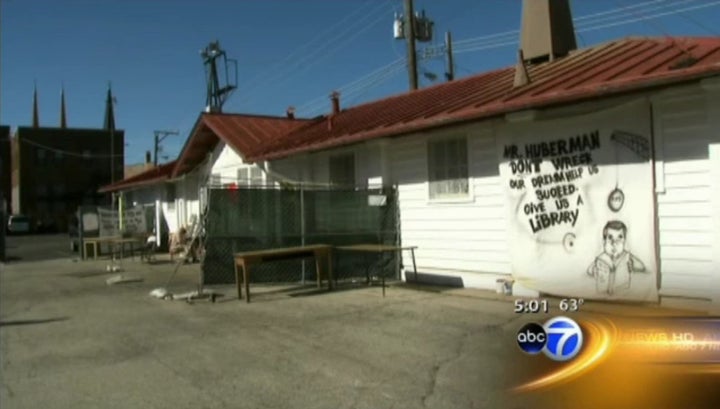 On Wednesday night, for the first time in 43 days, the front door of La Casita was locked. The lights were turned off; the building was empty.
A sit-in that had occupied the field house at the Whittier Dual Language Elementary School since mid-September was finally over, after parents received a guarantee that the building would not be demolished.
(Scroll down to watch the last moments of the sit-in.)
Chicago Public Schools had planned to raze the field house and replace it with a soccer field. But parents saw the building as a perfect location for a new school library, which Whittier currently doesn't have.
In the interim, the parents moved mountains. They garnered citywide media attention and support. With books donated from locals and the Chicago Underground Library, they started their own lending library in La Casita, as the field house is known. Ultimately, they negotiated with CPS officials, including schools CEO Ron Huberman, over the fate of the building.
At a meeting yesterday, the school board approved a deal negotiated by Huberman that accedes to most of the parents' demands.
Instead of being destroyed, the building will be leased to the Whittier Parent Committee, a nonprofit being formed by the protesting parents, for $1 per year. CPS will also fund the creation of a library at Whittier.
A signed letter with these guarantees was the catalyst for the protest's end. On receiving the letter, parents began packing up and leaving La Casita.
One major bone of contention still remains: where to put the library. Parents, of course, want it to go in the field house; CPS may consider building it in the school proper, which disturbs parents as they feel the building is too crowded already.
If the last 43 days have shown anything, though, it's that these parents know how to get what they want, and they won't back down.
Calling all HuffPost superfans!
Sign up for membership to become a founding member and help shape HuffPost's next chapter