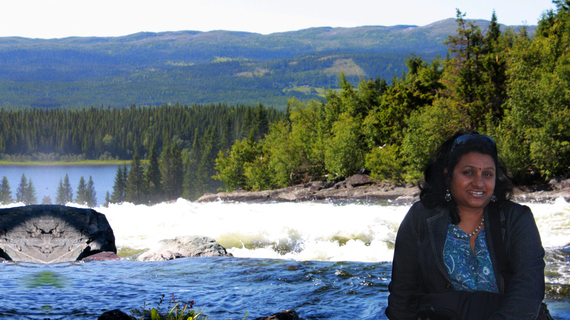 Who am I? That is the question most of us ask ourselves at one point or the other. Sometimes it's during our adolescence, when we are filled with hopes and dreams for a fairy-tale like future. Sometimes it's during a sober midlife phase. There are nuances to it as well.
One can emphasize those three words to conjure up different possible answers. The answer depends on a number of factors, such as what mood we are in when we answer the question, or, more often, why we are asking ourselves this question. There are many environmental, situational, or social factors that shape and contribute to who we are, who we want to be, and who we actually become. Add to that an additional dimension of who others perceive us to be. Often our own self-image and the way the world sees/thinks of us are not in sync.
This post is about a journey of self-discovery that I have taken over the years.
So, consider this medley of background contextual setting:
Gender: Woman
Background: Studied to be an electrical engineer. Managed to complete a doctorate in computer science.
Ethnicity: Indian. As a child, travelled all over the different states of India.
Nationality: Swedish. Moved with family to the beautiful country of Sweden over 15 years ago.
Family: A loving husband and two lovely children. A couple of rabbits and a dozen fishes.
Hobbies: Loves cooking, sightseeing, and reading books.
Imagine being an Indian girl aspiring to be an engineer more than two decades ago in India. That was not very popular by society's standards. My father got a lot of discouragement from friends and relatives because he dared to let his daughter study to be an engineer.
I wanted to be a computer scientist. I fell in love with a computer when I first saw a picture in a magazine in the late '80s. As luck would have it, I only managed to secure a place in electrical engineering. That didn't deter me. I thought this was as good a step to begin with as any other. I focused on taking electives and additional courses from computer science.
At university, I experienced professors telling me and others like me that we were wasting a precious engineering seat. In the final year, going through campus interviews, I was told - "Sorry, we can't hire you, since we do not intend to hire a bodyguard for you". At this point, I wondered who I was. A qualified electrical engineer with a predilection for computers, not good for anything.
Anyway, I got an apprenticeship with a software development consultancy firm and spent a few months finally learning and working with computers. I still recall the celebration we did at the office when the first Pentium processor-1GB RAM desktop was brought in. The backbreaking balance-sheet report writing that needed to be printed on a dot matrix printer - where we had to painstakingly code "I" to mark the columns in the printout. Phew!! (Today we have come a long way from those initial days of getting into the "digital' world.) Those were happy days!! Who was I then? - A budding computer programmer.
Following Indian tradition, I got married, and then took a brief hiatus. We moved to Sweden, since my husband had a job here. For a period of time, the only identity I had was as Mrs. so and so. That wasn't exactly what I had dreamt to be. But, being a foreigner and non-Swedish speaking person, there were not many welcoming arms for a software professional. So I set out to overcome those two obstacles.
I went to Swedish-language courses and then, by some weird stroke of destiny, ended up writing to a renowned professor at the Royal Institute of Technology asking to be a doctoral student. I will forever be grateful to the kind professor who took me under his wing and guided me for the next five years. Those were exciting years. I had the joy of working with researchers from across the world. I also had the opportunity of seeing the world of students from across the table. I also was a student counselor -coaching and advising master's students on different combinations of courses and career paths.
So, who was I? - A good wife, good mother, good researcher-- maybe not necessarily in that order. But was that good enough? Or should I say, did I feel that I had everything I set out to be? Not quite.
One day, I applied for a position at Accenture, a global professional services company. To be honest, when I joined, more than 9 years ago, I didn't know where I was headed or how long I would be there or what I would do there.
My Swedish skills, though quite improved, are still not as fluent as a native speaker. Coming from a different country and background, it's sufficient to say that I am different from the majority.
My linguistic skills are the least of my differences. My research background imbued me with a different approach and outlook to solve problems. I got to experience the flexibility of work and life. I didn't have to feel guilty being a working mom. I could learn and experiment with new computer solutions. I could have new challenges to solve, and yet have the ability to pace myself.
Today I work as a solution architect and love every moment of the day. I look forward to each day with trepidation and expectation. I enjoy being part of a team that puts together new solutions and engages in dialogue with our clients. So, now -- Who am I? Professionally, I am part of a network of connected individuals. All the other input parameters are just attributes of a whole.
We can be who we are, learn to grow, to motivate and be motivated. So, why did I write this post? My story is surely reflected in many of us. We all journey through the ups and downs in life. Many a time, we would have questioned ourselves. Many a time, we would have felt ourselves floating rudderless. It is not easy to accept or look beyond superficial differences, to welcome and absorb the multitude of diversity that the human race has to offer.
REAL LIFE. REAL NEWS. REAL VOICES.
Help us tell more of the stories that matter from voices that too often remain unheard.