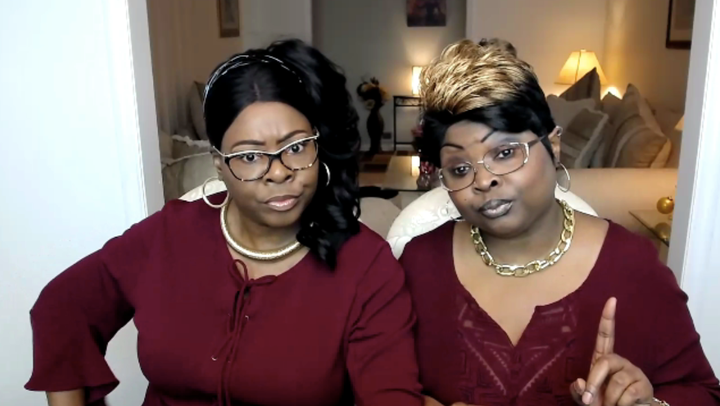 And now, an answer to your question: Who?
Diamond and Silk are famous on the internet ― so you may not have heard of them in real life.
Billing themselves as President Donald Trump's "most outspoken and loyal supporters," the sisters have earned a following by posting fervid videos of their conservative views to social media.
During Trump's 2016 campaign they expressed support for his rhetoric on controversial issues including race and immigration through their videos and Fox News appearances. They ended up traveling around the country to stump for him as representatives of a very small group of black, female Trump supporters.
Despite their popularity and the fact they've now been posting for years, Facebook earlier this month deemed their page ― which counts more than 1.4 million likes ― as "unsafe to the community."
The sisters in a post said they had been corresponding with Facebook since September because they believed the site had throttled their reach and was not sending out notifications to fans when they had new content. On April 6, they found out why, and were told the decision was "final."
In a statement issued Monday, Facebook said the message Diamond and Silk received about their content was "inaccurate," and the company "looks forward" to speaking with the sisters about the problem.
Which brings us to Congress.
As Zuckerberg sat answering questions on Cambridge Analytica ― the research group accused of exploiting user data to help Trump's 2016 campaign ― multiple lawmakers used the moment to bring up Facebook's imbroglio with Diamond and Silk, alleging censorship.
Sen. Ted Cruz (R-Texas) inquired about bias by Facebook on Tuesday, followed by Reps. Joe Barton (R-Texas) and Marsha Blackburn (R-Tenn.) on Wednesday.
"Diamond and Silk are not terrorism," Blackburn told Zuckerberg.
Zuckerberg responded by saying his team had "made an enforcement error, and we've already gotten in touch with them to reverse it."
Read live updates on Zuckerberg's House testimony here.
Popular in the Community