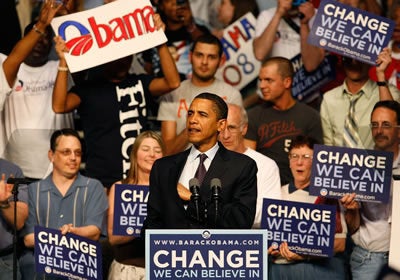 If you were watching Obama's concession speech last night then you saw them: Three guys standing two rows behind the candidate in what is usually a carefully-selected backdrop of loyal sign-waving supporters, each sporting t-shirts clearly bearing the logos of Abercrombie & Fitch. During Obama's speech, they waved their signs dutifully but also clearly communicated with each other; at one point, one of them blackberried. Obama's speech was great as usual (and nice line to slip in there about 4-or-8 years!) but it was distracting to see that huge "FITCH" in the background and see the trio of average-looking dudes bobbing behind his head. Who were they and what were they doing there?
Who were these guys and do they wear the same brand because they're unimaginative or because they're secret plants or because they thought it would be hilarious to do on live TV or because they're roommates and one of them cooks, one of them cleans and one of them does the shopping? The secret will out eventually — it's the YouTube generation, after all — and no doubt we'll see these three guys on cable sometime soon. But probably they won't get an Abercrombie contract. Well, maybe the one on the right.
p.s. Alternate title for this post: "Shirts You Can Believe In!"
REAL LIFE. REAL NEWS. REAL VOICES.
Help us tell more of the stories that matter from voices that too often remain unheard.