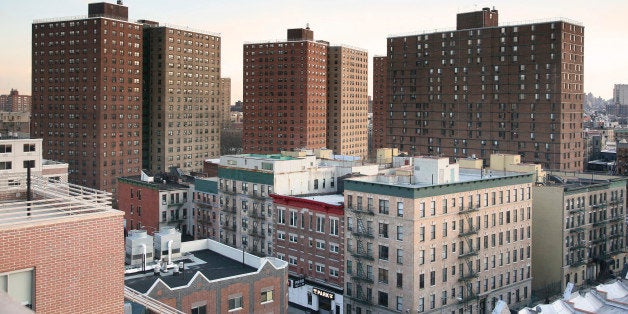 "The End of Black Harlem", as argued by Michael Henry Adams in The New York Times, is rapidly approaching. The trend is evident in the analysis of Census data from 2000 to 2010 by City University of New York's, Center for Urban Research. Data shows that the Black population in Harlem has fallen precipitously ("The largest loss of Blacks in Manhattan occurred in Central Harlem North (-5,453) and Central Harlem South (-4,091). The Black population also declined in Hamilton Heights (-5,366)."), and shows no signs of abating. The most historic black neighborhood in America is on the verge of becoming majority white.
While Mayor Bill de Blasio rebutted Adams' argument, expressing that the work of preserving Harlem is just beginning. The reality is, the process of gentrification began decades ago in Harlem. And the same developers we are turning to -- to preserve Harlem's historic character -- began that gentrification in the first place.
The process of gentrification is usually associated with a fancy coffee shop popping up on the corner or maybe the shutdown of the neighborhood deli. But in reality, it is a process controlled by specific individuals -- usually wealthy white men -- seeking out new business ventures, with the community as a casualty in their push for inordinate profit.
The change we are witnessing is not a natural process caused by the ebbs and flows of individuals moving in and out of neighborhoods. It is driven primarily by developers and financiers. Throughout the past 50 years, displacement has taken many names: redlining, white flight, subprime lending, gentrification, hipsterization, among many others. Each time neighborhoods of color are turned into commodities by speculators, bankers, for-profit developers and real estate brokers. Neighborhoods that were once forgotten and neglected are now lured into change with words like "revitalization", "job creation" and "affordable housing". Often, none of the changes are meant for the current residents.
The current iteration of gentrification in Harlem, and frankly many urban neighborhoods across America, follows a familiar pattern. Rich, mostly white men, see opportunity in low-income communities -- that have traditionally had lower property values -- where they can gobble up property quickly, influence the neighborhood development, inhale public subsidies, market housing to outsiders and then walk away with millions after selling off to a private equity firm. Rinse, recycle, and repeat.
In New York, the main driver of gentrification is the New York State Association for Affordable Housing (NYSAFAH). Aptly named, this group of developers does their business under the presumption of 'affordable housing.'
With the promise of desperately needed affordable housing, NYSAFAH developers are able to infiltrate neighborhoods of color across the city.
But behind the promise of "affordable housing", lies a model that has perfected gentrifying communities of color. By buying land in low-income communities, taking advantage of city subsidies, using non-union, low paid construction workers, and last but not least building massive amounts of housing that is unaffordable to the neighborhoods.
Case in point is Ron Moelis, co-founder of NYSAFAH and L+M Development. Soon after NYSAFAH was established, Moelis began to greatly expand his portfolio by using public subsidies to take on projects in Harlem. His developments such as the Aspen, the Kalahari and Madison Park were built at levels unaffordable to the residents with the median incomes of Harlem. The developments were marketed to well-to-do residents who wanted the proximity to the rest of Manhattan and paved the path for gentrification of the most historic black community in the country.
Market-rate units at the Kalahari sold for more than $1 million. The "affordable" units in the building are sold for much more than the median income in Harlem, as they were for purchasers earning 80-175 percent of the area median income.
The changing character of the neighborhood happened while Moelis built his empire in what was historically the African-American mecca of the United States.
As Harlem has shifted over the past 15 years, higher-income, mostly white families have become a much greater share of the population, and Moelis' L+M is now selling off its developments to private equity groups and making obscene profits, bolstered in part from favorable terms acquired from the City. The Aspen and Savoy Park -- an enormous rent-stabilized development that L+M purchased five years ago -- were both recently sold off to private equity firms for tens of millions in profit. The land and developments they first pursued are now worth tens of millions more than what they paid for it. They are now the immense beneficiaries of a gentrification process that they helped start.
L+M took its model of gentrification to Williamsburg and the Lower East Side with massive developments. And it is now pushing outward to neighborhoods on the verge of flipping, like the South Bronx and East New York.
It has helped fund Moelis' kingly lifestyle, with palatial homes in Greenwich, Connecticut, and on the Long Island Sound in Westchester, as well as an opulent 5th Avenue apartment overlooking Central Park. Moelis has managed to pay for stately apartments for his children, secure a position for his son in the governor's administration. In addition, Moelis has been able to create L+M's own investment vehicles worth hundreds of millions of dollars and partnerships that allow the developer to expand all over the country. Meanwhile, homeless mothers and their children ride the trains all night because they have been turned away from another shelter.
NYSAFAH and Ron Moelis are displacing communities across New York City, following a pathology that we have seen many times before. Real estate interests have consistently used this model, preying on communities of color to drive up, or drive down, the price of land, to the developer's benefit, while black and Latino families lose their wealth, incomes and neighborhoods.
With the help of the city, the destiny of our neighborhoods has been tipped heavily towards powerful private interests. And the people of New York City continue to lose control of their neighborhoods.
Disguised under the promise of "affordable housing", developer kings like Moelis and members of NYSAFAH have managed to transform neighborhoods historically inhabited by people of color, all while using city subsidies to build units that are not affordable to the people of these neighborhoods. For-profit developers like Ronald Moelis and members of NYSAFAH do not need government assistance at the cost of communities of color.
Alternative methods exist through non-profit developers to build truly affordable housing for the most vulnerable New Yorkers.
REAL LIFE. REAL NEWS. REAL VOICES.
Help us tell more of the stories that matter from voices that too often remain unheard.