Financial institutions across the U.S. this week celebrated small businesses in a big way -- offering grants from $10,000 to $100,000, holding seminars, and touting their service and commitment to those firms considered to be the backbone of the U.S. economy.
Banks clearly have a lot at stake when it comes to small businesses. After all, more than half of Americans either own or work for a small company, and they create about two out of every three new jobs in the U.S., according to the U.S. Small Business Administration, which led the federal government's efforts to recognize smaller firms during National Small Business Week.
That's a lot of personal and business customers for the nation's financial institutions. Indeed, financial institutions in the first quarter were lending more to small businesses than they have during any first quarter since 2011 -- evidence of the economy's improvement since then.
Some banks have more of a vested interest in these small businesses than others, according to an analysis of top U.S. lenders to small businesses. Using Sageworks Bank Information, analysts from Sageworks examined first-quarter loan amounts (in dollars) allocated to small businesses by every U.S. bank and created two rankings: One of larger lenders (those with more than $1 billion in assets), and one of smaller U.S. banks (those with less than $1 billion in assets).
Collectively, the 15 large banks with the highest amounts in small-business loans are owed a total $172.5 billion by small firms as of the first quarter. That's roughly equal to the size of Iraq's economy, or to the entire economic stimulus package Congress OK'd in 2008 to help boost the economy.

The top 15 large banks included familiar names, such as Wells Fargo, Bank of America and JPMorgan Chase, which took the top three spots on the ranking, respectively. Also on the list: U.S. Bank, Citibank, BB&T, PNC Bank and Regions.
Given the massive amount of loans these banking giants provide across all of their lines of business, it's important to also consider what percentage of their portfolios are tied to small business loans, according to Sageworks analyst James Noe. Doing so indicates the relative priority and focus that a bank gives to small business lending compared with other types of lending, he said.
Considering that metric, First-Citizens Bank, headquartered in North Carolina, and Bank of the West, headquartered in California, stood out as two of the larger banks that dedicate a significant portion of their loans to small businesses. Both of these banks had more than $5 billion in small business loans as of the first quarter, with nearly 28 percent of First Citizens' portfolio tied to small business loans and 10 percent of Bank of the West's portfolio allocated to small business loans. These types of loans generally made up single-digit percentages of the loan portfolios for the other large banks in the top 15 ranking.
Looking at smaller financial institutions with the largest amount of small business loans, 10 of the top 15 had small-business loans equal to a third or more of their total loan portfolios. Western State Bank in North Dakota, was ranked first with $356 million in small business loans outstanding. Salt Lake City's Pitney Bowes Bank also stood out, dedicating 97 percent of its loan dollars, or nearly $320 million, to small business owners.
The dataset was researched through Sageworks Bank Information, a web-based data platform that includes data on all U.S. banks and credit unions.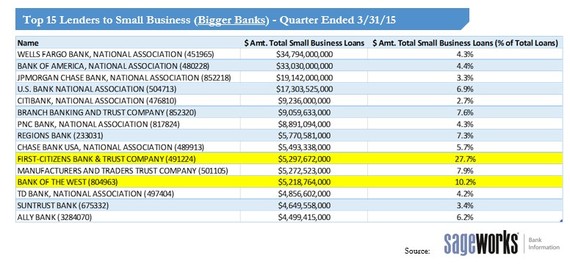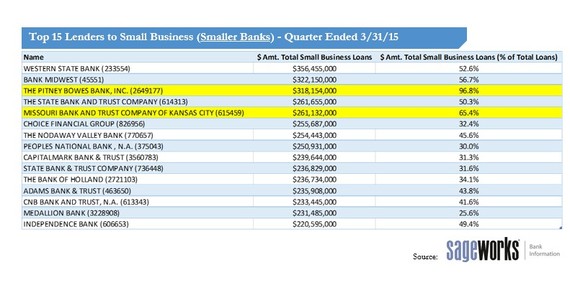 Related
Popular in the Community