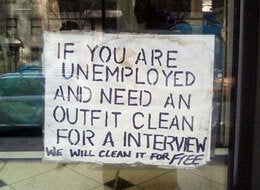 New York is filled with an untold number of unsung heroes who volunteer their days to help those in need, and in these difficult times their deeds can be especially impactful. One person who volunteers can keep a family in their home, ensure that someone who would otherwise go hungry receive a meal, or help a teenager realize his dream of attending college.
When doing good deeds, original and unexpected acts of kindness can sometimes have the greatest impact, like Matt LaBarbiera's innovative campaign to spread sunflowers throughout the neighborhood of Greenpoint, Brooklyn or the altruism of Carlos Vasquez, who offers free dry cleaning to those preparing for a job interview during these difficult economic times.
Huffington Post New York wants to highlight these altruistic deeds, but we need your help to find the best stories! We want you to send us inspiring examples of volunteerism. This can be about an experience you've had, but it can also be the story of someone you know whose service changed the life of an individual or transformed a community.
Submit your story about a good deed or inspiring volunteerism in the form below and, if possible, email pictures that accompany your narrative to covernyc@huffingtonpost.com.
We'll feature the most original and inspiring stories on Huffington Post New York in the weeks to come.
Calling all HuffPost superfans!
Sign up for membership to become a founding member and help shape HuffPost's next chapter