Watching food competitions is addictive, and apparently so is participating in one. At least that's what a few of the contestants on Last Cake Standing 2 told me. Jason Ellis said it was "like a drug" and Kaysie Lackey called it "cake crack." But when the stakes are $100,000, it's about a lot more than getting your fix. As Judge Kerry Vincent put it, "It's about finding your mettle, handling adversity and thinking politically... There's got to be drama."
And drama there is. When Richard Ruskell's cake came crashing down in episode two, his heart sank (and so did mine). He said "I thought, well that's it, I'm going home. You can't come back from that." But he did come back from it. When he was told they had an hour to transport their cakes to the theatre, he figured why not do something. "I thought to myself, I'm not going to just give up, I'm on national television!" Richard certainly found his mettle, and it's probably the only time in any cake competition anywhere that a competitor survived a cake crash.
Kaysie, who was eliminated in the first episode, wasn't thinking politically. As Kerry Vincent said to me, "She just couldn't see past her assistant Paul. It was a big blunder, and it cost her." Kaysie herself said, "I didn't know how to play the game. People asked me why I didn't throw Richard under the bus, but I can't do that."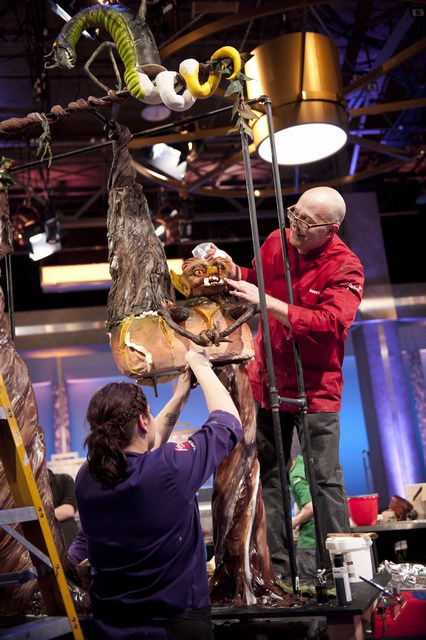 Richard Ruskell and Kaysie Lackey teamed up on episode one (Courtesy of Food Network)
Last Cake Standing 2 is definitely a tier (or ten) above other cake competitions, the contestants are thrown crazy curve balls and they've got to adapt and perform. So it's no surprise that the competitors all felt it was a roller coaster ride. But, said Kerry Vincent, "Although I felt badly when anyone had a rough moment, I had to judge the cake that was on the table for what it was. I couldn't be sympathetic, no judge can be. There's $100,000 at stake."
Jason, who fell ill during episode two, said of Last Cake Standing 2, "It was unlike anything I ever expected. It's the first time you ever see me cry on TV. It was an emotional and physical roller coaster ride."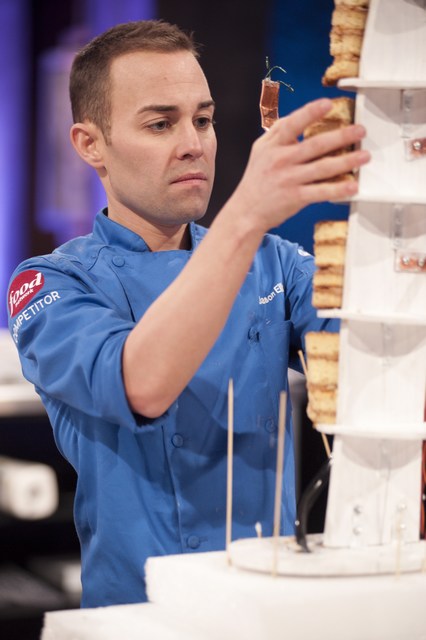 Jason Ellis (Courtesy of Food Network)
Richard Ruskell said "Last Cake is it's own beast. It's so much more than cake decorating. They did a great job of keeping us off our game and off balance."
Despite the serious competition, there's a lot of camaraderie among cake decorators in general. And the kind of rivalry you get from a show like Last Cake Standing is tested against that off camera camaraderie. "It's unbelievable how generous cake people are," said Kerry Vincent. "Richard was agonizing about the rivalry. Although Orlando Serrano really had his eye on the prize from the very beginning."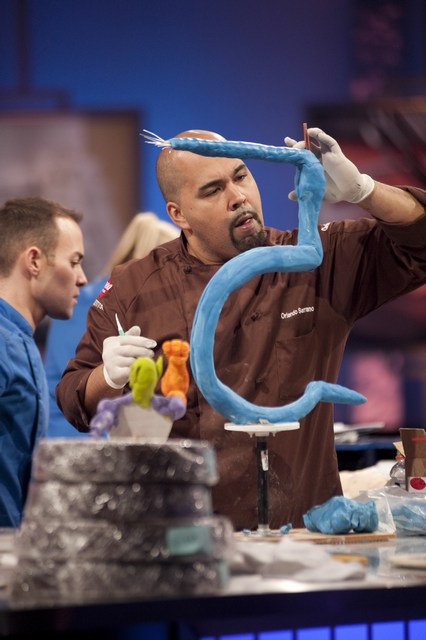 Orlando Seranno (Courtesy of Food Network)
Orlando, who came out on top in episode two, told me he wanted to distinguish himself and not run around trying be helpful and friendly. "In the second show when we all arrived at the theatre backstage, my assistant and I just kept to ourselves. We didn't help people get their cakes in. It's a competition, and winning $100,000 means I can fulfill my dream of opening my own bakery. It's a legacy I want to leave for my family."
For all the contestants, Last Cake Standing is pushing them to their limits, and beyond.
"The experience was nerve-racking, it was a lot of pressure," said Orlando. Jason added "going into any cake competition you better hold on to your hat because it's not easy at all. And with Last Cake Standing, you don't just need skills, there's more that goes into it, plus you need the personality to go on TV."
Kaysie told me she thinks they have a psychiatrist on staff, "figuring out ways to mess with us."
Kerry Vincent said it well with this, "Anybody who goes into Last Cake Standing and imagines that all they'll have to do is make six cakes to win is living in la la land. This show tests mental and physical limits, it's Survivor in cake."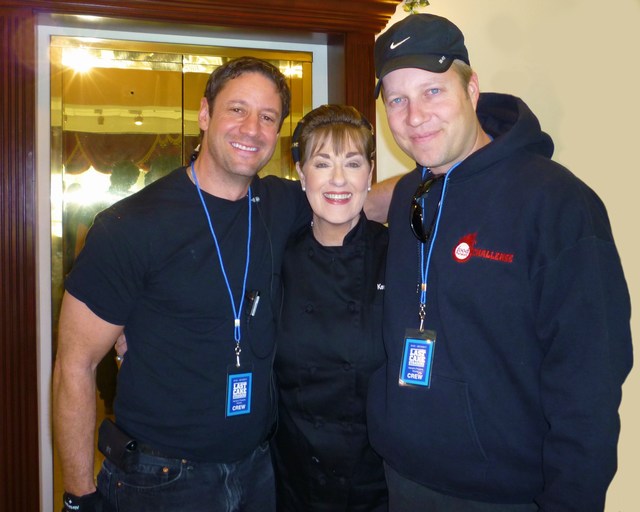 Kerry Vincent on the set of Last Cake Standing with crew members Tony Cacciavillani & Greg Verspohl (Courtesy of Kerry Vincent)
I had the opportunity to meet with three of the contestants in the kitchens of Food Network studios at NYC's Chelsea Market. Jason, Richard, and Jörg Amsler were all decorating their own version of a royal wedding cake for an episode of Rachel Ray that's airing on April 18. Not in competition with one another, and with nothing at stake, each cake decorator had the chance to just show off their own style with whatever cake they would make for the royal couple were they given the chance.
Jörg Amsler, who Kerry Vincent told me "was one of the toughest competitors on Last Cake Standing," chose a completely different approach to the wedding cake, going for deep colors and dark chocolate. What Jörg called "royal colors." Showing off his talent for piping by using chocolate as his medium, Jörg admitted, "chocolate is just the hardest thing you can pipe with, but it's different, and it's my style to be different."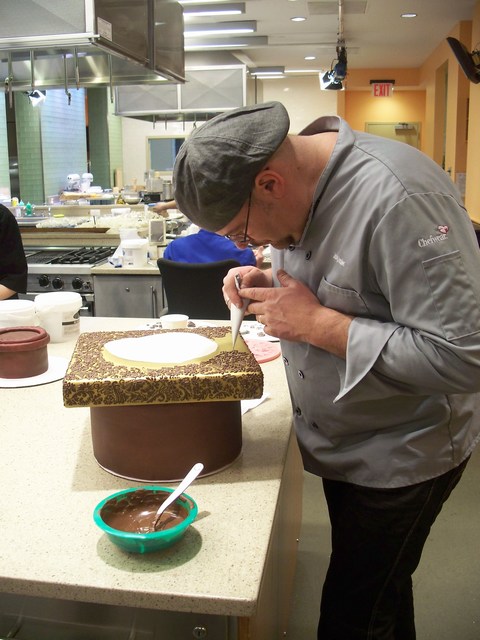 Jörg Amsler piping chocolate on his version of a royal wedding cake (Photo by Regina Varolli)
Richard was making a more casual cake than you'd expect for a royal wedding, and topping it with delicate hand made calla lilies. But, Richard said, "they seem like a down to Earth couple for royalty, and I think that this is the kind of cake they'd want if the Queen wasn't involved."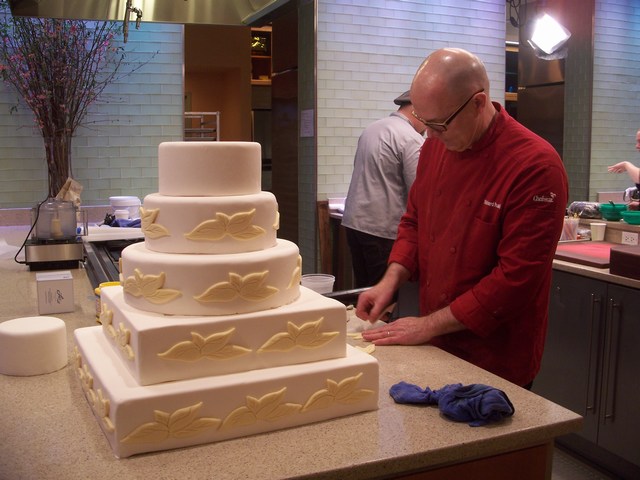 Richard Ruskell working on his royal wedding cake (Photo by Regina Varolli)
Jason rounded out the three contestants who will make an appearance on Rachel Ray with his interpretation of a royal wedding cake. Jason went with a classic wedding look and feel, but with deep blues to match the engagement ring and painted gold on his beautifully piped royal icing.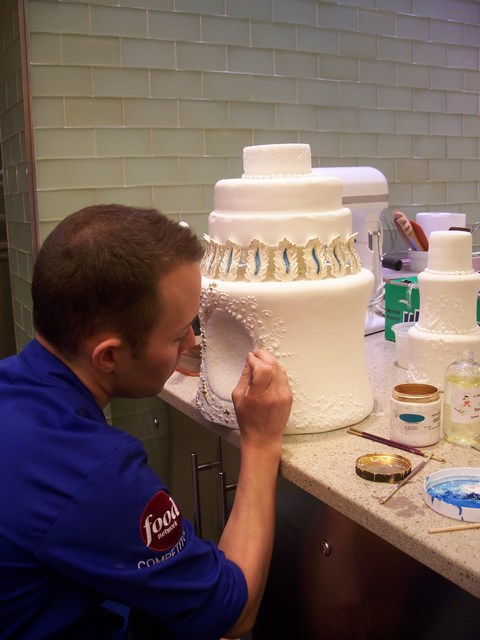 Jason Ellis painting his pipe work golden (Photo by Regina Varolli)
Unfortunately I didn't get to see the finished royal cakes, so I'll have to see them when everyone else does. I also don't know who will win Last Cake Standing 2. I could have tried to get it out of them, but confidentiality agreements aside, I didn't want to know because that would spoil all the fun, and drama, of watching who can bake a $100,000 cake.
Check out this slide show of some of the contestants at work on the set of Last Cake Standing 2, as well as in the Food Network kitchens (where Bobby Flay tests recipes for his "Throwdowns") decorating their royal wedding cakes for Rachel Ray!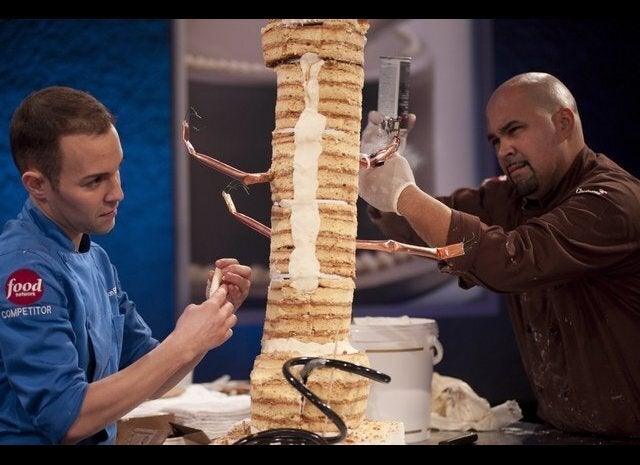 Pics from Last Cake Standing and Royal Wedding Cakes for Rachel Ray
Related