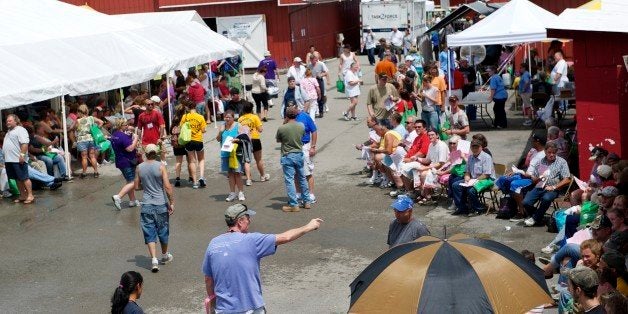 While the media -- and Democratic party leaders -- obsess about whether Debbie Wasserman Schultz should be allowed to "gavel in" the Democratic National Convention here today, hundreds of doctors and dentists are returning to their day jobs after spending three days a few miles from where I grew up treating patients -- human patients -- in animal stalls.
Frankly, I suspect the Democrats would rather deal with the Wasserman Schultz debacle than acknowledge that the Affordable Care Act, which will be praised many times this week, justifiably to a large extent, nevertheless falls so far short of making care either accessible or affordable to millions of Americans that many are willing to suffer the indignity of being examined in a place where just a few weeks earlier people had come to see which cows and pigs would win blue ribbons.
So where was this place? The Wise County, Virginia fairgrounds. In the southwest corner of the state that one of the stars of the Democrat's convention, Tim Kaine, represents in the United States Senate.
It's too bad that Kaine, who became Hillary Clinton's running mate just hours after the 17th annual Remote Area Medical clinic at the Wise Country, Va., fairgrounds got underway, couldn't change his and Clinton's campaign schedule to be able to shake hands with folks waiting to get care they couldn't otherwise afford. It's also too bad that other politicians, regardless of party affiliation, didn't make it to Wise. If they had, they would have seen firsthand why Obamacare, for all the good it has done for many Americans, hasn't done nearly enough for many others, especially in states like Virginia that haven't yet expanded Medicaid to cover more low-income families.
If they had visited Wise County, Clinton and Kaine would have come face to face with the men, women and children who have fallen through the cracks of our still badly broken health care system. They would have witnessed people standing in long lines for hours on end, in sweltering heat and humidity and occasionally in the rain, hoping to spend a few minutes with a doctor or dentist. And the candidates probably would have been as horrified as I was a few years ago to see that many of those lines led to animal stalls that volunteers had cleaned as much as possible so they could be used as makeshift examining rooms.
It was at the 2007 RAM clinic in Wise that I had what I have described as a Road to Damascus experience. That was three years before Obamacare was signed into law, and I was still head of corporate communications for one of the country's biggest health insurance companies. I had flown back home to visit family, and while I was there I read a story in my hometown paper about the nearby RAM clinic, which annually attracts growing crowds of people seeking care.
The article said many of those folks would be driving from as far away as Ohio and South Carolina, and that many of them would be sleeping overnight in their cars and trucks in the fairgrounds' parking lot. I was intrigued enough to go check it out, a spur-of-the-moment decision that would change the course of my life.
When I walked through the fairgrounds' entrance on that Saturday morning nine years ago, I realized right away that I was partly responsible for the stunning scene before me. I was being paid well to help perpetuate the myth that the United States has the world's best health care system and that the problem of the uninsured wasn't such a big deal, that many of the 50 million who were uninsured at the time were simply shirking their responsibility to buy health insurance.
What I came to realize was that the vast majority of the people lined up for care that day were either unable to afford the coverage my company and others were selling or they'd been blackballed by insurers because of a pre-existing condition. The folks who had been sick in the past, or been born with a congenital disease or affliction, couldn't buy coverage at any price.
I also learned that many of the people there actually had insurance. They were paying premiums every month but were in plans with such high deductibles they couldn't afford to use their benefits. They didn't have the money to pay for care out of their own pockets until their insurance would kick in. (Today, six years after Obamacare became law, growing numbers of Americans find themselves in the same outrageous situation because insurers continue to implement their years-long strategy of moving all of us into high deductible plans.)
Here's something else I learned that day at in Wise: about 70 percent of those folks who come to that pop-up clinic every year come primarily for dental care. Many others come primarily to have their eyes examined and to get glasses. If anything, the percentage of people seeking dental and vision care has gone up in recent years because Obamacare does little to improve access to either. And the reason many of the people waiting in those lines were senior citizens is because Medicare doesn't cover dental and vision care. Far more Americans lack dental and vision benefits than lack medical insurance.
(That said, Obamacare made much-needed changes in the ways insurance companies do business. Insurers can no longer declare people uninsurable because of pre-existing conditions, and they can't charge people more because of gender or health status. They also can't cancel people's policies when they get sick just to avoid paying for expensive medical care.)
A few months after my first trip to RAM's Wise County clinic, I quit my insurance job and ultimately became an advocate for fixing America's absurdly -- and inhumanely -- dysfunctional health care system.
Even though Kaine and Clinton were no-shows at this year's Wise County clinic, Kaine knows a lot about it (as does Virginia Governor Terry McAuliffe, who did attend for the second year in a row). In fact, to his credit, Kaine and his wife have volunteered at previous RAM clinics. His familiarity with them undoubtedly is one of the reasons, as Modern Healthcare, a trade publication, reported Friday, Kaine has been a strong proponent of improving and expanding Obamacare, which he voted for in 2010.
The article noted that Kaine has sponsored several bills "to fix gaps and glitches in the ACA and to encourage more states (including his own) to extend Medicaid to low-income adults." None of those bills, unfortunately, have been approved by the Republican-controlled Congress, which has voted more than 50 times to repeal Obamacare.
I can't thank Remote Area Medical enough, not only for all the good it does -- over the past 31 years, RAM's corps of more than 100,000 volunteers have delivered $102 million worth of free health care services to 650,000 men, women, and children -- but also for the role it played in changing the course of my life. And I'm encouraged that the man who might be our next vice president -- even though he didn't make it to Wise this year -- has a proven record of trying to make care in this country truly affordable and truly accessible.
Bernie Sanders also knows about Remote Area Medical. In fact, he invited its founder, Stan Brock, to testify at a Senate hearing a few years ago. Undoubtedly Brock's testimony made Sanders more determined than ever to push for an improved Medicare-for-all type of system.
It's just too bad that Sanders, Clinton and Kaine didn't make it a priority to visit Wise County before heading to Philly. If they had, the politicians and pundits would have a real and continuing crisis to talk about. Not the relatively inconsequential one about Debbie Wasserman Shultz' political future.
Popular in the Community