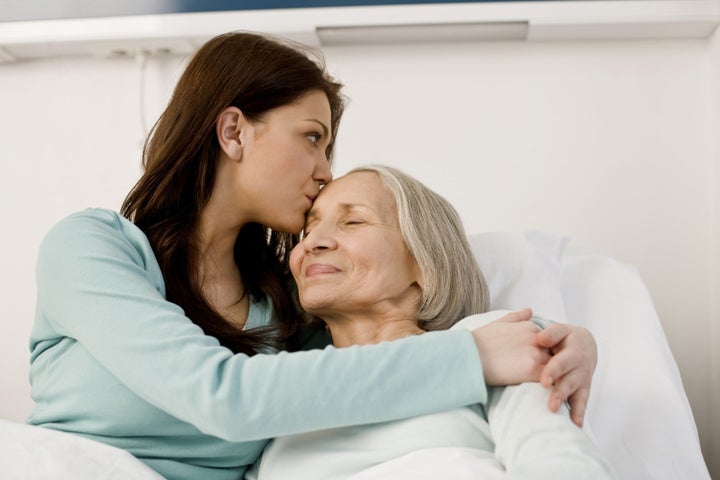 The population in America is shifting as baby boomers age and the "sandwich" generation is feeling more and more pressure to take care of aging parents while raising children at the same time.
Increased lifespan (a good thing!) combined with the latest medical advances may mean that adult children could spend 10 to 15 years or more as caregivers for an elderly parent or even two parents! Furthermore, it may be simultaneous or even consecutive, which creates a difficult and lengthy burden on adult children. Also, consider the likely scenario that grandparents may be living as well! Adult children (primarily women) may be responsible for three generations of care-giving for many, many years.
This begs the question: who takes care of the caregivers?
Enter Michael TS Lindenmayer. He has an incredible vision of the future as he is rooted in his own past. After living in the land of sun and fun in Rio de Janeiro for the past years, a brief weekend visit to his hometown turned into a year-long journey of caregiving for both his parents and grandfather. It was an unexpected, radical sabbatical that changed his life.
He woke up to the caregiving struggles his parents were facing after 12 years of caring for his grandfather under the same roof. Their health and financial well-being were severely threatened due to the chronic caregiving duties, and his nearly 90-year-old grandfather was wrestling with old, old age. As Michael waded through the crazy-making maze of caregiving for his family, he discovered a massive, silent crisis. Caregivers silenced by feelings of guilt, exhaustion and fear were quietly being crushed by the millions by chronic caregiving.
Nobody was caring for the caregivers.
Michael witnessed countless families being torn apart as they tried their best to navigate the complex road of caring for someone aged, disabled or chronically ill. This moved him to tear up his return ticket to Brazil. Deciding to care for the caregivers, he founded the Caregiver Relief Fund.
All caregivers face twin problems: no time, and no plan. Without the time, caregivers find themselves exhausted, bewildered and alone. They have no time to plan. Without a plan, caregivers deplete their resources, put their own health in jeopardy and find themselves trying to do it all, all by themselves. Michael realized this and decided this needed to change. It's basic, he says: "A balanced caregiver equals a happy family." He adds: "Today's caregivers are time-bankrupt and shell-shocked; this is no way to treat a national treasure."
To realize his vision, he focused on building partnerships with leading at-home care agencies to replenish caregivers with time relief. And he encourages every recipient to use part of the awarded time to start getting a plan in place.
Michael is a giant (he's 6'6") and thinks like one. He loves taking on mission-impossible social challenges. He was an early adopter of both the Grameen Bank and Room to Read in their infancies. Both have gone on to help millions of people. Michael plans to take those lessons learned to care for millions of caregivers and help families be strong together.
Why should you care when there are so many worthwhile causes vying for attention and support? The reason is quite simple: it will affect you. The drama here is that regardless of your financial status, ethnic background, age, etc., each of us is a son, daughter, grandson or granddaughter. Additionally, we are mothers and fathers or aunts and uncles.
What can you do? Become involved in educating and talking to others about this groundswell that has an impact on each of us. If you know a caregiver, connect them with Caregiver Relief Fund. Send this important message to everyone you know who will be supportive of this effort. Talk about it and tell others. Follow Michael's lead and become an early adopter.
As a mother, I feel vested in influencing my own children to recognize the opportunity here to do good. They have watched me and my sister struggle to provide care to our own grandmother, who recently passed away at age 95 in California. My sister and I have children, work and live on the East Coast.
I encourage each of you to follow the leader: Michael TS Lindenmayer. For me, he is a "Prince Charming" of sorts. Selflessly, he put his own career and life in Brazil aside and returned to assist his own family and then created something that may one day support your family, too.