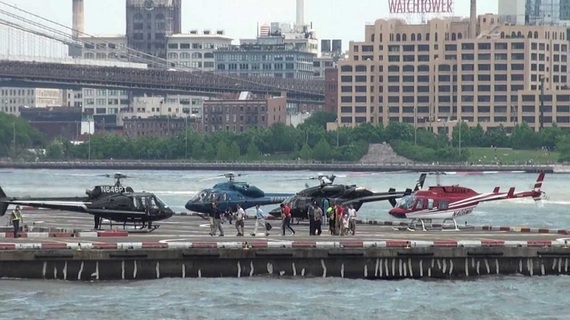 Who do cities and towns exist for?
Is it the people who live there or those who come to visit?
Over the last few years this has been a central question in two very different locales for at least some of the residents in both Jackson, WY and New York City, NY. Municipal leaders and developers in both places have it seems, prioritized those who come to visit versus those who make the city and town work. In New York City, it is not just the challenge of trying to get to your office door if you work anywhere near Times Square as you dodge the heaving crowds that congregate and mill around for hours and hours each day, it's also the tourist helicopters.
I have heard for a few years from friends who live in the City about the tourist helicopters. They were initially annoyances and frustrations, but as the number of flights has dramatically increased the anger at the flights has as well. I didn't really understand, living in Salt Lake City, what the fuss was about. We don't have anything constantly flying over our heads, can see the stars on most nights (often even through our inversion!) and it's a pretty quiet city at night, and during the day. However, this past fall, out for a walk with my cat, I heard a buzzing sound. Someone was flying a drone around our neighborhood and it took me all of five minutes with its incessant buzzing in my ear to make the quick link to empathy for my friends, and the whole city, who have to endure the noise of daily, non-stop flights so a few hundred tourists can see 'great views' of a City without thinking about the people who live down below.

On one side is the Stop the Chop Coalition and on the other side, the heli-port and helicopter operators who don't see any problem
.
Meanwhile, reports from friends out of Jackson, WY who make the mountain town run, the worker bees who wait tables, flip burgers, run the lifts, guide in the back country and on rivers, make the hotel beds, and run or work in the small businesses that, just like anywhere make the Nation thrive. And yet, where can these people live? Increasing housing prices and the conversion of homes that may have been used in the past to house workers are now making more money, evidently, through sites like AirBnB. So people can't stay, people can't make community, and over time there's a further breakdown between those in the service industry and those who use the service.
So who are these places, these cities and towns for? What balance are we perhaps losing in places like New York City and Jackson where certainly people want to live and work and people want to come and visit? The world is getting more crowded and we're all looking for an authentic, beautiful experience--but at what cost?
Why can't part of that experience be walking home from work in New York City without the buzz and ill health of a helicopter? Or in Jackson, being able to live where you work and take advantage of what it has to offer without being forced to leave or drive a long way away each night?
Related
Popular in the Community