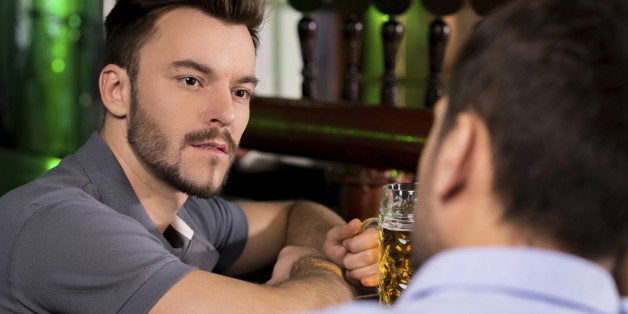 It is a commonly held belief that women tend to have strong support systems to turn to when their relationships are facing a crisis. How many times have we seen in movies, books, and television shows that women, who are upset with their intimate relationships, turn to their best girlfriends, their mothers, their sisters and even, their hairdressers about their problems. But, we rarely are given insight into who men get their support from when they have relationship issues. Who do men confide in?
At Relationup, an app that provides live relationship advice 24/7, we had anticipated that our service would be popular with women. But surprisingly, we have discovered that more males are using our app in larger proportion than we had expected. Currently, 30 percent of our clients are males and 52 percent of them are between the ages of 25-35. This is an age when men are often forming more significant, long term relationships.
Curious about men's support systems, we conducted a survey and discovered who men, ages 25-35, reach out to when they need advice around their most intimate relationship problems. We asked people "who was the last person that they sought out relationship advice from" and provided them a short list of choices.
Our data revealed the following: Friends were the top category of support for males. 80 percent of men sought out advice from close friends. 55 percent of the time they went to their male friends and 25 percent of the time their female friends. Interestingly, only 40 percent of females, in the same age bracket, sought advice from male or female friends.
It is noteworthy that people outside of the core family are the major source of support for young men. The neutrality of sharing with someone who is free of the baggage of family dynamics and drama, clearly plays a role in why men overwhelmingly experience friends as their number one confidant.
Family members were used as support less often by men than by women. 5 percent of men went to their mother for relationship advice. Dads and brothers also fared poorly as the "go to people" with 5 percent each. Sisters were not consulted at all.
However, women were more interested in seeking out advice from the female members of their family. Sisters were consulted 33 percent of the time. Mothers were approached 13 percent of the time. Fathers were not consulted at all.
This data is supported by the work of Sociologist Mario Luis Small, who discovered in a research study about choosing confidants, that almost 50 percent of the people in his study did not want to share important, personal matters with those closest to them. In fact, Small's research turned on its head the long held assumption by social-network researchers that people turn to their strongest and closest ties when they want to talk out important matters. In fact, Small argued that people often avoid using people who are close to them as confidants.
Only 5 percent of men in our study did not share their problems with anyone. That is smaller than the 20 percent that sociologists have found to be the national average. It may very well be that our younger generation of men has been raised to recognize and share their feelings and seek out help from their support system more than the generations before them. This number was also smaller than the 13 percent of women in our study who reported not sharing their problems with anyone.
Although we may not know as much about how men utilize their support system, it is clear that they desire to take their relationship problems to their trusted friends. Maybe soon, we will see more books, movies and television shows where men are not just getting together to eat chips and watch sports, but instead, are sharing relationship problems and advice.