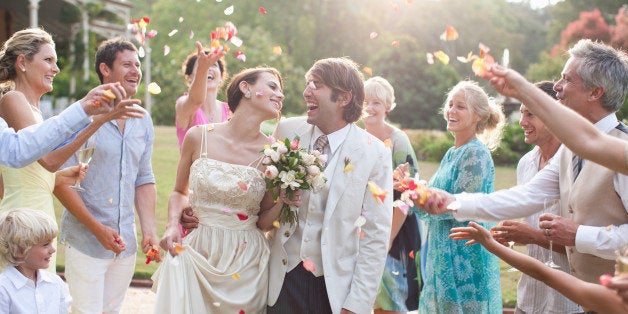 With the costs of weddings skyrocketing year over year and with the cost of each additional guest adding anywhere from a few hundred to a few thousand dollars to the final budget, it is critical to get it right when it comes to deciding who gets to bring a date to your wedding.
When discussing wedding budgets on a per person level, most people only think of the cost of food and beverage when in reality the costs are much greater. In addition to food and beverage, every time the guest count increases by 10 guests, so does the rental order for tables and chairs, the floral order for centerpieces, the number of servers, ceremony programs, menu cards, favors, place cards, escort cards, hotel welcome bags, and depending on your venue, the quantities of china, silver, and glassware needed. And this doesn't even count weddings that are hosted over multiple days and include welcome receptions and farewell brunches.
So what are the plus one rules?
The general rule is that couples who are married, engaged, or living together must be invited together. However with today's modern families, these rules aren't so clear cut anymore. The goal should be to keep things consistent and answer a few questions in advance to decide who gets to bring a date.
What is the couple's relationship status?
Married, engaged, or living together couples still need to be invited as a pair no matter what your relationship is with the significant other. Some of your friends might also be in long-term relationships with no intentions of ever marrying and they shouldn't be left out. Set some parameters and agree to invite all couples who have been together longer than some length of time you determine. If you make this the same for everyone, it will seem fair and consistent to those who don't get a plus one.
Quick quiz: Which of these dates should be invited?
A. Your friend from work's wife whom you have never met
B. Your college roommate's long distance boyfriend of four months whom you met
C. Both A and B are correct
Answer: Either A or C are possible answers. If you are inviting your friend from work, then the wife must be invited -- even if you have never met her. Your college roommate's boyfriend is in the gray area. If you decide any couple dating over three months gets to bring a date, then the long distance boyfriend gets invited. If you say no invites to couples dating less than a year, then it means the roommate gets invited solo.
Is the person dating anyone?
Sometimes to be polite to your friend, you want to allow them to bring a date to your wedding. This might be because all their friends are bringing a date and you don't want them to be the odd man out or because they won't know anyone else in attendance. It is my personal opinion that a wedding invitation should never say "and guest" on it. If the person is important enough to you to be invited to bring their new love interest to the most important day of your life, then you should be able to take a moment to send a text and find out the person's name. The point here is when you invite your friend to bring a plus one, there should be a specific plus one in mind. The plus one isn't interchangeable and is not intended for your friend to bring a buddy or anyone else they choose. If the date can't come, it means the friend attends solo.
What are the exceptions to the rules?
If necessary you can make exceptions for your immediate families and bridal party. If your Dad has a new girlfriend of six months, it would be in the best interest of your future relationship with him to invite her to the wedding. If it will truly upset your Mom, you might need to have a family discussion in advance, as this is a tricky area and you will want your wedding to be drama free.
If your wedding destination is going to require your guests to have a passport, you might want to be sure your single friends feel comfortable traveling solo or can arrange to travel with other people they know. This might be a situation where you choose to err on the side of hospitality and invite everyone with a date.