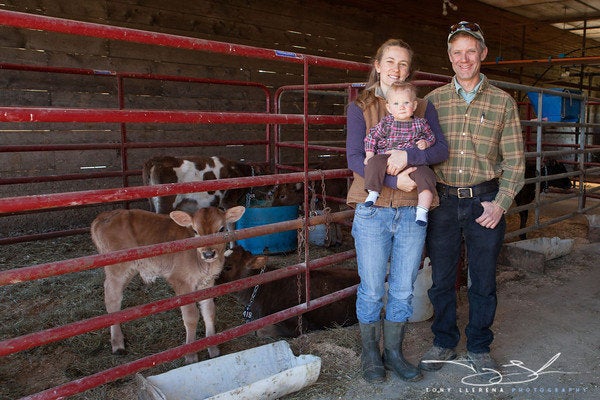 Who Grows Our Food is an occasional Meatless Monday series taking a close look at some of the people, so often unsung, who give us the food on our plates.
Congressional gridlock coupled with an antique Farm Bill means you will not be getting the cow for free. Beef may be cheap but dairy prices will be rising. However, the cows are not getting rich. Neither are the dairy farmers.
"The price we get paid for our milk barely covers the direct cost of production and doesn't really leave us room for capital improvements, to maintain or improve infrastructure," says Clovercrest Farm's Steve Morrison. The organic dairy farm relies on USDA EQIP (Environmental Quality Incentive Program) grants for that.
"It's helped me to improve laneways and nutrient containment manure management, so I'm not contributing to non-point contamination -- runoff from fertilizer or manure. It makes our farm more sustainable, environmentally and economically."
Morrison took over his parents' conventional dairy farm in 1995 when he was 30. He brought the farm to organic certification two years later. Fellow Maine dairymen considered him "wingnut," but Morrison, who sells Clovercrest Farm's milk to Organic Valley, believes organic is better for his cows, his farm and for consumers. "Food is medicine," he says. "Quality food might be worth more. When you look at the ingredients, and you don't know that they are, why would you pay money for that?"
Organic is how Morrison eats. "When I was growing up, my mother produced all the vegetables we ever ate. She put a lot of food by for the winter, canning and freezing." He and his wife Sonja keep that tradition alive for themselves and Morrison's three daughters. "We don't have much occasion to eat food that isn't organic."
Neither do Clovercrest Farm's jerseys. They aren't fed antibiotics or growth hormones, they're pasture-fed. Intrinsic to Clovercrest Farm is Morrison's organic system of rotational grazing -- he brings his cows to one area of his 250-acre farm, the cows eat the crops, their manure enriches the soil. With the shift in available crops and season, he moves them to fresh pasture, so they can eat and poop some more.
"They're efficient little cows doing their thing," he says. "They provide milk, they enable us to cycle nutrients. By passing the cows over the land, we take nothing but the milk out of the site." Not only do his cows produce abundant, creamy milk, according to the Union of Concerned Scientists' Cream of the Crop report, organic dairy farming enriches local communities and economies. It is, however, a more labor-intensive practice, and despite rising milk prices, it doesn't rake in the big bucks, not like conventional farming.
"Chemical fertilizers and herbicides and pesticides and GMOs are promoted by chemical companies as the only way we're going to be able to meet this planet's growing demand for food," says Morrison. "I can't imagine how consumers can't be more aware, to the tell you the truth. There's a need for organic farmers to have a voice, to be heard," says Morrison.
"There's a lot at stake here," he says, and it's about more than money, it's about our future. "People ask me -- my family asks me -- why do you insist on doing this, against the odds? I have tried to think how else I could earn a living that would be sustainable, that would leave something better for my having done it," says Morrison. "I feel like this farm is really one of the few places I would be able to do that."
Four-Ingredient, Five-Minute Fabulous Chocolate Pudding

I'm a vegan, not everybody is. If you're going to include dairy in your diet, here's a delicious way to do it, and the best, easiest chocolate pudding ever. Like the name says, make it with four ingredients (including milk) in five minutes. You'll have a sinful pudding with a silky texture and no weird chemical thickeners or additives, as with the boxed stuff. Vetted by my omnivore husband.

1-1/2 cups organic whole milk
12 ounces bittersweet chocolate (chocolate chips or a bar chopped into small bits)
1 tablespoon vanilla extract
2 eggs

In a medium saucepan, warm milk over medium-high heat until it just starts to steam, about 3 to 5 minutes. Simmer, do not allow it to boil.

Turn off heat, keeping pot on burner, and pour in chocolate. Give the warm milk a few minutes to melt the chocolate. Stir occasionally. Then transfer mixture to a blender or food processor and whiz. Add vanilla and eggs and whiz again for another minute.

Pour into individual dessert cups or ramekins and chill until thickened and firm, at least 2 hours.

Serves 6 to 8.
REAL LIFE. REAL NEWS. REAL VOICES.
Help us tell more of the stories that matter from voices that too often remain unheard.