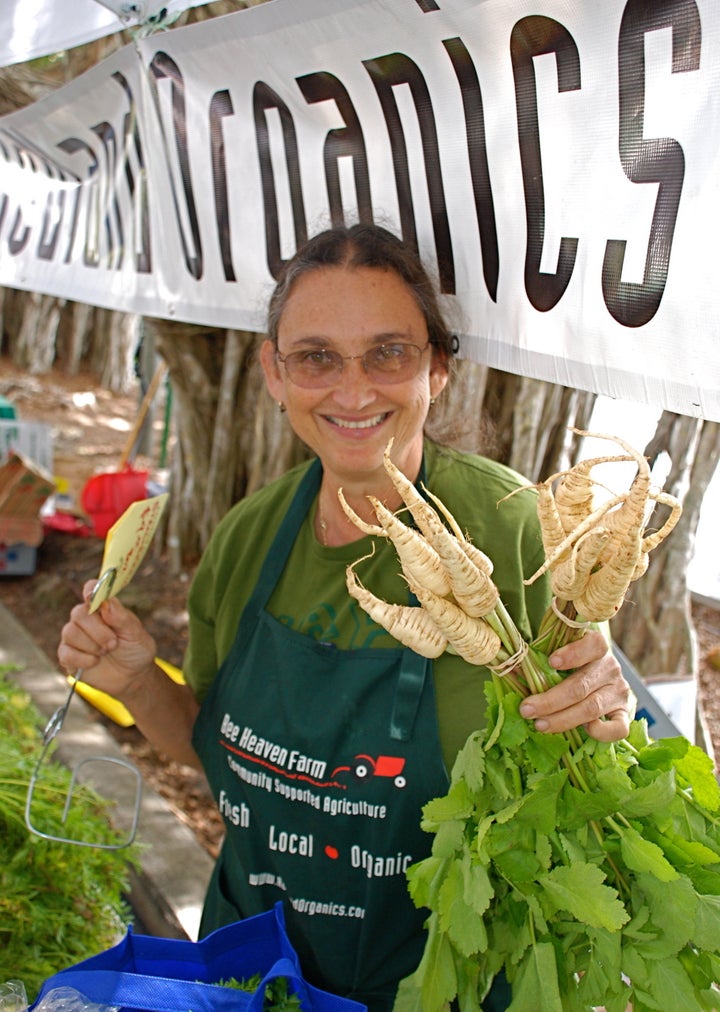 Last week, the House Agriculture Committee signed off on a version of the Farm Bill that
cuts funding for nutritional assistance and further weakens GMO crop regulation. This is not my vision for a healthy, sustainable food system. Here's what is -- Who Grows Our Food, an occasional Meatless Monday series, takes a close look at some of the people, so often unsung, who give us the food on our plates. Full disclosure -- I've known today's featured farmer, Margie Pikarsky, for years and am a longtime subscriber to her CSA. Having profiled farmers from around the country, it was time to go local. And organic.
Margie Pikarsky makes the most of every organic inch of Bee Heaven Farm, her five-acre farm. "I never have less than 40 things growing here -- Asian vegetables, greens, tomatoes" and avocados, her farm's primary crop, now at their peak.
Pikarsky and her husband Nick purchased Bee Heaven Farm in 1995 and earned organic certification two years later. "I'd been a biology major studying tropical ecology. At the time, they weren't calling it environmentalism, but that's what it was," she recalls. "I didn't want poisons on my property. I didn't want to tell my child she couldn't play outside because we'd just sprayed. I didn't want anyone eating anything I knew I wouldn't eat myself."
To farm organically, says Pikarsky, "You've got to work with the conditions you have, not against them." At her South Florida farm, that means dealing with alkaline soil, limestone rock, "weird weather and stuff." That includes tropical heat and humidity and a growing season that overlaps with hurricane season. "Our seasons are topsy turvy," she says. "You don't plant now, you wait til the fall."
A farmer by instinct rather than by background or training, Pikarsky grew up in Cuba, the daughter of an attorney and a school teacher. Her family moved to Miami when she was eight and later Pikarsky attended the University of Miami. She graduated in '74 in the midst of "a bad recession. A biologist with a bachelors can't get a job worth a darn."
Instead, she took a job working at the university. For 25 years. Pikarsky didn't farm full-time until 2000, "but I always had things growing."
She was also an early advocate of eating local, particularly challenging in South Florida, where heading a few miles out lands you in the Atlantic. However, when what you grow gets trucked 700+ miles out of state, that's not local at all. "Food produced here goes out, goes away. There's still very little local food making it to the supermarket. The distribution systems are to blame. It's true all over the country, it's not just us," Pikarsky sighs. "That's a long, uphill battle."
She fought it in her own way. Pikarsky wanted to get her produce directly to locals, but with a small farm and small yield, couldn't offer enough quantity each week to make it worthwhile. She organized with other small farmers to form a locally community supported agriculture program, a local community supported agriculture program, which launched in 2002 with a dozen subscribers. "When I started, I didn't know such a thing of existed, the concept was not known here at all."
By growing local food, Pikarsky has grown awareness -- "awareness of what local is, about organic. People see there's more varieties of food than standard grocery staples. They're trying to think healthy and think, What can I do," she says. "Even things like composting or recycling. Reuse, reduce, repurpose, recycle. There's satisfaction in knowing you're not contributing to the problem, maybe help removing it."
You want local produce at your local market? "Ask. Ask, ask, ask, ask. Pester your grocer repeatedly. When you go to a farmers market, look under the skirts of the table." Too often, a local farmer will, um, supplement his own produce with another farmer's produce. From another county. Or even from a supermarket.
You want organic? "Let them show you their organic certification. If they don't have it, don't believe them," she says.
"If we consume a healthier diet, we are better beings. We're healthier, we're in a better mood, we function better, become more productive. If we produce food humanely, justly without labor abuse and without poisoning the environment, we improve conditions for all of humanity. It makes us better as a whole," says Pikarsky. "We're all one planet."

Guacamole

Avocados make a wonderful natural masque -- smash and apply to your hands, face, feet or hair. They add fabulousness to salad. Pureed with herbs and other produce, they create creamy chilled summer soups. They're the secret ingredient in many vegan desserts. In Bali, they're the base for smoothies. But when you're talking avocado, don't forget the guacamole.

1 large slice of onion (about 3 tablespoons), chopped fine
½ jalapeno (about 2 teaspoons), minced
2 ripe Florida avocados (about 2 cups)
1 handful cilantro (about ¼ cup), finely chopped
sea salt to taste
½ tomato, diced

In a large bowl, mush avocado together with chopped onion and jalapeno. It's best to do by hand using a large spoon, so you can get the consistency you like. I like my guac on the chunky side. Life is not smooth, your guacamole need not be, either.

Gently mix in cilantro and a generous amount of salt to taste.

Finally, mix in the tomato. Gently.

Serve with chopped vegetables and tortilla chips for dipping.

Serves 4.


Vegan Chocolate Mousse

About that vegan dessert -- here's a rich, decandent and creamy (though creamless) chocolate mousse.

2 ripe Florida avocados (about 2 cups)
1 cup agave
1 cup unsweetened cocoa
2 tablespoons coconut oil
1 teaspoon vanilla

Blend all ingredients in a food processor until smooth. Spoon mixture into dessert cups or martini glasses.

Chill for one hour before serving.

Serves 6 to 8.
Popular in the Community