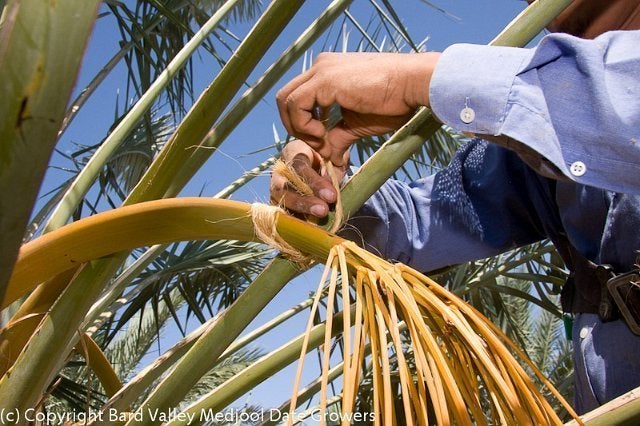 It's getting on to harvest at Winterhaven Ranch, but the fields are not green. They're brown. This is actually a good thing. Nielsen is a desert farmer. For almost 30 years, he's been growing Medjool dates in Bard Valley, California.
Winterhaven Ranch belongs to the Bard Valley Date Growers Association, a group of family growers. Two years ago, the group started the brand Natural Delights. New name, old fruit. Dates are among the oldest cultivated fruit, going back 6,000 years or more and originating between the Nile and Euphrates, where the land is fertile but the climate is hot and dry. Bard Valley's only been producing dates for 70 years, but the region offers similar growing conditions. "These trees have always done well in harsh, harsh climate," says Nielsen. "They like their heads on fire and their feet flooded."
California's date harvest coincides with a big time of global consumption. Dates are the traditional food used to break the daylong fast at Ramadan. Naturally sugary but low-glycemic, high in potassium, iron and other essential minerals, they're easy to metabolize.
There are dates and then there are Medjools. Caramelly and moist, they're considered the king of dates. "I like it put them into salads, cut 'em open and fill them with almond butter or cheese," says Nielsen, but his favorite way is to enjoy "a dark, rich cup of coffee and a date."
Nielsen was new to Medjools back in 1985, when he and his friend Jim Freimuth bought a plot of land and began growing them. They were young, idealistic, "the new guys on the block. The families still involved with us have been there much longer than we had," says Nielsen. "We stubbed our toes a few times." Early production was poor, the weather was worse. "We had a lot of rains, humidity." The fruit grew to maturity, but the moisture "made all the dates rot inside. We'd go up and start harvesting then throwing a large percentage away." Nielsen takes a breath. "After about a year of that, we needed to do a little something different."
Winterhaven Ranch went organic, receiving certification in 1989. "The organic movement was not popular back then," he recalls. "It was very risky. Distributors were fly-by-night, they wore ponytails and Birkenstocks." Worse, says Nielsen, who has a business and accounting background, "they didn't know what an income statement and a balance sheet was."
If the business part needed work, producing organically worked just fine. "We hardly lost anything at all." Winterhaven Ranch and its sister Medjool grove Oasis Date Gardens now grow two million pounds of Medjools a year. Bard Valley Medjool Date Growers grow 60 percent of the Medjools in the United States.
Like all the Bard Valley Medjool Growers, Nielsen pollinates and harvests by hand. Date palms are either male or female, and hand cultivation is an elaborate many-monthed labor of love. It begins around February, with Nielsen, Friemuth and their families and staff taking lifts to the tops of the female trees. Using a plastic squeeze bottle, they spray the blooms with male pollen spray, a process that's a little like artificial insemination, an analogy Nieilsen admits he's never considered. "You don't want to leave anything to chance. If they do not get pollinated, nothing happens."
Now, at harvest time, they return to the tree tops repeatedly, covering the fruit to protect it from infestation and humidity and finally, harvesting the dates as they reach ripeness. All that work makes Nielsen think there's something behind Michael Pollan's "Botany of Desire," which posits perhaps plants evolve to appeal to us, producing flowers or fruit so enchanting, we'll do the work to propagate them. "As wacky as that premise is, it fits. This palm fits that perfectly. The fruit has such a high quality to it, it's made us keep it going. It makes you wonder who's controlling who here," says Nielsen.
"It's such a different animal than the rest of them," he says, wistful. "It's like having a candy factory 40 feet up in the sky."

Medjool Date and Celery Salad

Takes 10 minutes to throw together, tastes incredible.

3 ribs celery, including leaves (about 2 cups), chopped
3 cups arugula, loosely packed
6 Medjool dates, pitted and chopped
1/4 cup pistachios
2 tablespoons walnut oil or olive oil
1 tablespoon Dijon mustard
1 teaspoon agave or honey
1 teaspoon cider vinegar
freshly ground pepper

In a large salad bowl, combine arugula leaves and chopped celery. Do add the celery leaves -- that's where the bright essence of celery is. Add the chopped dates and pistachios.

In a small bowl, make the dressing, whisking together the walnut oil or olive oil, Dijon mustard, agave and cider vinegar until emulsified. Pour over salad.

Top with a good grind of pepper. Toss to combine.

Serves 4
Calling all HuffPost superfans!
Sign up for membership to become a founding member and help shape HuffPost's next chapter