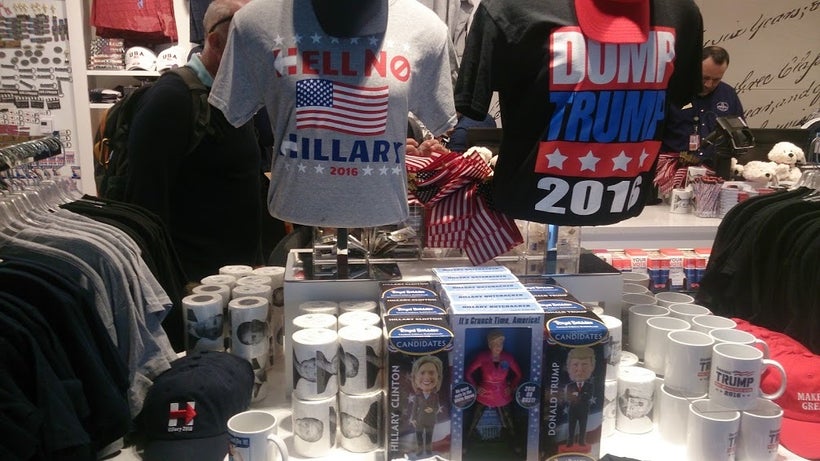 On a recent trip through LAX Los Angeles airport, I came across a shop selling election merchandise. The display was equally and symmetrically distributed between the two major candidates. T-Shirts, baseball caps, coffee mugs, dolls, even toilet paper with the candidates' portraits.
Both candidates have online stores selling promotional merchandise for their campaigns.
But now that we are in the last days of the election, and as an American living abroad, I thought maybe I would get a piece of history and order a tote bag or t-shirt from my favorite candidate. Then I thought, I should probably get something from the other candidate as well, after all, it will one day be a piece of American nostalgia.
So, I visited both candidates websites and this is what I found...
Looking through the merchandise, also keeping in mind I was looking to buy something that one day may be something iconic and interesting to pass down to my niece or nephew (in 10 years it will already be considered Vintage).
Disclaimer: I do not include any of the merchandise photos - you can see the sites thru the links above . I do not in any way profit from sales of items. I wrote this article as an essay piece based on observations of what I found looking for candidate merchandise.
Style
I can honestly say that only the Hillary merchandise had any kind of pizzazz. The graphic designs are much more colorful, using colors and design and clever images. My favorite piece is the t-shirt depicting the "Blue States" designed by Jason Wu. ($45.00)
Although Donald's graphics are downright simple, you have to admit they are pure Americana. Bold print T-R-U-M-P, a couple of stars and bold framing of the lettering are the base of all things Trump. None of the items were made with design or style in mind, but with structure and message. The simple Trump Pence t-shirt says it clear and simple. All designs are aligned perfectly don't use any fade effects and never use more than two print colors.
Variety
Hillary has 1 hat design in one color whereas Donald has 4 designs in a variety of colors and embroidered thread colors (even gold) as well as a selection of visors to choose from.
Hillary has over 20 t-shirt designs and Donald has over 40 designs.
Hillary has a variety of accessories and gift items like tote bags, cushions, shot glasses and even a H is for Hydration sports bottle. Donald has few accessories; a tote bag, a mouse pad, Trump-Pence playing cards and an unlikely broad selection of beer cooler sleeves, and red 16 oz. party cups. Choosing their gift items, Hillary definitely had the Pinterest home-decor crowd in mind whereas Donald had the tailgate party crowd in mind.
Prices
Hillary $35.00,
Donald $20.00 - $30.00
Hillary $15.00 - $45.00
Donald $18.00 -$35.00 and up to $50.00 for polos and sweatshirts
Hillary from $3.00 for a logo lanyard to $55.00 for a stitch by stitch throw pillow.
Donald from $10.00 for team spirit pom-pom set to $30.00 for a poster "suitable for framing" (meaning frame not included)
Who's got more 'sold out' items?
As of today Nov 1, 2016 Hillary had over 30 items marked as "Sold out" Donald had zero items marked as "Sold out". There is no way of knowing what items sell most or as of yet how much they have made from online sales.
CBS reports that millions of dollars are brought in by the sales of election merchandise, and the campaign teams gather statistics on demographics, and shopping habits from online and off-line sales.
And next week when it's all over ?
What happens to the unsold election merchandise?
Sport teams over-order merchandise for big sport events and the loser always ends up with a surplus. These items can easily be donated, shipped to overseas military or impoverished countries.
But I highly doubt (and hope) that neither of our 2016 USA Presidential candidates will be doing that!
Celia worked in fashion and studied art in Milan, Italy and now writes for Milanostyle.com. She shares her discoveries of her travels and experiences in Italy and beyond, giving readers an insider's view of what to do, where to go and how to do it in style. More: www.travelpostrepeat.com
Calling all HuffPost superfans!
Sign up for membership to become a founding member and help shape HuffPost's next chapter
This post was published on the now-closed HuffPost Contributor platform. Contributors control their own work and posted freely to our site. If you need to flag this entry as abusive,
send us an email
.