The other day an acquaintance called and said: "Hey, you're an Israel guy, just who in the devil is Michael Oren and what's the fuss!?" I replied, "Michael is an Irish drum-playing, fellow ADHD afflicted soul who was once told, as an 8 year old boy, to "F-Off" by Mickey Mantle. Most profoundly for me, Michael is a man I am privileged to call my friend. He is also a celebrated Israeli-American historian, Israel's former Ambassador to the United States (2009-2013) and now a member of the Israeli Knesset who recently published a highly controversial memoir of his time in Washington titled: Ally: My Journey Across the American-Israeli Divide.
The heart of the fuss is Iran. Contrary to a number of his critics, it is not about Michael's personal analysis of what makes President Obama tick. Intelligence and diplomatic agencies have sought to divine what informs and motivates leaders for centuries. Neither is the fuss about Michael's understanding or lack thereof of the issues that divide Israelis from Diaspora Jewish communities. It is about Michael standing up against the framework of the Obama Administration's current nuclear deal with Iran, which Michael and I both believe is a threat to Israel and the United States.

Michael Oren, for starters, is the son of a decorated veteran of: D-Day, the Battle of the Bulge and Korea. As a young man, Michael had the unique privilege to work as the personal assistant to Orson Welles. He is also an avid rower, winning two medals in the 1977 Maccabiah games. Academically, Michael earned a BA from Columbia College and an MA and Ph.D. in Near Eastern Studies from Princeton. A prolific author, he has published works on history, fiction and poetry.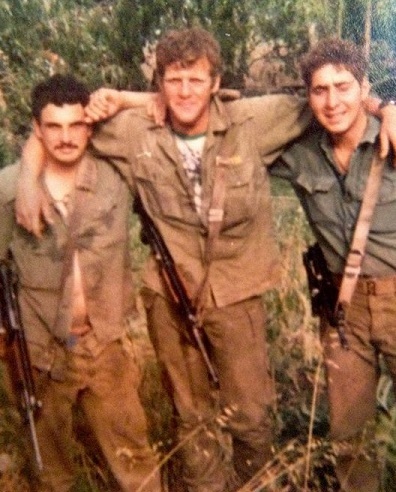 Michael is a man who left the comforts of America to become an Israeli citizen. There, he defended Israel as a paratrooper in front-line actions in Lebanon through both Intifadas in the Territories and beyond. Along the way, he even had the good fortune to marry Sally, the girl who inspired the Jefferson Airplane's "Young Girls Sunday Blues." Together they raised three children, all of whom served in the IDF, wherein Yoav, the oldest, was wounded in combat. Michael also worked for Prime Minister Yitzhak Rabin and supported the Oslo Peace Process even after his sister-in-law was murdered in a Palestinian terror bombing.

Michael is a man who willingly traded in his right to self-express for the privilege of defending his nation diplomatically. He is something he would never call himself- a patriot.
The core of the "fuss" truly is Iran. In Ally, Michael throws a hay-maker at the Obama Administration; hell bent on giving Iran a nuclear weapon and to boot, releasing $150 billion in frozen assets as "an upfront signing bonus." The first will undoubtedly spark future nuclear proliferation as Saudi Arabia, Egypt and Turkey seek to achieve strategic parity with their Persian neighbor. The latter will immediately enhance Iran's ability to supply funds and advanced weapons to its extremist regional allies.
In response, here comes Michael Oren with the courage to point out that this is in fact, insane. How dare he challenge the Administration's signature foreign policy pursuit by pricking the "comfortably numb" in order to spark a conversation! His detractors forget; in Israel, expressing one's opinion is a national sport, in America, it's a First Amendment Right.
In an effort to discredit Michael, the politically appointed US Ambassador to Israel, Dan Shapiro, with zero specifics, told Israel Army Radio that Michael's views were "untrue" and "imaginary," then levied the charge that Michael has only spoken out to "sell books." In the height of irony, Phil Gordon, the bona fide European expert whom the Obama Administration improbably appointed as White House Coordinator for the Middle East, accused Michael of "still spinning for the boss."
As a terribly truant student living in Israel between 1990 and 2001, I was stoned by both Israelis and Palestinians, wore a gas mask during Scud Missile attacks, was stampeded in the 1996 tunnel riots, shot at and had been in close proximity to multiple suicide terror bombings.

As a former US Marine Major, I liaised with the IDF during the Iraq war. I then served almost six years during the Bush and Obama Administrations as a Senior Middle East Adviser for the USSC, an outfit dedicated to rebuilding trust and confidence between the Israeli and Palestinian security establishments.
The Bush Administration with significant support from a Democratic majority Congress, prioritized issues of Palestinian institution-building, governance and security believing it was better for nation-building to precede, rather than follow, the declaration of a Palestinian State. The Obama Administration focused almost exclusively on reaching a conflict ending agreement, blind to both previous "on the ground" progress and the argument that creating a Palestinian state that ends up a failed one, would not benefit but harm, the Palestinians. That change of focus not only undercut the USSC, but also then Palestinian Prime Minister Fayyad and the efforts of then Quartet Representative Tony Blair. It further gave Israelis, like Michael, pause to question whether this US Administration had the skill, wisdom and basic knowledge to broker peace.
As I stand shoulder to shoulder with Michael, it galls me that my government is still sucking up to Iran 36 years after the end of the Tehran embassy hostage crisis! Obama Administration officials seem lost to the reality that they are dealing with the same Iranian regime whose proxies killed 241 US Marines, Sailors and Soldiers in Beirut in 1983. The same Iran that, in Iraq, is responsible for having killed hundreds of Americans via their supply of the most sophisticated armor-piercing, roadside bombs and IEDs. An Iran, whose commander of ground forces declared, just two days before the July 7 nuclear talks deadline that "a rapprochement was out of the question, as the enemy (the US) is exploiting nations and putting them in chains." Obviously, nothing has changed and dealing with these people under the known terms of the prospective agreement is not only naïve and dangerously misguided, it is silly.
Calling all HuffPost superfans!
Sign up for membership to become a founding member and help shape HuffPost's next chapter