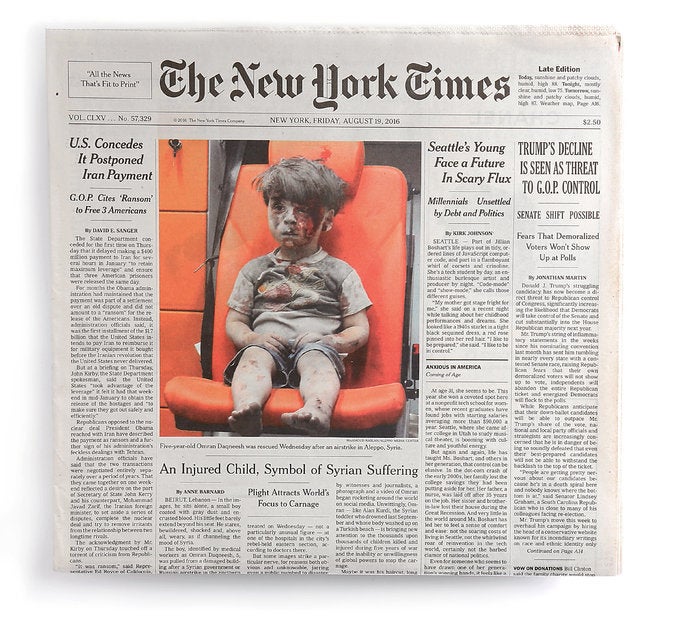 World leaders are meeting this week in New York at the United Nations Summit for Refugees and Migrants and at President Obama's Leaders' Summit on Refugees to commit to an international response to the worst refugee crisis since World War II. The U.N. High Commissioner for Refugees reports that a record 65.3 million people were displaced at the end of 2015, up from 59.5 million just 12 months earlier. The UNHCR's Syria Regional Refugee Response has registered over 4.8 million refugees from Syria alone, including nearly two million Syrians under the age of 12.
On August 18th, a devastating Syrian government or Russian airstrike in Syria's largest city, Aleppo, destroyed an apartment building, sending dozens to the hospital and adding to the estimated 300,000 Syrians killed in that country's civil war. Photos and video of one survivor of that attack, five-year-old Omran Daqneesh, shown sitting dazed and wounded on an orange chair in the back of an ambulance, appeared on international news outlets and quickly went viral on social media. The New York Times featured the photo on its front page and its home page. Craig Allen, a Times photo editor, calls the photo "extraordinary… [A]n effective symbol of a war with no winners but very clear losers."
A Global Strategy Group online survey experiment conducted using Google Consumer Surveys the week after the images of Omran Daqneesh were published found that more than two-thirds (69%) of online Americans had seen either the photo or the video. The photo had a powerful and immediate effect. Those who had previously seen the boy's image were 20 points more likely than those who hadn't to support the plan to permit at least 10,000 Syrian refugees to come to the United States to escape the situation in Syria. And those who had previously seen the image were also 18 points more likely than those who hadn't to say that "the United States has a moral obligation to help end the civil war in Syria."
When Libertarian presidential candidate Gary Johnson was asked a basic question on MSNBC about what he would do to address the crisis in Aleppo, his bewildered response, "What is Aleppo?" sparked a debate on social media about what people should know about the human cost of the Syrian conflict and the global refugee crisis. A serious presidential candidate should know about Aleppo. When it comes to shaping public opinion, a better question might be: "Who is Aleppo?" Americans react differently and significantly more compassionately when the answer is that he is a five-year-old child who has known only war.
The Republican nominee for President, Donald Trump has specifically promised to keep Syrian refugees – even young children – out of the United States. Campaigning in February, Trump said, "I can look in their faces and say, 'You can't come here.'" For Americans who have looked in the face of an innocent child after an airstrike, it's not so easy to react with such callous disregard.
A separate, split-sample experiment we conducted using Google Consumer Surveys shows the latent power of Omran Daqneesh's photograph to stir some Americans' hearts and change minds. If respondents are asked if they have seen the photo and asked for their reaction to it immediately prior to being asked Syria and U.S. refugee policy, they are 14 points more likely to support the plan to admit 10,000 Syrian refugees to the United States.
Leaders, humanitarian organizations, and other advocates can make a stronger case for action and policy change by using photographs and video to create an empathetic, human connection in a way that statistics and numbers in the millions cannot. In response to the Trump campaign's Twitter post comparing the Syrian refugee crisis to a bowl of Skittles, Jon Favreau, Barack Obama's former chief speechwriter, the New Yorker's Emily Nussbaum, and many others re-posted Omran's photo, with the message, "They aren't Skittles. They're children. Just like yours." The simple act of sharing visual stories and images like that of Omran Daqneesh instantly fixes the discussion in human and humanitarian terms, and, in this case, may have an enduring effect on public opinion.
Global Strategy Group conducted this online survey experiment among 1000 respondents using Google Consumer Surveys, from August 24-28, 2016.
Popular in the Community