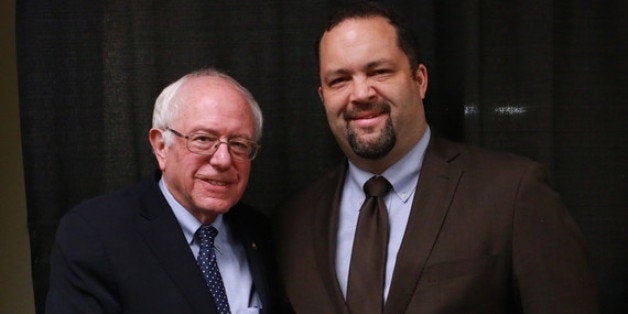 After his victories in Iowa and New Hampshire, more and more people in our communities are asking: Who IS Bernie Sanders?
Last week, Congressional Black Caucus Members were asking it openly as they watched Rev. Al Sharpton host Bernie in Harlem, just hours after Bernie had the most decisive victory in the history of the New Hampshire Democratic presidential primary.
Yesterday he met with students at Allen University in South Carolina, and Morehouse in Atlanta.
Later this week, major black civil rights leaders will be sitting down with him to discuss his agenda.
Who is Bernie Sanders? Who is this man that keeps upsetting our nation's most powerful political dynasty at the polls? Let me take a moment to answer that.
He beats every leading Republican in the polls, and often does better against them than his opponent.
He does what he says he'll do.
Indeed, he has a lifetime history of doing the right thing. He has a vision for change and, yes, social revolution that is directly inspired by the example and words of Rev. Dr. Martin Luther King, Jr.
Bernie began his political life as a civil rights organizer.
He got arrested fighting to integrate university housing in Chicago in the early 1960s. (If John Lewis did not see Bernie Sanders in the Civil Rights Movement, it may just have been because Bernie had his back. John became national chairman of SNCC in 1963. Bernie joined CORE at the University of Chicago in 1961, according to national reports. As chairman, he then led the group in its merger with the campus chapter of SNCC in 1962, and was arrested in 1963.
Bernie was one of the few elected officials in Vermont to endorse Jesse Jackson for president of the United States in 1984.
Today, he has a 100 percent rating from the NAACP. He also has the best platform for ending mass incarceration, improving community policing, and advancing racial justice.
Bernie protested the War in Vietnam as a young man.
He voted against the foolish and very expensive war in Iraq, which has robbed us of funds -- and more importantly, of young lives -- that might have help lift up our communities and our nation.
Speaking of lives, Bernie is also the only candidate who has been willing to lose a major election fighting for an assault weapons ban (as he did when ran for Congress in 1988).
Today, he has a courageous plan to end gun violence, and has a D-minus rating from the NRA to show for it. (An F would be even better... but he's working on that.) Meanwhile his opponent, who like Bernie is running to the left on guns this year, hopes we will forget that she ran to the right of President Obama on the same issue eight years ago.
Bernie understands that gun violence is about more than just guns. He understands the larger social and economic reality faced by our Black and Brown young people, who are the most likely to shoot each other (just as our unemployed white and Native American working class young people are the most likely to shoot themselves).
In other words, Bernie knows that nothing stops a bullet like a job.
Bernie Sanders often expresses his outrage over the real unemployment and underemployment rate for Black youth with high school degrees, which is a shocking 51 percent, in front of crowds of every color. He has a plan to create a million youth jobs to help solve that problem.
Bernie is committed to fighting the Wall Street greed that has decimated Black and Brown communities. He understands that people accumulated their wealth in housing in the 1990s, then lost it in the 2008 crisis after being redlined on lending rates and exploited by predatory lenders. He knows that the rules are rigged by banks that became too big to fail after President Clinton helped eliminate the Glass-Steagall Act and deregulate Wall Street.
There is no question that Bernie Sanders will do more to rein in Wall Street's greed and fraud, end its destructive behavior, and rebuild our communities. He has never taken a dime from their lobbyists, and has built his campaign on the urgent need to rebuild and unleash our economy from the bottom up.
He has the best racial justice platform of any presidential candidate -- but every part of his platform helps African-Americans. His infrastructure plan creates or preserves 13 million good jobs. That helps African-Americans. Providing tuition-free education at public colleges and universities opens the door to opportunity for young people. That helps African-Americans. He has a plan to protect and expand Social Security -- that helps African-Americans.
Moreover, Bernie Sanders knows how to get things done. In these highly partisan times, he has repeatedly reached across the aisle to get results for the American people -- on issues as fundamental as strengthening how we care for our veterans, providing heating oil for the poor, and making sure the Federal Reserve system is as strong as possible.
But, above all else, Bernie Sanders strives to bring all Americans together with his belief that we are one nation and one community, and the fierce urgency with which he is helping to build a movement that will defend the American dream.
That is why he joined the civil rights movement then. That is why he is running for president now.
Calling all HuffPost superfans!
Sign up for membership to become a founding member and help shape HuffPost's next chapter