Six black churches burned. Two weeks. Three blazes that could be arson.
Authorities have yet to determine whether the fires that have ripped through the buildings of predominantly black churches in the South in the past weeks were hate crimes -- or if they were even linked. But activists and religious leaders were quick to connect the dots on social media, asking the question #WhoIsBurningBlackChurches?
Black churches have long been symbols of power, community and liberation for African Americans -- and as a result, have often become a target when white supremacists feel their own power is being threatened.
In Greeleyville, South Carolina, on Wednesday, investigators were picking through the charred remains of the Mount Zion A.M.E. Church. Federal officials believe the fire may have been caused by a lightning strike, as heavy storms moved through the area on Tuesday night. Still, it was an eerily familiar site for parishioners. The church had been gutted in 1995 by a fire set by two Ku Klux Klan members.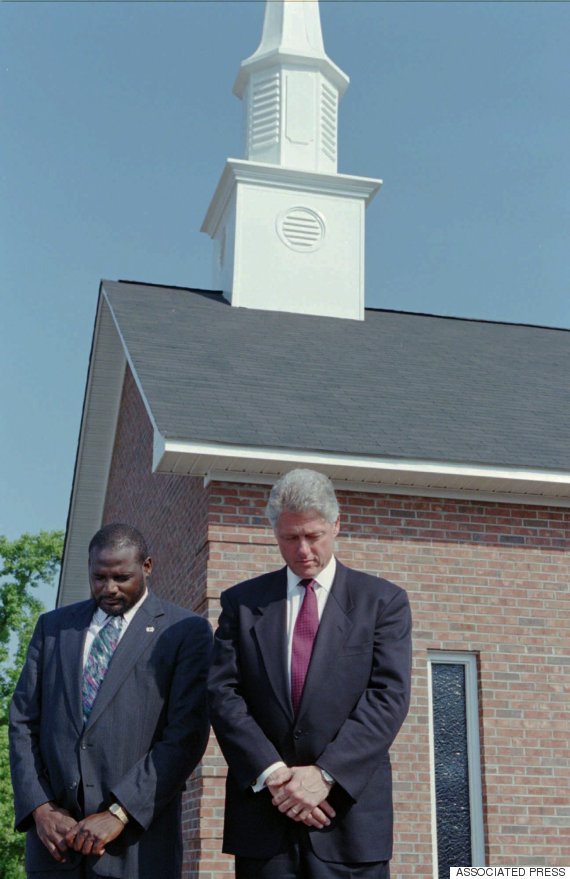 President Bill Clinton bows his head in prayer at the newly rebuilt Mt. Zion African Methodist Episcopal Church along with Rev. Terrance Mackey in Greeleyville, South Carolina, on, June 12, 1996. The original Mt. Zion AME Church was destroyed by arson on June 20, 1995.
In Knoxville, Tennessee, an arsonist set fire to College Hill Seventh Day Adventist Church on June 21. Though police have said it doesn't appear to be a hate crime, Pastor Cleveland Hobdy said that given the recent string of arson against black churches, he believes it was.
"It makes me sad because we're working to reach out and help people," Hobdy told HuffPost. "We provide food and clothing and shelter, we provide training."
Hobdy said he's thankful the damage was minimal. The church has reopened its doors, but now has security officers in place.
Other church fires have broken out in Georgia, Florida and North Carolina. In South Carolina, two black female A.M.E. pastors said they received threatening letters early in June. Local police have reportedly been dispatched to stand guard at the women's church buildings.
The president of South Carolina's NAACP Charleston chapter, Dot Scott, told HuffPost that in order to quell any future violence, justice must be swift for those who attacked the churches.
"The scary thing is when these things happen late at night, we only lose buildings, but if it begins to happen during the day, this could be a real serious issue," Scott said. "I don't think it's far off to think it could be escalated where human lives could be lost in these fires."
Though she readily admits there isn't enough evidence yet to determine who has started these fires, Scott said she believes the KKK has played a large role in the arson.
"This is the message the Klan wants to continue to send," she said. "The imminent removal of the [Confederate] flag has really stirred ire in the group, and they want to fight back. That's what we're dealing with now."
In an outgoing voicemail message from North Carolina's KKK chapter, a man urges whites to come together and protest the removal of the flag at South Carolina's statehouse.
"If you're white and proud, join the crowd," the message says. "Save our land, join the Klan."
The KKK based in North Carolina didn't return HuffPost's request for comment.
"If there are no repercussions, they'll continue," Scott warned. "But if justice is swift and immediate, we may have some relief."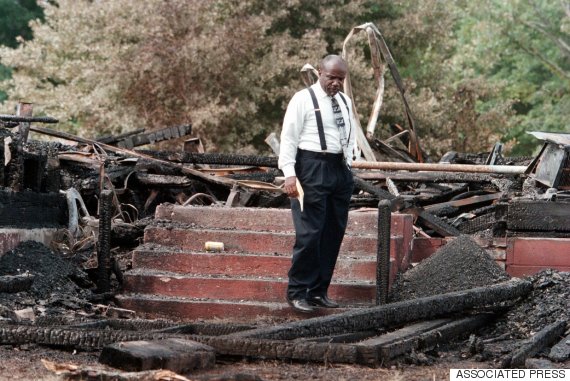 Rev. Larry Hill looks over the remains of the Matthews-Murkland Presbyterian Church in Charlotte, North Carolina, on June 7, 1996, after officials called the fire that destroyed the church arson.
Rev. Rhonda Kinsey, co-pastor at Briar Creek Baptist Church in Charlotte, North Carolina, saw her church destroyed on June 24. Police say the church was intentionally set on fire. According to the Charlotte Observer, they have no evidence at this time that suggests the arson was a hate crime.
In a neighborhood made up mostly of minorities, the black-led church has a congregation of more than 100 members. The church's campus has four buildings. The fire began in the youth building and spread to two other buildings, causing about $250,000 in damages. The building that holds the sanctuary, however, wasn't damaged, and the church held its first service the Sunday after the fire -- but without working utilities.
When asked if she believed this to be racially motivated, Kinsey said, "I really don't know."
"When you think of what the church is and what it represents, it's a place of love and hope," Kinsey said. "It's extremely disappointing -- even for those fires not being targeted by hate crimes. Either way it's a tragedy."
The string of fires have taken place during a national outpouring of support for the black community, after a shooting at Emanuel A.M.E. Church in Charleston, South Carolina, left nine people dead. In the aftermath of the massacre, religious leaders, activists, and politicians called for South Carolina to take down the Confederate battle flag flying on its capitol grounds.
Lisa Sharon Harper, chief church engagement officer at the Christian social justice organization Sojourners, said she believes it "can't be a coincidence" the fires happened to coincide with the backlash against the Confederate flag. She pointed to similar church bombings and burnings that happened during the Reconstruction Era in the South and the Civil Rights Era, and during racial reconciliation efforts that followed the Rodney King incident. Arsonists even torched a black church in Massachusetts hours after Barack Obama became the nation's first black president.
"Whenever you have African Americans in history pushing back against white supremacy, you inevitably have church burnings," Harper told HuffPost. "In light of Confederate flags being taken down off of government buildings, this is a true threat to the dominance of whiteness in America."
Mark Potok, senior fellow at the Southern Poverty Law Center, said he isn't yet convinced the recent burnings were racially motivated. But he said he understands the source of the frustration that gave birth to the #WhosBurningBlackChurches hashtag. Noting racial tensions surrounding the Charleston shooting and the outcry against the Confederate flag, Potok said that white supremacists in the South may feel threatened.
"Given the history of black churches, we aren't overreacting," Potok told HuffPost.
Pastor Carlton Lee knows all too well the hurt and pain caused by a torched church. Flood Christian Church in Ferguson, Missouri, was set ablaze last November, shortly after Lee, 31, called for the arrest of Darren Wilson, who gunned down unarmed black teen Michael Brown in August. A grand jury chose not to indict Wilson in the killing.
Lee told The Huffington Post he believes the fire was set by white supremacist arsonists who wanted to send a message of hate to the same church that Brown's family still attends. The investigation is ongoing, Lee said. The Northeast Fire Protection District handling the case was not immediately available for comment.
"I couldn't fathom in my mind that anyone could do something like this," Lee said of the first time he stepped inside the heavily charred place of worship. "It was so detrimental to us all in the community. It was a really tough pill to swallow."
Despite an initial flooding of support for the church, money stopped trickling in around January. The church is still $83,000 in the red, Lee said.
"The community has definitely rallied around us, but we're still in the phase of rebuilding," he said.
Some organizations are already raising funds to help the recently targeted black churches rebuild. Christ Church Cathedral, an Episcopal church in St. Louis, is asking faith communities to have a special collection for the burned churches in July. The online campaign has raised more than $25,000 so far.
"These churches are centers of spirit and community," campaign organizer The Very Rev. Mike Kinman told HuffPost. "An attack on them is an attack on the heart of the black community. An attack on them is evidence of how deeply racism is still ingrained throughout our land. An attack on them is an attack on the best of who we all are."
Hobdy, pastor of the burned church in Tennessee, also experienced a sign of hope. He told HuffPost about a prayer meeting held last Saturday at the church, days after the arson took place. The meeting drew members from different churches all over the community. Hobdy was struck by how the majority of people in attendance were white.
"They came to let us know that they're brothers and sisters and stand by our side," he said. "The majority of people were white -- that was a statement. It was the community saying that we don't care what color you are, we don't roll like that."
Calling all HuffPost superfans!
Sign up for membership to become a founding member and help shape HuffPost's next chapter
BEFORE YOU GO