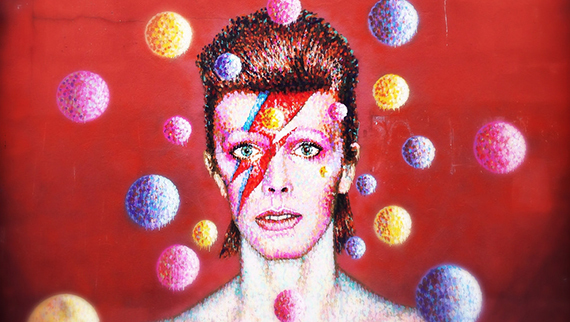 Mural of David Bowie in Brixton, London, where he was born. Photo by: Louise McLaren
Soon after David Bowie's departure from earth, the internet flooded with tributes. But it also left many millennials who had never seen his work wondering, 'who is David Bowie?' It left Twitter abuzz with speculations. It's cool though, because now a whole new generation gets to discover the work of this legendary rocker.
David Bowie was famous for his theatrical concerts, costumes, and genre bending styles which had him surfing through five and a half decades of music, film, art, and theatre.
Bowie was exceptional specifically because he challenged the status quo and even his own fame to constantly re-invent himself, re-invigorate his music, and create new trends.
Along the way he was a key influencer through artist Andy Warhol's reign in the 60s, the emergence of glam rock and punk rock in NYC, through the early days of MTV, 90s post punk and grunge, all the way through the electronic music scenes of today.
Here my friends is a brief history of how David Bowie rocked the world through videos.
Let us know your favorite Bowie moments in comments below.
In 1969 while America was planing a historic moon landing, the song Space Oddity launched David Bowie into the spotlight. The BBC played the song as part of their coverage of the moon landing.
While Bowie was garnering buzz in the UK, the song Changes was his first US hit and become one of Bowie's best-known songs. It is often considered his manifesto for a career that would span various creative phases.
This iconic song launched Bowie's alter ego Ziggy Stardust along with launching glam rock to an unsuspecting audience as Bowie traversed the barriers of cross dressing, androgyny, and sexuality. This inspired a generation of artists to push the boundaries of rock n roll and style from NYC's New York Dolls to Twisted Sister, Prince, Boy George, Lady Gaga and more. Many of these artists confide they would not have been able to do what they do if it weren't for David Bowie and Ziggy Stardust.
Another iconic song by David Bowie, cited as his most covered song through generations of musicians from Def Leppard to Joan Jett to The Smashing Pumpkins.
5) Fame with John Lennon (1975)
A song that was inspired from conversations between Bowie and John Lennon about fame. Lennon was given a co-writing credit and his voice can be heard towards the end of the song, singing "fame" through effects.
In the 80's Let's Dance put Bowie squarely in the top of the charts. It was his fastest selling single and one of his biggest-selling tracks. Legendary guitarist Stevie Ray Vaughn plays a solo towards the end of the song.
Bowie's 1987 performance of "Heroes" in Germany was considered a catalyst to the eventual fall of the Berlin Wall. It is one of his signature songs written with Brian Eno and cited as Bowie's second most covered song with popular versions from Peter Gabrial to The Wallflowers.
8) Afraid of Americans (1995)
Although Bowie had hits through the 80s, his return in the 90s with the album Earthling met with critical acclaim and brought Bowie's music to the electronic music age. "Afraid of Americans" was originally co-written by Bowie and Brian Eno. The album Earthling featured remixes of the track with collaborator and former tourmate, Trent Reznor of Nine Inch Nails, plus drum and bass artist Photek.
David Bowie's track from his final album Blackstar was a 'parting gift' for fans showing how he approached his death. In a statement on his Facebook page, he said: "He always did what he wanted to do. And he wanted to do it his way and he wanted to do it the best way."
10) Space Oddity, Covered by Astronaut Chris Hadfield (2013)
We can't leave on a sad note, but bring it full circle to the creative spark that launched David Bowie into legendary stardom and now takes him to the stars.
"When David Bowie wrote and recorded Space Oddity in 1969, I wonder if he ever imagined it being played in orbit?" writes Chris Hadfield on his blog. Hadfield recorded a brilliant version of the track while aboard the International Space Station, circling around planet earth.
I would be remiss if I didn't show the influence Bowie had on other artists of his time and beyond. Aside from his own works, Bowie produced long time friends Lou Reed and Iggy Pop who Bowie first met alongside art icon Andy Warhol in the heyday of the 70's NYC art happenings. Bowie's influence continued through covers from artists such as Kurt Cobain of Nirvana, The Wallflowers, and many more. Their tracks alongside others are featured in this David Bowie video playlist to rock out with.
Hope you enjoy this list as much as I do.
Leave comments of your fav Bowie songs and share this to inspire a resurgence of Bowie's music for a whole new era.
REAL LIFE. REAL NEWS. REAL VOICES.
Help us tell more of the stories that matter from voices that too often remain unheard.