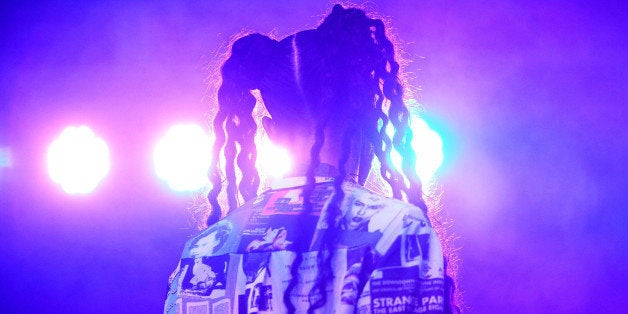 When the 26-year-old artist emerged onto the stage at the El Rey in Los Angeles earlier this week she wore white '90s street wear with exotic gold chains wrapped around her belly and thighs. A sheer white lingerie robe drooped over her white corset, both saintly and corrupt, like Madonna from the future. Her makeup resembled a manga doll from another planet, her eyes too big and her mouth too small to look quite human.
She surveyed up her audience and sneered, seemingly unimpressed. "I love that she's a performance artist. Like, literally, a performance artist," someone close by whispered.
And then Twigs began rapping in a Parseltongue hiss. Like Jean Luc Godard's whispering narrator in "2 or 3 Things I Know About Her," a film about a housewife who moonlights as a prostitute. It's an interesting contrast to Beyonce's "On The Run," which begins with a blatant "Breathless" knockoff with Bey as Queen, Jay as Gangster. Twigs is narrator, director and star; and she doesn't have to spell it out.
FKA Twigs sounds like sex, as it exists online, in your fantasies and in the flesh. At times, her lyrics resemble late night, stream-of-consciousness desires that veer into crazy as they melt into a dream haze. Her verses channel dime novel lust and spiritual transcendence in a single breath. À la The Weeknd, her songs feel like nighttime, though if The Weeknd is a low key party where you're trying to hookup, Twigs is a surreal ChatRoulette rendezvous where you reach total intimacy with a stranger, and then lose each other again.
In the first line of "Pendulum," Twigs' second single off her new album LP1, Twigs coos "I'm a sweet, little love maker." Is she serious? You could imagine the doe-eyed dollish creature playing into someone's boyish fantasy. And yet there's clearly a sardonic bite, an awareness of her lover's belittlement, especially coming from the woman whose songs earlier snapped, "I can fuck you better than her."
Twigs, born Tahliah Barnett, is a shapeshifter. And most often, she occupies multiple roles at once. In "Number," she alternates between asking "Was I just a number to you?" and "Was I just a --" before breaking into the caricatured pouty cry of a cartoon baby doll. She interrupts herself constantly, her multiple personalities all vying for stage time. She's Kate Bush skyping with Aaliyah in the afterlife and the screen keeps glitching.
Twigs' chameleon-like habit of swapping voices and personas translates to her similarly protean body language. Twigs -- a nickname she earned for popping joints in her brittle limbs -- was a backup dancer in a former life. See her in Jessie J's "Do It Like A Dude."
But back to the dancing. In one song she's Bollywood... then she's salsa, then hip-hop. Twigs moves like an Egyptian queen, a snake charmer, a stripper, a prima ballerina. She moves through the world and all its cultural rituals at a speed than can only be accessed in the globalized digital age. She flips through real and imagined geographies them like she's surfing the web.
As the show progressed it seemed less and less likely that Twigs was made of the same skin and bones as the rest of us. And then suddenly the song ended, and Tahliah Barnett greeted her enraptured crowd. She was shy and awkward, humbled and moved. "I get nervous when I talk," she explained. The audience breathed a collective sigh of relief, realizing that Barnett was playing a role -- or rather, many roles -- and once the lights turned on she was just like us.
Twigs is not a character, not something separate from Barnett. Twigs speaks softly and giggles moments before spreading her legs and grinding hungrily. There's no contradiction. Where Beyonce's feminist is both mogul and mother, Twigs transforms into every horror and fantasy ever projected onto a woman. She's a warrior goddess, a demonic child, a virgin angel. She's Bjork and Ciara and Yolandi Visser and Mariko Mori. She's Cleopatra and Daenerys Targaryen and Sailor Moon.
Watching Twig's incessant transmogrification, I was reminded of one of 2014's other best cultural moments, the TV show "Broad City", specifically, when Ilana Glazer predicts that "statistically, we're headed toward an age where everybody's going to be, like, caramel and queer." Twigs speaks to a new generation of people, of artists, of women, for whom identity operates differently. There are too many tasty options bubbling in the ether from which to select your interests and curate your attributes -- so why choose?
Twigs speaks to an age where musical genres are like ingredients best thoroughly mixed and baked. Where human interactions are so heavily mediated, a quest for authentic human connection is not only futile, it's boring. Twigs speaks to those whose lies are as important as their truths, especially those who can mix the two to create art.
REAL LIFE. REAL NEWS. REAL VOICES.
Help us tell more of the stories that matter from voices that too often remain unheard.