A 1969 painting by the late Irish painter Francis Bacon sold for a whopping $142 million this week, prompting art newbies everywhere to ask, "Who is Francis Bacon the artist?" So, for all those unfamiliar with the man behind "Three Studies of Lucian Freud," the newly dubbed Most Expensive Artwork Ever Sold At Auction, behold, 10 things you didn't know about the enigmatic painter: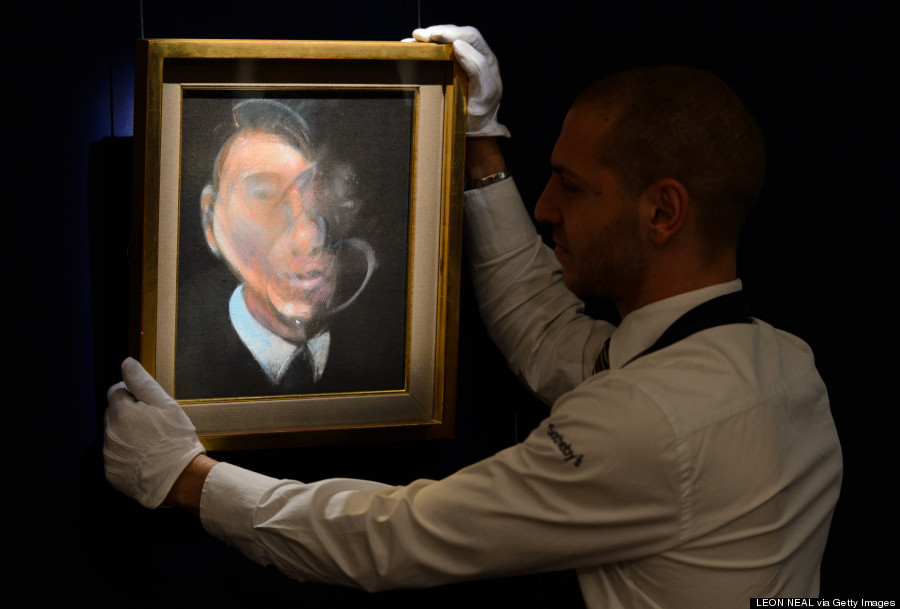 A gallery assistant poses with British artist and scientist Francis Bacon's 'Study for Self-Portrait, 1980' at Sotheby's acution house in central London on June 14, 2012. (LEON NEAL/AFP/GettyImages)
2. His family claimed to have been descendants of the more well-known philosopher and politician, Francis Bacon.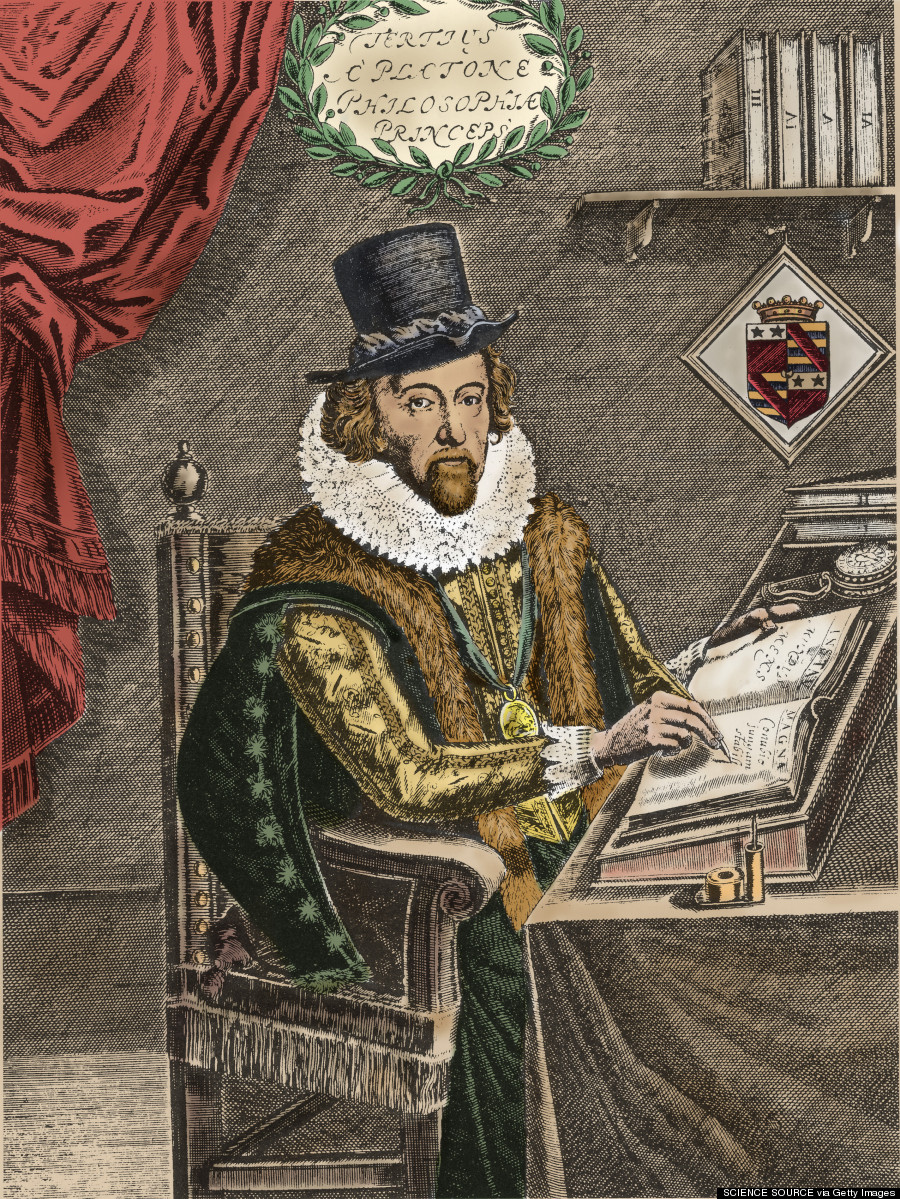 Francis Bacon (1561-1626) was an English philosopher who defended the Scientific Revolution. In his most important work, Novum Organum, he proposed a rational method for scientific inquiry, one based on observation and experimentation. (Getty)
3. Bacon began painting in his early twenties but didn't gain attention as an artist until 1944, when he created "Three Studies for Figures at the Base of a Crucifixion."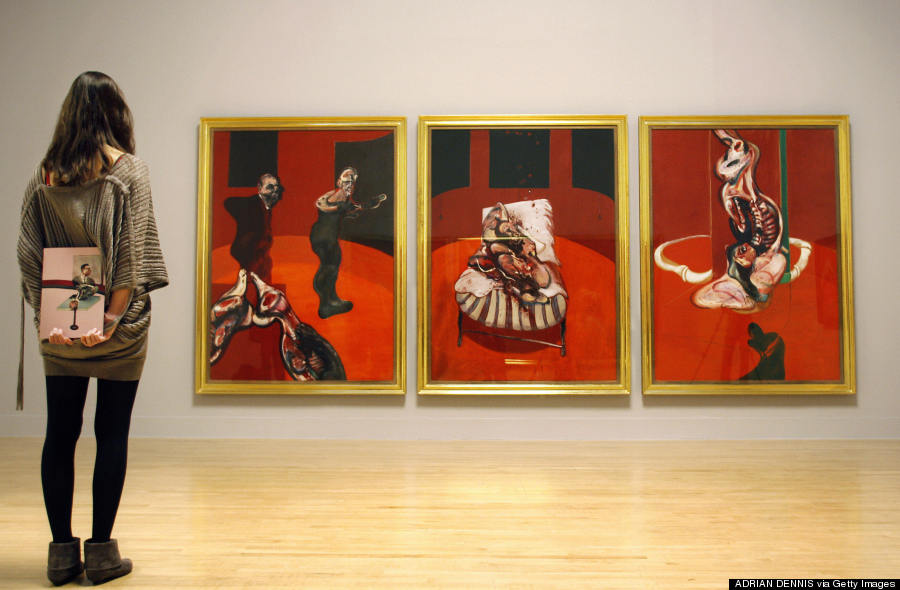 A visitor admires a triptych by Irish born British artist Francis Bacon entitled 'Three Studies for a Crucifixion 1962' at the Tate Britain gallery in London on September 9, 2008. (ADRIAN DENNIS/AFP/Getty Images)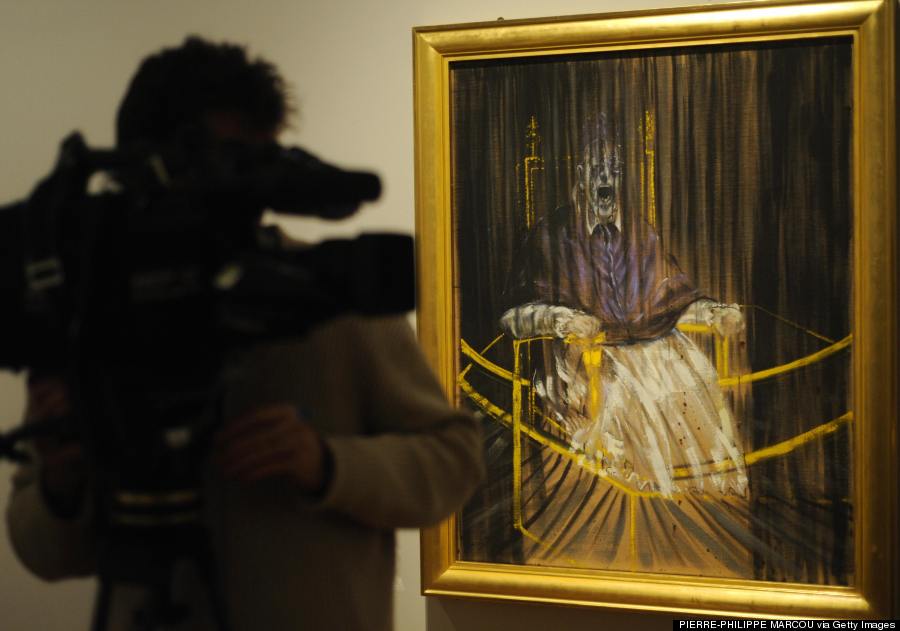 A cameraman works next to Irish artist Francis Bacon's painting 'Study after Velázquez's Portrait of Pope Innocent X' exhibited at Prado Museum in Madrid, on January 30, 2009. (PIERRE-PHILIPPE MARCOU/AFP/Getty Images)
5. Coincidentally, when Bacon's "Three Studies of Lucian Freud" sold for $142 million, it upended Edvard Munch's "The Scream" as the most expensive painting ever sold at auction.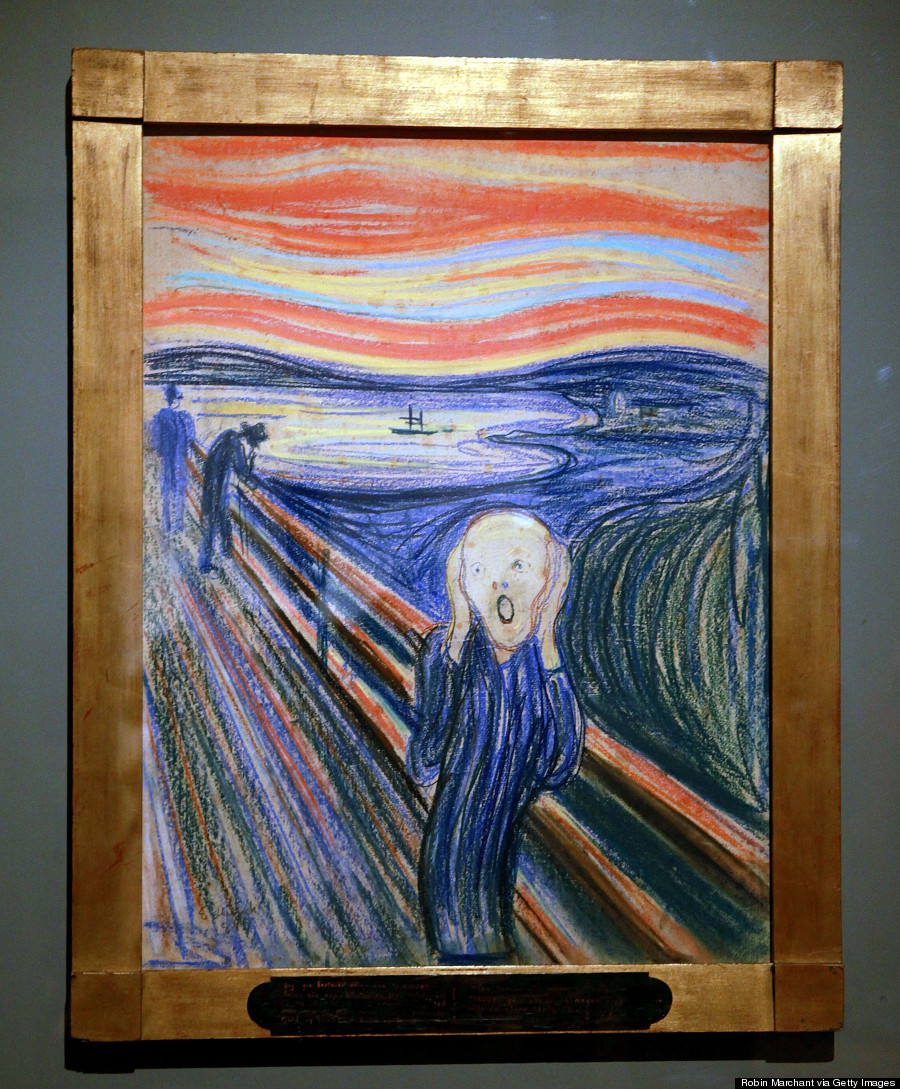 General view of atmosphere at 'Edvard Munch: The Scream' Media Preview at MOMA on October 24, 2012 in New York City. (Photo by Robin Marchant/Getty Images)
6. Early in his career, Bacon made money as an interior designer and furniture designer, managing to make his way into The Studio magazine as an example of the "1930 Look in British Decoration." This undated file photo provided by Sotheby's shows the three panels of Francis Bacon's "Triptych, 1976." The painting, which sold in May 2008 for $86,281,000 is one of eight works that have sold for $80 million or more at auction. (AP)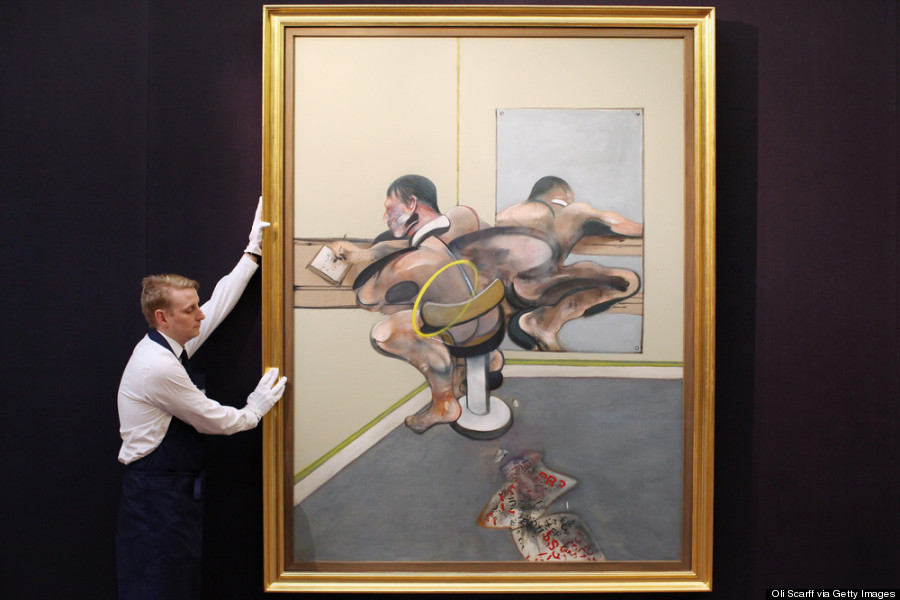 A gallery technician at Sotheby's auction house adjusts a painting by Francis Bacon entitled 'Figure Writing Reflected in Mirror' on April 12, 2012 in London, England. (Photo by Oli Scarff/Getty Images) A woman is silhouetted as she walks past the Irish-born British artist Francis Bacon's "Portrait of Henrietta Moraes" nude painting at the Christie's auction house's offices in London, Friday, Feb. 10, 2012. (AP Photo/Matt Dunham)
9. Bacon had a thing or to to say about love: "Being in love in that extreme way... being totally obsessed by someone, is like having some dreadful disease. I wouldn't wish it on my worst enemy." An auction house worker poses for the photographers in front of a Francis Bacon's oil on canvas triptych painting entitled 'Three Studies of Lucian Freud'', in central London, Monday, Oct. 14, 2013. The artwork will be offered in auction at Christie's New York 'Evening Sale of Post-War and Contemporary Art' on Nov. 12, 2013. (AP Photo/Lefteris Pitarakis)
10. Bacon had reason to depict tragedy and fear love. He was forced to grieve the deaths of two longtime lovers during his lifetime: Peter Lacy and George Dyer, who died of likely alcohol poisoning and drug overdose, respectively.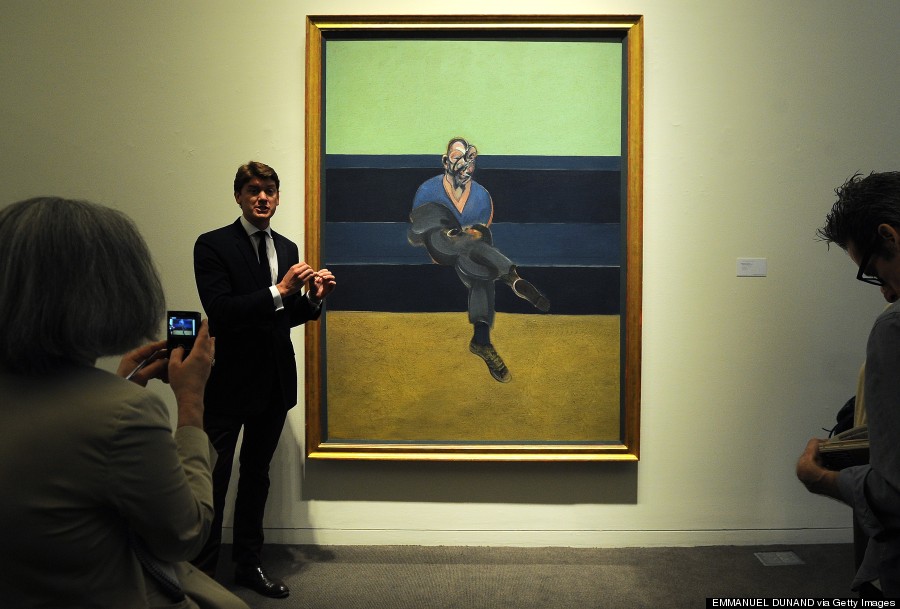 Study for Portrait of P.L.' by Francis Bacon is on display during a preview of Sotheby's Impressionist and Modern Art sales in New York, May 3, 2013. (EMMANUEL DUNAND/AFP/Getty Images)