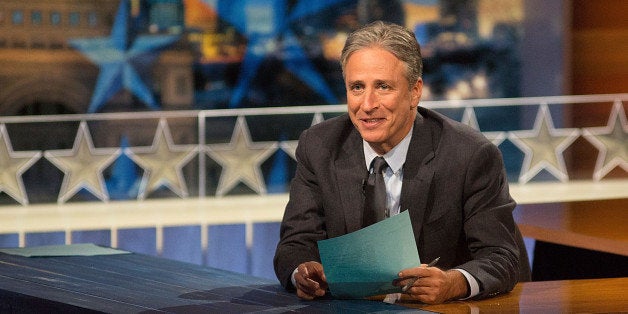 John Fugelsang should replace Jon Stewart on The Daily Show. Now that Jon Stewart of The Daily Show is planning to leave, there is much speculation as to who will take his place. For my money, John Fugelsang stands out as the best choice. Admittedly, there are more than a few worthy choices but Fulgelsang should be the one. If the top execs that run Comedy Central want Stewart's replacement to parallel the key strengths of Jon Stewart, then Fugelsang is their guy. Both of these politically oriented comedians are highly intelligent, super quick-witted and extremely knowledgeable about politics. They also could very well be the "two fastest guns" when it comes to speaking truth to power. Stephen Colbert, also is in the discussion, but he has his new replacement gig to worry about. Stewart and Fugelsang have an enormous capacity to brilliantly rebut political questions that get put on the table at a moments notice. Fugelsang is particularly good at forging on the spot zinger quality comebacks to right wing spins on political matters. A caller on The Stephanie Miller Show had a great suggestion of creating an app with Fugelsang comebacks, to be used on friends and family, if one of them trots out some lame right wing talking point.
Fugelsang, is a weekly guest on Stephanie's TV/radio show and is part of Stephanie's very popular Sexy Liberal Comedy Show. Stephanie, is also a very legitimate candidate to replace Stewart. However, the big shots that run Comedy Central probably want to plug and play someone into this role that is similar to Jon. TV audiences that like a particular format have established clear-cut expectations of what they like. With this in mind, they want their expectations to be mirrored as closely as possible in the form of the new host replacing the old host. John Fugelsang is the best choice to keep the engine purring and the ratings high. Ideally, Fugelsang gets the job. Once he establishes enough leverage with Comedy Central he may be able to bring Stephanie's hilarious brand of political humor to their network. That would truly be a win,win for Comedy Central and their audience.
Another quality asset, both Fugelsang and Stewart share is a really big heart with a strong moral compass. This is not to say that other candidates do not have this but when you get behind the biting humor it's easy to trust and connect to both Jon and John. Jon Stewart could very well be the most trusted person commenting on politics today. However, Fugelsang could easily make the grade as well. These two, somewhat uniquely, combine super quick wits, incisive well articulated intelligence, high morality, big hearts all with big laughs. Jon Stewart has been a treasure as a very funny yet powerful voice in the ugly world of politics. Humor is the vital secret sauce of political comedy that makes the bitter medicine of being politically informed so much easier to swallow. Jon Stewart is probably the top gunslinger in shooting the truth at power. John Fugelsang is my guy to become the new sheriff in the world of political comedy.
Popular in the Community