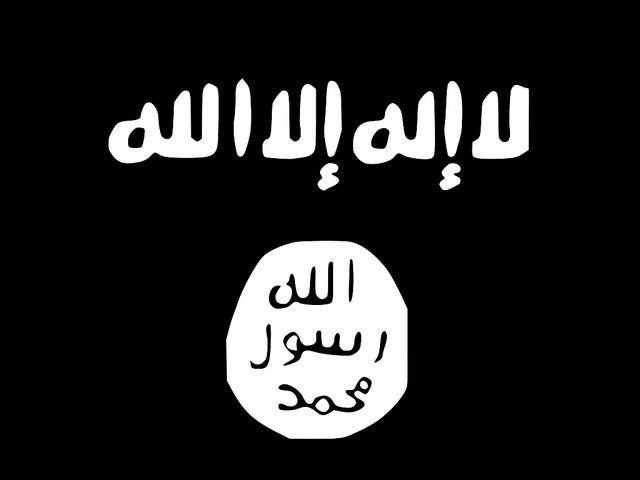 Who is the Islamic State (ISIS) executing, and why? My analysis of 6,019 executions (gathered in an original dataset based on United Nations data) perpetrated by ISIS in Iraq indicates that the vast majority of these killings are done with a clear goal in mind: to consolidate rule in their "state."
ISIS mainly executes civilians that pose a threat to the group's ability to monopolize the use of coercive force necessary to police territory under their control. 
Numerous factors contribute to the overall success of ISIS. However, in order to understand ISIS's most threatening feature—the ability to control territory—it is vital to answer who they execute and why.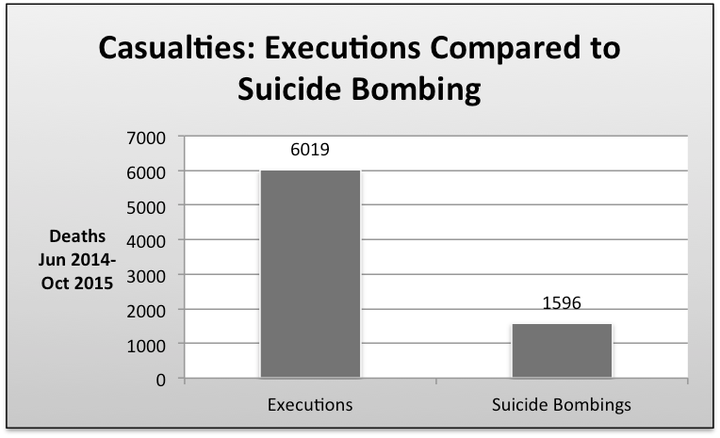 Gathering reliable data on civilians killed in war zones is notoriously difficult. However, five recent reports from the United Nations Assistance Mission for Iraq (UNAMI) provides strong evidence on the who, what, where, when, and why of 6,019 executions perpetrated by ISIS in Iraq between June 2014 and October 2015. Of course, this is not every execution that was carried out by ISIS. But UNAMI makes clear that the data does represent a discernable pattern.
 One of the most astounding findings revealed by the data is that 58% of the "noncombatants" that ISIS executes are actually captured enemy combatants. This group includes Iraqi Security Forces, police, Kurdish Peshmerga, and Shia, Sunni, and Yezidi militia fighters. In fact, the U.N. even defines a small number of ISIS fighters executed for fleeing the battlefield as "noncombatants." Defining captured fighters as "noncombatants" may raise some eyebrows among the general public. Most people likely picture women and children when hearing of civilian deaths in war zones, not Shia militiamen or insubordinate ISIS fighters. However, when captured, these fighters are technically considered "noncombatants" under relevant international law.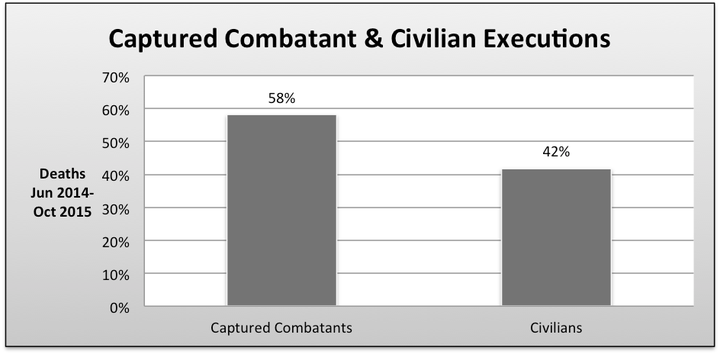 When coding the data I distinguished between "captured combatants", and "civilians" that never took part in hostilities. The dataset features 2,519 "civilians" executed between 2014 and 2015. Interestingly, the evidence reveals that four groups account for the vast majority of executed civilians.
Yezidi civilians account for the majority of the killings at 1,209. Government employees, politicians, and other professionals make up the second largest group at 381. Third, 229 civilians were killed for familial ties to tribes fighting ISIS. And the fourth largest group—at 193—are suspected collaborators with ISIS's enemies.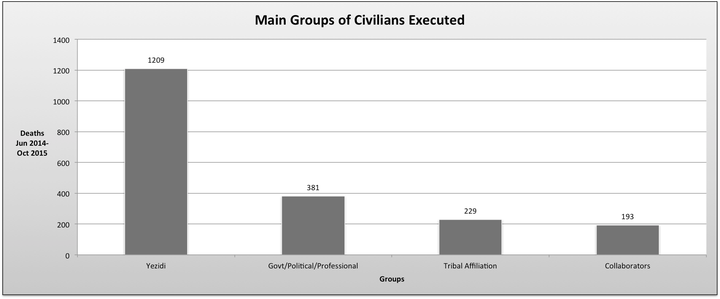 How does executing these civilians help ISIS control territory?
First, the UNAMI reports note that Yezidis are killed for their religious practices. Although Christians are legally allowed to live in ISIS territory—"as long as they pay a special tax"—the Yezidi faith is seen as incompatible with ISIS's legal rules that govern their "state."
However, anecdotal evidence suggests that the mass killing of Yezidis is more strongly correlated with ISIS's concern for security rather than than proper legal administration.
For instance, my dataset shows that Yezidi militias have fought ISIS in many of the areas that these massacres take place. Further, Yezidi men make up 87% of these killings, and the UNAMI reports are unclear if these men are actually captured fighters. Finally, as the UNAMI reports note, ISIS has allowed Yezidis to live after converting to Islam. This calls into question whether those killed are associated with the Yezidi militia, or refused conversion. However, more research is needed to evaluate the accuracy of my analysis.  
The second most executed group—government employees, politicians, and other professionals—are likely killed to replace previous regimes and institutions for ISIS's own. Interestingly, since it is clear that ISIS is not attempting to wipe out every one of these elites, those killed are likely done so when deemed threatening.
The family members of tribes fighting ISIS—the third most executed group—have the weakest connection to actual military resistance against ISIS. Unfortunately, this tactic is all too common in warfare, so the logic is quite clear: to deter continued resistance by tribal fighters.
The last group—suspected enemy collaborators—are executed to cut off the intelligence supply to ISIS's many enemies.
In fact, 133 civilians even received a trial—though unfair by the U.N.'s standards—before being executed. This, on top of the evidence already presented, shows that ISIS is attempting to communicate to its public that "law-abiding" citizens will not be executed.
According to one of the most authoritative studies on how insurgents control territory—Stathis N. Kalyvas' The Logic of Violence in Civil War—when insurgents selectively kill associates of their enemies, the majority of the population believes they will not be killed if they abide by the rules of their occupier. However, when insurgents kill at random, everyone feels under threat.
According to Kalyvas, when a population has nothing to lose they are likely to welcome any opportunity to resist. But when the majority understands they can survive by following the "law," they submit to their occupiers.
Explaining ISIS's success in Iraq requires more than just a survey of the patterns of executions by the extremist group. However, the ability to monopolize the use of force in their "state"—to paraphrase the eminent sociologist Max Weber—goes a long way toward explaining why ISIS has been able to control territory. 
REAL LIFE. REAL NEWS. REAL VOICES.
Help us tell more of the stories that matter from voices that too often remain unheard.
BEFORE YOU GO