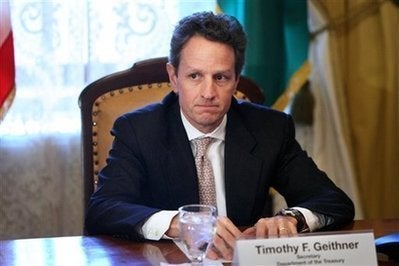 I shouldn't be surprised by now. But I still was when I read the article this morning in the Washington Post explaining that the cap on executive pay has been removed from the stimulus bill. I knew what Congress was doing yesterday by bringing the Wall Street executives in and scolding them in public was a dog and pony show. But I had not realized how profoundly full of shit these politicians are.
They make a big display of yelling at the CEOs and then the very next day they quietly remove any cap on their compensation. These people are not on our side. This is why so many Americans are so damn frustrated. Everyone in power appears to be bought and paid for. There is a circle of people in DC and NY that keep passing the money around to one another and then come and collect it from us.
I want to know -- no, I demand to know -- who killed this provision? Who argued for taking this cap on executive pay out of the stimulus bill? Do we have a free and strong press in this country? Or are they in on it, too? If not, then find out who did this to us.
The constant non-sensical argument is that if we cap their pay, they won't want to participate in this system. Ooh, don't scare us now. So, we won't get the most incompetent and corrupt losers in America to participate in their own rescue? I'm shivering thinking about the possibility of losing out on the help of these geniuses.
We're wasting our time here. Just nationalize the damn banks already. Almost all of the top economists are now in agreement that we should take this step. The people who put the money in are the people who own the company -- that's how capitalism works. I'm a die-hard capitalist. I don't want the federal government owning banks for an extended period of time. But what's worse is to continue letting these bankers rob us of our money day in and day out while we sit around like fools.
We buy it, we own it. Kick the clowns out. Run it for a limited amount of time while we stabilize the credit markets. And then sell them off in the free market. Instead of begging the bankers to loosen up credit, we take the banks and do it ourselves.
At the very least, it is unconscionable to get rid of these pay caps. On what grounds do these people think they deserve millions of dollars for bankrupting their companies? How is that capitalism? That's not capitalism, that's cronyism. They pay the politicians, the politicians pay them. They have perverted the whole system.
No way. No way. No way. We have to stop this. If we don't, I guarantee you that we will look back and realize that the bankers actually did the most amount of damage and ripped off the system for millions more after the TARP program started and we let them walk away with all the money after the companies were bankrupt.
As Joseph Stiglitz says, they are bleeding the banks right now. It's a zero sum game, every dollar they take out is a dollar we have to put in. Why are we paying them for their incompetence?
My favorite joke is when people say if we don't continue to pay these clowns millions of dollars they will take their talent elsewhere. I literally laughed out loud after writing that. Please, have at it hoss. Take your talent wherever the fuck you would like.
Is it possible that the Obama administration is behind this move? Absolutely. First, Tim Geithner is a complete Wall Street guy. He believes in protecting the Wall Street bubble. That's why they were ecstatic when he was selected. And Obama himself is a guy who is instinct is almost always to be conciliatory. If Wall Street says this is necessary, he's going to want to reach out and appease them to get things moving. But not this time. This is a conciliatory move we cannot abide.
I voted for Obama, but I did not loan out my intellect to him. I can still make up my own mind on whether he is right or wrong. And if he is participating in this, he is 100% wrong.
One last thing, the banks say that part of the stimulus cap on pay might be retroactive and that's not fair because that's changing the rules (I love how they're complaining about fairness now). They say that the banks might pull out of these deals if we change this rule on them now.
First, great, pull out. Where are you going to get the money elsewhere? Nowhere. It's the world's worst bluff. And even if they do, they run out of money. We are forced to nationalize them and we arrive at a better result anyway. Please make our day and don't take the money.
Second, on the retroactive issue. As one of our listeners pointed out, if a bank makes an error and deposits some money into your account that isn't yours and you spend it, you know what happens to you? You get arrested! We have covered numerous stories like this on the show. The bank accidentally puts in an extra $100,000 in someone's account. They spend it and they go to jail.
Here we have accidentally put too much into the bankers' accounts. I know it's too much because they took $18 billion of it home in bonuses instead of spending it on the problem at hand. If they spend it after we notify them of the error, they get arrested. They have to give the money back. It's what they do to their customers all the time.
Now, that's my solution. But that's not even in the bill. We should get that $18 billion back. But instead all we're asking for is that they not pay their executives more than $400,000 a year for being the worst businessmen in the country. Here's what I know as a fact -- that is not too much to ask for.
And if our politicians claim that is too much to ask for, then they are either the most pathetic weaklings around or they are in on the heist. Either way, if they don't put this back in the bill, they gotta go. Democrat or Republican, I don't care. If they don't understand the urgency of this, then they are not for us.
Every day we wait is another day they "bleed the banks." If there isn't a popular uprising to stop these guys from stealing our money, then we deserve what we get. The old saying goes, a fool and his money are soon parted. Are you going to be that fool?
Support HuffPost
The Stakes Have Never Been Higher
Popular in the Community