TIJUANA, MEXICO- Early last Wednesday morning, authorities in Oaxaca, Mexico announced that they had detained a man accused of killing Indymedia journalist Brad Will. The man, Lenin Osorio Ortega, is charged with the October 27, 2006 shooting that mortally wounded Will, who had been documenting demonstrations and street riots in the neighborhood of Santa Lucia del Camino, Oaxaca. Will, one of roughly 20 people killed during the violent clashes between police, had been behind the barricades with striking teachers and demonstrators from the Popular Assembly of the People of Oaxaca (APPO).
Manuel de Jesús López López, Oaxaca's current state prosecutor, told the Mexican newswire Notimex that the Attorney General's office had collected "sufficient evidence to support the investigation" into Lenin Osorio Ortega. López also stated that the state's current work was based on research conducted by the National Commission on Human Rights, (known by the Spanish acronym CNDH). According to a flurry of news articles published yesterday in Mexico, the investigation and capture of Osorio Ortega was a joint undertaking between Oaxaca state officials and Mexico's national Attorney General's Office, the Procuraduría General de la República (PGR).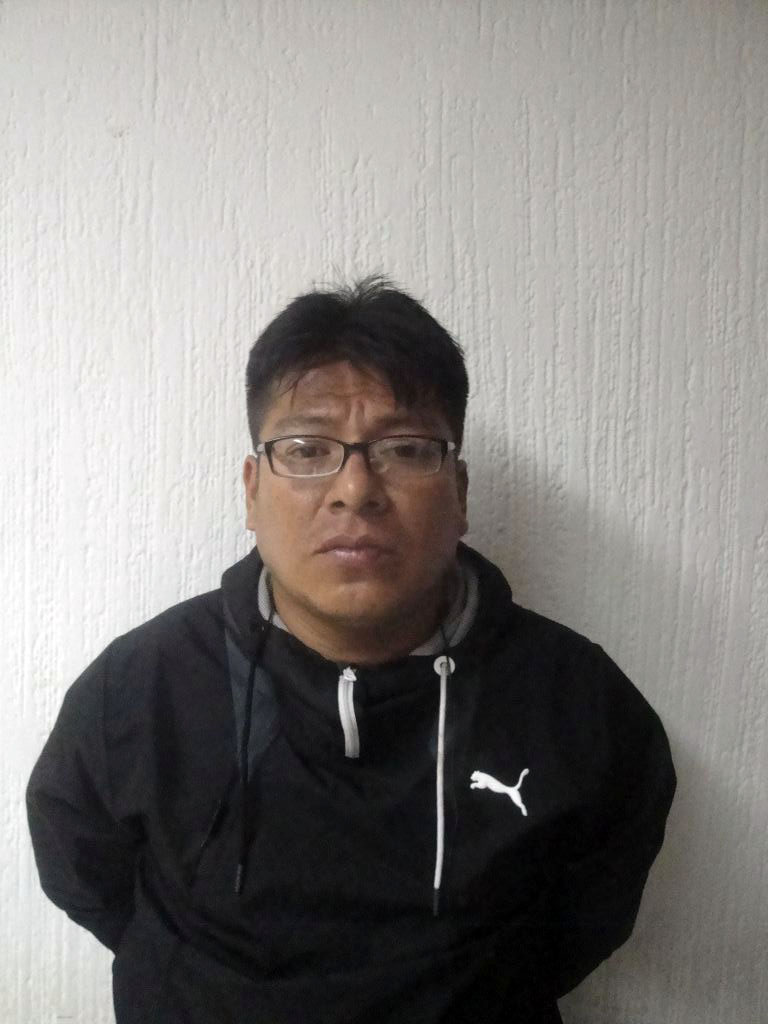 Photo of Lenin Osorio Ortega tweeted by Oaxaca branch of the Procuraduría General de la República, May 23, 2012. @pgje_oaxaca
The newly accused Lenin Osorio Ortega reportedly lived on a street called Calicanto, in Santa Lucia del Camino near the place Will was gunned down six years ago. At the Fourth Forum on Security and Justice, happening now in Mexico, news outlet Zócalo Saltillo reported that Oaxacan governor Gabino Cué described the investigation into Will's assassination as ongoing. Zócalo Saltillo wrote:
"Comentó que de acuerdo con la investigación realizada por la Fiscalía Especial, el detenido -- Lenin Osorio Ortega -- estaba muy cerca de donde estaba la barricada en que murió de disparo de arma de fuego el periodista estadunidense. "Todo hace indicar que estaba en la azotea, por la trayectoria de la bala, por la forma como cayó el cuerpo, todo el trabajo que hay detrás de la investigación se determina que es la persona que disparó."

He [Cué] commented that according to the research conducted by the Special Prosecutor, the detainee -- Lenin Osorio Ortega -- was very close to the barricade where the American journalist was shot with a firearm. "Everything seems to indicate that he was on the roof, by the trajectory of the bullet, by the way the body fell, all the work behind the investigation determines that this person was the shooter."
Mexico's Milenio also reported that Osorio Ortega shot Will from a distance of 43 meters away, and that the house whose rooftop he allegedly stood on was approximately four meters high. He was supposedly shooting towards Will, towards the APPO barricades, from the side of the municipal police trying to quash the demonstrations. The same article says state prosecutor López López said that the accused killer was not connected to the APPO or to Santa Lucía del Camino's former municipal president, Manuel Fair. There is no mention of any involvement on the part of local PRI officials or police.
At a press conference Wednesday afternoon, Mexican prosecutors described Osorio Ortega as a lone shooter. Reports from the Procuraduría General de Justicia del Estado say that Osorio Ortega was identified based on video and photo evidence related to the assassination. Milenio also reported that Osorio Ortega, who is approximately 35 years old, has a previous criminal record: an arrest for carrying an illegal firearm. He is now being held in the San Juan Bautista Cuicatlán jail.
Milenio photographer Oswaldo Ramírez was also shot and injured in the 2006 incident that killed Will.
The theory that Will had been killed from a distance, not close range, was originally presented by Mexico's National Commission on Human Rights. That idea stood in opposition to the hypothesis presented by the PGR, which claimed Will was shot by someone standing next to him behind APPO barricades. In 2009, after the nonpartisan, nonprofit group Physicians for Human Rights' International Forensics Program performed an independent review of case evidence at the request of Amnesty International and the Will family, they publicly disagreed with the conclusions stated by the PGR.
Osorio Ortega is not the first man accused of murdering Brad Will. In 2008, Mexican authorities fingered baker Juan Manuel Martínez Moreno as Will's killer. Martínez Moreno was a former member of APPO, and was subsequently held in jail for approximately two years. In February 2010, he was freed and cleared from charges.
Yet press freedom groups like Reporters Without Borders and alternative media outlets in the U.S. have repeatedly published statements attributing the killing to Oaxacan state security agents, presumed to be acting under the command of former PRI governor Ulysses Ruíz. Will had been running tape at the time of his death, and filmed men shooting directly towards him.
The two assailants shown in the video, Abel Zarate and Oswaldo Manuel Aguilar Coello, were reported to be the registrar of Santa Lucia del Camino and a municipal police officer. The Oaxaca state prosecutor's office later announced that the guns fired by Abel Santiago Zárate and Orlando Manuel Aguilar Coello did not match the bullets found in Will's body.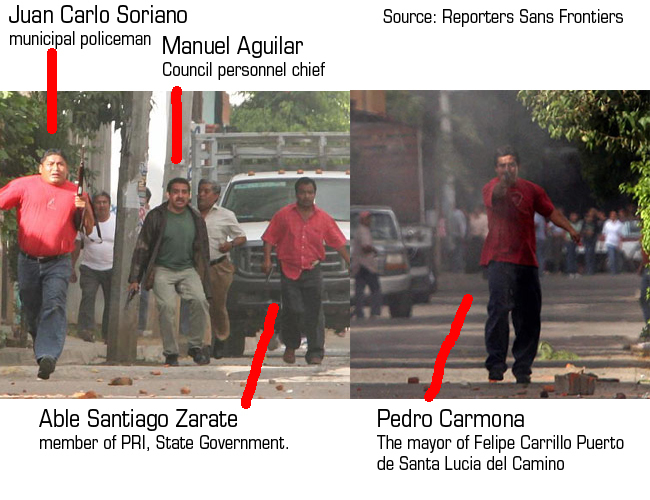 Still from video footage by Brad Will, recorded before and while he was shot.

On the website CounterPunch, independent journalist John Ross wrote in 2009:
Despite the appalling absence of resolution in Will's death three years after the fact, his killers have long been plainly identified. A front-page photo in the national daily El Universal on the morning after the shooting that has since been displayed around the world frames up four Santa Lucia de Los Caminos' police agents firing at the Indymedia photojournalist from 35 meters away. Two of the cops, Abel Zarate AKA "El Chapulin" and Manuel Aguilar Coello "El Comandante" were arrested immediately after the murder and then inexplicably cut loose several days later.... From August through November, 26 militants were gunned down by URO's police death squads that each night rode through the city firing on APPO barricades. No one has ever been charged in the killings.

Ross also reported former Oaxaca state prosecutor Rosa Lizbeth Cano Cadeza had issued arrest warrants for four APPO demonstrators: the same four who had driven Will to a local Red Cross hospital after the shooting.
In 2008, Reporters Without Borders condemned various parts of the Mexican investigation. "The investigative procedures -- fake evidence, doctored autopsy and framing of likely suspects -- condemned by the CNDH in the Will case resemble those adopted after the murder of El Mañana editor Roberto Mora in Nuevo Laredo on 19 March 2004," Reporters Without Borders noted. In a letter to Mexico's Federal Justice Minister Eduardo Medina Mora Icaza, the group decried an "unbelievable lack of transparency" and " continual impunity" surrounding the handling of the case.
"The post mortem examination and ballistic tests appeared to have been carried out with the aim of removing all suspicion of the local authorities," the statement continued.
New York City Indymedia, the community journalism organization Will worked with, also published a statement at the time his death. It said, "To believe in Indymedia is to believe that journalism is either in the service of justice or it is a cause of injustice. We speak and listen, resist and struggle. In that spirit, Brad Will was both a journalist and a human rights activist." Will, who lived in New York, was wearing an Indymedia t-shirt the day he was killed.
Whether the recent arrest of Osorio Ortega is a step towards justice in the bungled murder investigation is yet to be determined.
For more information:
El Financiero, "Cae presunto homicida del periodista Brad Will"
Oaxaca en Pie de Luchas Noticias, "Detiene PGJE a autor material del asesinato de Brad Will"
Zócalo Saltillo, "Aún no se sabe a qué grupo pertenecía asesino de Brad Will"
Milenio, "Detienen al asesino de Brad Will"
Video of Will's murder, subtitled in English, part one [GRAPHIC]: http://youtu.be/DUqKgvu4Q0k
Video of Will's murder, subtitled in English, part two [GRAPHIC]: http://youtu.be/brt4YFnMdZ8
Video of Juan Manuel Martínez Moreno on the day of his release from jail: http://youtu.be/jW8MzSO5HC0
Physicians for Human Rights International Forensic Program's analysis of evidence related to the case
CounterPunch, "Three Years Later, Brad Will is Still Dead"
Reporters Without Borders statements on Brad Will case
NYC Indymedia reprint of Noticias de Oaxaca article, "Crimes without Punishment" and Milenio article, "Brad's killers escape from the hands of Ulises"
NYC Indymedia Statement on Will's death
La Jornada, "Oaxaca: cae presunto asesino del periodista Brad Will"
Popular in the Community