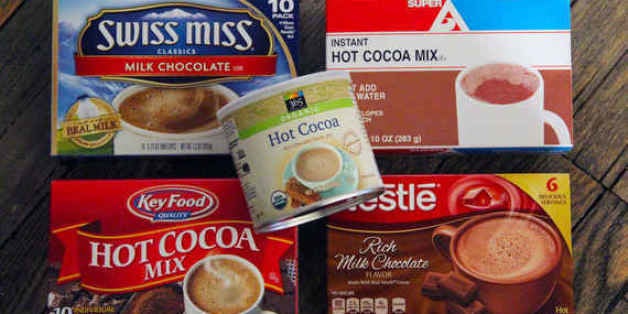 While it's technically still a few days away, let's face it: winter's here (no offense, solstice). And what better way is there to warm up than hot chocolate? Sure, you can get a gourmet cup at some coffee shop... for $10 a mug?!?! Yeah, better to just make a cup at home. But which one is the best?
Because American people seem to trust the Swiss with all things chocolate-related, Swiss Miss has been the untouchable front-runner in the hot chocolate mix scene for many years. But is it actually the cream of the crop? We scored five powdered brands and got our guinea pigs to blind taste them. (Note to PETA: relax... they're not real guinea pigs.) Here's how they stacked up:
5. Whole Foods 365 Organic Hot Cocoa
The deal: Whole Foods does some great stuff. Their salad bars are top-notch. They've got the most non-dairy milks out of any major retailer, and they're a great place to pick up the ladies. But they didn't do so well with hot chocolate, unfortunately. Most tasters described their mix as bitter and gray, which might have something to do with the fact that it uses "organic cane syrup solids" instead of sugar. It might be good if you've got a developed chocolate mix palate, but most peeps couldn't quite get into it.
Most telling quote: "It tries to act like chocolate but I don't believe it that much."
4. Super A Instant Hot Cocoa Mix
The deal: This is one of those generic store brands, and it ended up being better than major chain Whole Foods' attempt, but not by much. For the most part, it was called bland and watered-down, but even that was preferable over the bitterness of 365 Organic. Both, however, were in dire need of some whipped cream or marshmallows on top.
Most telling quote: "This tastes like someone reheated old hot chocolate."
3. Nestle Rich Milk Chocolate
The deal: For a company that deals in some of the most heavily eaten chocolate products in the world, Nestle's hot chocolate mix was decidedly middle of the road. Creamy and mellow, it didn't necessarily wow our tasters in the flavor department (it was described as being kind of chocolate pudding-y), but it certainly looked the part of hot chocolate. It was praised for its decidedly authentic-looking creaminess, even if the taste didn't quite match up.
Most telling quote: "It's thicker than the others, but not in a creamy way. Heavy, but not viscous."