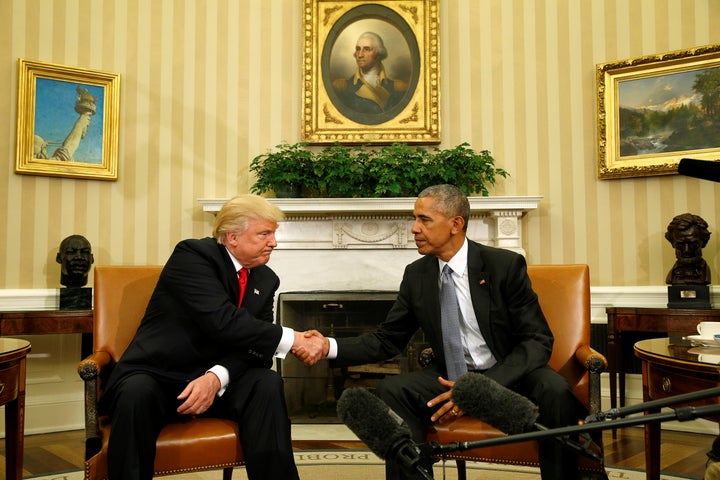 A painting by Norman Rockwell was moved in the Oval Office for the first meeting between President Obama and Mr. Trump so it would hang over Mr. Trump's shoulder. In the painting the torch of the Statue of Liberty is being repaired by five men, one of whom is an African-American. All of them are precariously roped to her flame.
Who moved the painting and why? It is clearly too small for that space; a larger landscape painting had hung there previously. Originally the Rockwell painting was displayed to the right of President Obama's desk and the expansive window, over a Frederick Remington sculpture, The Bronco Buster.
What is the meaning of this gesture? Most of my grandfather Norman Rockwell's paintings are about tolerance, unity and the inherent goodness and resilience of the human spirit. The reflection of that vision and the profound presence of Martin Luther King, Jr. in the bust below, by African-American sculptor Charles Alston, speak volumes without saying a word. Perhaps they are able to say what Obama could not in these circumstances of necessary protocol.
Rockwell "snuck" in the man in the bright red shirt (which draws attention to him) with noticeably darker skin. My grandfather occasionally did this to skirt The Saturday Evening Post's policy of only painting people of ethnicity in subservient roles to whites. And here they are working together to repair our Lady's torch. My grandfather left out the rest of liberty to focus on her strong arm outstretched to the sky, proclaiming the light of freedom to everyone, especially immigrants. The ornate protective fence around the flame is the painting's most delicate detail.
In times of great upheaval, Norman Rockwell's art and the words and actions of Martin Luther King, Jr. not only continue to resonate, but they remind us of the values and lifted vision that have always made our country great, no matter what strife or turmoil we may have to face.
Thank you to whomever moved that painting. I got the message. Hopefully others will as well.
The painting was donated by Steven Spielberg to the White House collection in 1994. It has hung in the Oval Office during the last three administrations, watching over Presidents Clinton, Bush and Obama.
The question is: will it remain there now?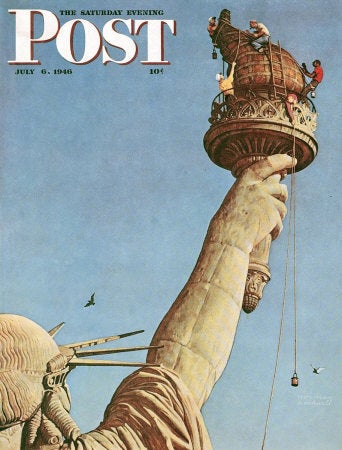 Popular in the Community