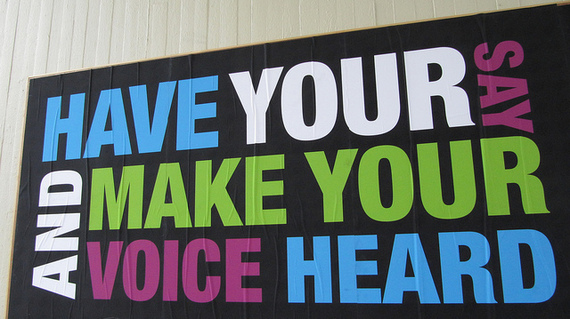 Women may be leaning in, or at least talking a lot about what that means as business leaders, but they are not doing the greatest job getting their voices heard. Instead, men are still perceived to be narrating business. It follows that men have also taken the lead in using social media to build their credibility and gain influence. So, what's stopping women leaders from using it to do the same?
Just days back from participating in The OpEd Project, with all that organization's compelling statistics on gender disparity swirling in my head, I came across an infographic on the "social CEO."
The related study, conducted by Refresh and discussed by Zach Taiji in Social Media Today, found that the average CEO who uses social media is,...wait for it...a 38 year old male. Though I guess it is "A Refreshing Look...," (as goes the infographic's title) in that there now ARE social CEOs to point to, the gender disparity therein is far from refreshing: of the social CEOs studied, 89 percent were male and 11 percent were female.
Certainly, we could dismiss the social CEO issue as one more example of the uphill battle in countering gender disparities in general. But, with any attention to the problem at all, this is actually a battle that can be more quickly won. Though we are s-l-o-w-l-y seeing more women in the CEO role and women as speakers and panelists, we already have the powerful tool we need to change the ratio of which voices in business get more consistently heard online.
Social Media As Foundational Practice
Because social media engagement has become a foundational practice toward developing influence, women could be harming their own progress by not learning to use it well. Especially in the business-to-business arena, social media engagement is how relationships are built, collaboration is seeded, and recognition for big thinking is gained. In other words, it helps agents, publishers and all those looking for emerging thinkers, speakers and authors to find you (see The OpEd Project for more on this).
The good news? Engaging with social media has the potential to fairly quickly bring a woman to the forefront of her industry or field. The challenge? Men have already been at it longer and in greater numbers.
Women As Social Business Leaders
Given that women are, indeed, conducting, improving, innovating and leading business all around us, here are a few social media savvy examples: Silicon Valley's Heidi Roizen (entrepreneur and venture capitalist), Alice Korngold (author of A Better World, Inc.) , and; Jacqueline Novogratz, founder and CEO of Acumen Fund. These women have developed an authentic and intentional digital presence, that enhances their leadership in all other areas. (It is worth noting that they each have their own preferred networks, unique "conversational" styles and time investment.)
While I know through my own experience that there are more leading business women "out there" on social media, they are quite hard to find (as per the Refresh research). This is problematic. Unless more women get actively involved in social media and can be found via a search for "women business leaders on Twitter," for example, it will be extremely difficult to change the business narrator gender ratio any time soon. Women have to be seen doing it for other women to be motivated to give it a go.
Open Access For Thought Leadership
On that front, what do male "social CEOs" seem to understand that female leaders don't? Men are wisely involved in social media because it is truly and simply smart business. They've realized the power in connecting and are taking advantage of increased exposure toward building their profiles and digital platforms. Though, while men often know how or are highly motivated to increase their follower numbers, I'd argue many have a bit to learn about getting even more benefit and impact from their efforts.
On that front, women may have a not-yet-realized social media advantage, i.e. they have possibly more innate relational skills like empathy, engagement and connecting to work with. The bottom line: IF we can get more leaders on social media altogether by increasing the number of women there, everyone will have better examples from which to learn about engaging with intention and meaning, and the smart, social leader pipeline will deepen.
For the purposes of building business through thought leadership, social media has the potential to open wide the gates of access. By default and tradition, men alone have narrated business. But, that story has grown stale. "Going social" has huge potential for helping women leaders elevate their own voices, add fresh thinking to important conversations, and build trusted community with an impact that makes a world of business difference. Mark my words.
Special thanks to Howard Lake for use of his Make Your Voice Heard image.
Support HuffPost
The Stakes Have Never Been Higher
Related
Popular in the Community