While a birthday cake is the centerpiece of most birthday celebrations, Jimmy's No. 43 - a cozy, subterranean bar in East Village known for its unique selection of craft beer and cider - recently celebrated its 10th birthday with none other than a whole suckling pig.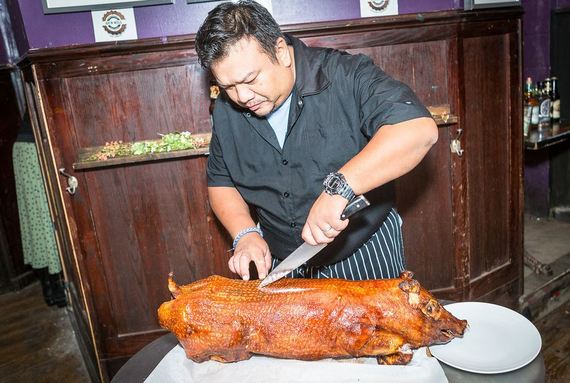 You may wonder, "Why a suckling pig to commemorate the 10th anniversary of a beer institution that has traditionally served typical bar foods like beef sliders and fries?" Jimmy's No. 43 actually underwent a drastic kitchen makeover following the devastating East Village building explosion in March. The eponymous owner of the bar, Jimmy Carbone, collaborated with his longtime friend and chef of Tito King's Kitchen, King Phojanakong, to bring delectable Thai-Filipino-fusion dishes to complement Jimmy's beer and cocktail offerings.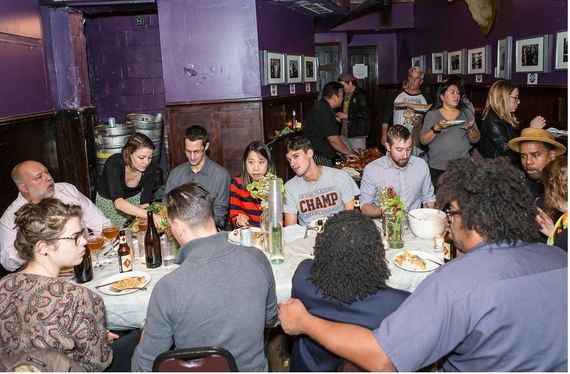 Jimmy's 10th birthday celebration was an evening of sensory delight. As I stepped into the basement level restaurant, I could smell the deep, rich flavor of roasted pig and other ethnic spices emanating from the kitchen. The grandeur sight of the whole suckling pig, together with the crispiness of the pig skin that I could actually hear as Chef King punctured the knife into the pig, absolutely made my mouth water.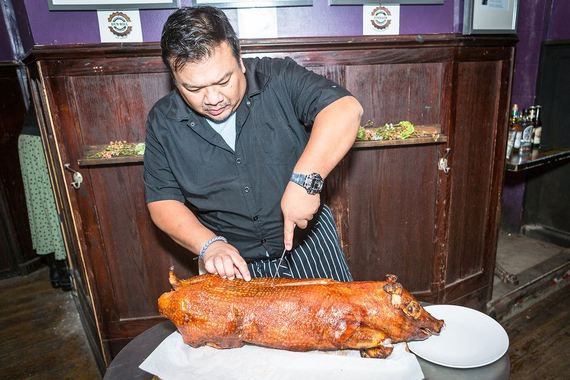 And how could I even begin to describe the taste of the pig? The skin of the pig was salted overnight and rinsed off right before roasting, which helped to draw moisture out of the skin to produce that perfectly crispy exterior. The pig was slow-roasted over charcoal with garlic and lemongrass for four hours, producing tender meat that soaked up all the juice and flavor.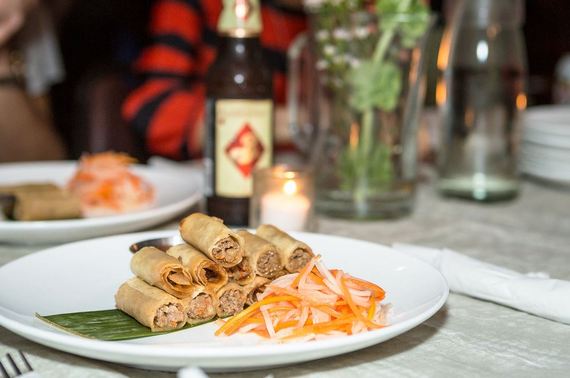 Besides this over-the-top centerpiece, I also got to sample other dishes like Lumpia Shanghai (crispy ground pork spring rolls), glass and egg noodles sauteed with pork, cabbage, and carrots, and fried rice. All the dishes paired perfectly with the Brooklyn Brewery's Sorachi Ace, an unfiltered golden farmhouse ale with a clean malt flavor.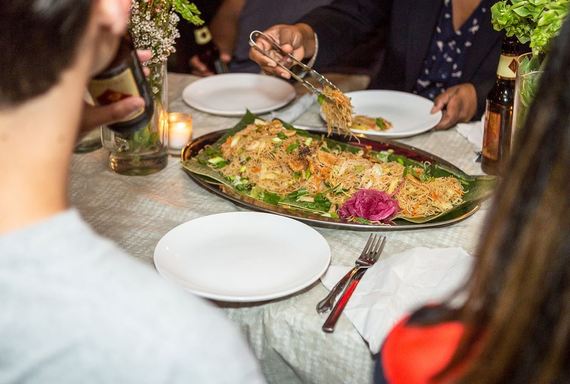 While I did not get to taste all the menu items, the kitchen also serves a range of other Thai and Filipino street food, including "adobo" chicken wings marinated with soy, vinegar, and garlic, steamed or fried dumplings, and fries loaded with pork, mayo, and bonito flake. I will certainly return to relieve Jimmy's Asian-fusion makeover - especially if it means I get to bite into that firm, crispy pork skin again!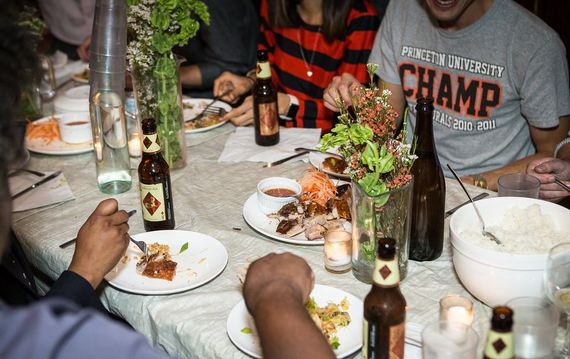 Photo courtesy of Ethan Covey
Related