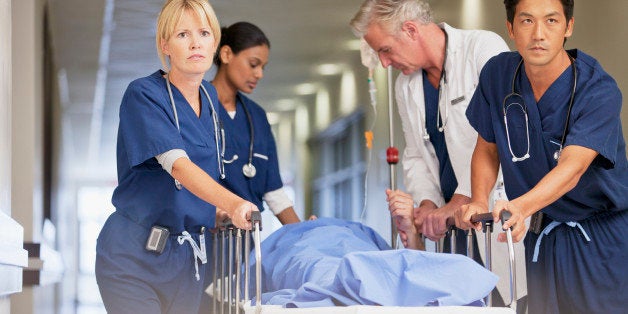 We, the nurses, take accountability. We really do. There is no one to point fingers at, no other professional colleagues to resent or blame. As Jenni Middleton, Editor of the Nursing Times, recently stated, "In many ways, the public perception of nursing is still bedpans and bandages... No one will articulate how the profession has changed unless nurses do." And so we want to acknowledge that somewhere along the line, amidst the tremendous shifts and vast restructuring of healthcare delivery, we have left you, the public, with an outdated perception of us, your nurses. We acknowledge and own it. Now it is time to fix it. This offering is just one step of many we are taking to recalibrate your understanding of nurses to the reality of who we really are.
Who are nurses in roughly 1000 words? Impossible. But I will do my best.
Florence Nightingale (1820-1910), the philosopher and foundress of modern day nursing, was an eminent statistician, public health leader, and social justice advocate for improved health outcomes. If that weren't enough, she made innumerable contributions to education, research, policy, journalism, and environmental activism. According to the Florence Nightingale Museum in London, she was the most influential woman in Victorian Britain after Queen Victoria, publishing more than 200 books, reports, and pamphlets on hospital organization and planning, inspiring the creation of the International Red Cross, and receiving Britain's Order of Merit in 1907, the highest civilian honor. Nightingale believed nursing was both an art and a science; the art of facilitating human healing and the science of applied empirical knowledge. The art and science of nursing looks something like this...
Out of Nightingale's vision was sparked the creation of a worldwide legacy. Today, nurses play multidimensional roles in countless infrastructures; we have become an extremely challenging group to clearly define, limit, or categorize. Understanding current day nursing requires the surrender of outdated and reductionist paradigms and the adoption of an expansive worldview. Globally, we are well over 19 million strong and are the largest sector of healthcare personnel in any country, in any hospital, at any given time.
Clinically speaking, we are not only the bedside caregivers who ensure safety and promote ethical engagement, we are also the advanced practice nurses (nurse practitioners, nurse anesthetists, clinical nurse specialists, and nurse midwives): largely autonomous practitioners who lead primary care initiatives and contribute unique scopes of practice and perspectives on holistic patient-centered care. Outside of the clinical realm, we are teachers, deans, executives, policy experts, NGO founders, spiritual teachers, health and wellness coaches, and government liaisons. In the United States, we lobby on Capitol Hill alongside other provider colleagues to ensure your best possible access to and delivery of high-quality healthcare. On an international scale, nurses are key experts resourced by the United Nations to implement the health improvements required of the Sustainable Development Goals, a multi-nation initiative to end poverty, protect the planet, and ensure prosperity for all over the next 15 years.
Nurses are represented and led by over 100 professional organizations, which are charged with generating new knowledge, promoting collaborative efforts among nurses and with interdisciplinary colleagues, attending to both your needs and ours, and furthering a trusting relationship with society as a whole. These organizations spearhead safe patient care initiatives and provide continuing education for nurses to ensure optimal care for all demographics. The American Association of Critical-Care Nurses is a nonprofit association and also the largest specialty nursing organization worldwide, providing the resources necessary to deliver the highest possible quality care for acutely and critically ill patients. The American Holistic Nurses Association furthers policy development and the public's perceptions of integrative healthcare so that all people may understand the benefits of and gain access to preventative wellness strategies and complementary and alternative medicine. The Transcultural Nursing Society strives for cross-cultural healthcare delivery that is culturally congruent, competent, and equitable and the Oncology Nursing Society for promoting excellence in oncology nursing and the transformation of cancer care. Organizations like the American Public Health Association provide opportunities for nurses and interdisciplinary colleagues to join efforts, share their unique professional expertise, and collaborate on action plans for a unified contribution to patient care. Nursing looks to the future to ensure exceptional healthcare for all people across the lifespan, regardless of differences in race, nationality, ethnicity, gender identification, sexual orientation, political affiliation, religion, or socioeconomic standing.
Nurses are guided by theoretical frameworks, which provide moral foundations for practice, research, and education and offer diverse conceptual approaches to the sacred work of human health and healing. For example, Human Caring Science is based on a clearly delineated ethical values system and proposes that nurses hold a covenant with society to procure and restore human dignity, first and foremost, at all times, and at any cost. Nursing theories are applied to practice at both individual and system-wide levels to assist nurses in achieving the best possible safety and quality outcomes and to increase patient satisfaction. These indicators are honored through national hospital certifications, such as the American Nurses Credentialing Center Magnet Recognition Program®, which identifies and helps steer you toward high-quality healthcare facilities that maintain exceptional care delivery standards. Our consistent excellence in care delivery and health promotion is nationally supported by major industry initiatives, such as Johnson & Johnson's Campaign for Nursing's Future, proudly recognized as an invaluable factor in the evolving healthcare scenario by the Robert Wood Johnson Foundation, and socio-politically inextricable from the future of American healthcare transformation, as prescribed by the Affordable Care Act.
You may be thinking, how did the legacy of Nightingale, an internationally renowned health leader, a woman who organized and implemented global public health initiatives with the diplomats, heads of state, and fellow scientists of her time become reduced to "bedpans and bandages," as Middleton notes above? Simple: silence - accommodation - and disconnection from professional pride and lineage. The National Student Nurses' Association's Image of Nursing Committee points out that while the social media uses wildly divergent stereotypes of nurses as battleaxes, handmaidens, airheads, or sexually promiscuous deviants, the reality is one of advocacy, intelligence, dedication, trustworthiness, and professionals who are socially and economically in high-demand.
In reality, we are the patient safety pioneers, like Laura Gasparis Vonfrolio, PhD, RN, who led 35,000 nurses from every state in the 1996 Nurses March on Washington to take a stand against the dangers of mandatory overtime and detrimental nurse:patient staffing ratios. We are the acclaimed and bestselling authors, like Tilda Shaloff, RN, BScN, CNCC(c), who chronicles both your stories and ours so that we might learn from each other and improve the healthcare experience for all. We are the global peacemaker visionaries, like Jean Watson, PhD, RN, AHN-BC, FAAN, who orchestrates annual conferences in Jordan for Israeli and Palestinian nurses and global citizens to come together as one through a lens of human caring, reconnect to a vision of unity, and celebrate their shared humanity.
We are the caregivers who are humbled, honored, and privileged to be in your service and have the skills, knowledge, policy influence, inter-/national support, and strength to do so with integrity and confidence.
We are the men and women committed to ethical and equitable health care delivery in the face of rapidly changing and uncertain times.
We are your advocates, health care leaders, coaches, and care coordinators.
Popular in the Community