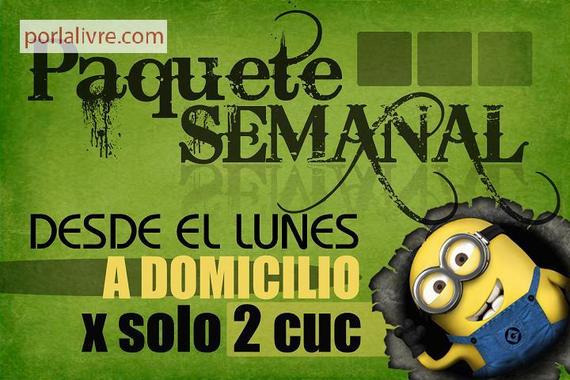 Cubans have a word for the ridiculous lengths they must sometimes go just to make ends meet. The word is resolver. Little chores that the rest of the world often takes for granted -- buying eggs, repairing a broken doorknob, finding helium balloons for a child's party -- often require determination, endless patience and MacGyver-like ingenuity. All of which are summed up with that one word: "to resolve." To "get by," or "make do."
Entertainment on the island is no different. Faced with shuttered movie theaters, no internet and state-run TV that features hours of political roundtables on such riveting topics as Ho Chi Minh's influence on Latin American political thought, Cubans have resolved up another option. It's called el paquete semanal, or the "weekly package."
The package is essentially an offline Netflix, with first-run American television and movies, software updates and any other fare that can be squeezed into a megabyte. Every Friday morning, mules carrying portable hard drives fan out across the island (rumor has it that bus drivers are involved) with a one- or two-terabyte collection of everything from Game of Thrones and Univision variety shows to Hollywood's latest movies and reggaeton albums from Puerto Rico. All of it pirated, of course.
For a buck or two (or as much as $15 if you are a wholesaler and get it early Friday morning), buyers copy the paquete to their own hard drives and have enough material to keep their computer monitors lit up for the week. It's all subtitled, week-to-week continuity for series is scrupulously maintained, and ads for restaurants or businesses in Havana who have no other advertising options (state-run papers and TV are ad-free zones) are spliced into the videos. El paquete is the reason U.S. actresses like Marg Helgenberger can't wander the streets of even Havana without being recognized.
The paquete has always been shrouded in great mystery. Intrigue even. Some say it is produced in Miami and hand-carried to the island. Others say it's a homegrown effort. Most believe the former, mainly because high-speed internet connections on the island are unheard of and downloading a terabyte or two of data would be impossibly time-consuming.
But there is one other theory out there -- that the paquete is a product of the Cuban government.
Isbel Diaz Torres, a Cuban blogger, wondered recently how it is that Cuban television shows and music make their way into the paquete. This would suggest direct links to the government institutions that produce this material. Who else but the government in technology-starved Cuba, Diaz says, has the technological capacity and human resources to pull off a feat like the paquete?
Other, more recent developments lend even more credence to his theory. Following the December announcement of renewed U.S.-Cuba relations, several Miami-based talk and variety shows that used to show up in the paquete disappeared for a time. Those shows spent a fair amount of time discussing the thaw in terms not-so-favorable to the Castro regime.
Another instance of censorship surfaced last week when Revolico.com, the island's version of Craigslist, disappeared from the paquete. It's no secret that the government is not a big fan of Revolico. It's even gone as far as to suspend the email accounts and internet access of people accessing the online version from the island. But it tolerated it, and Revolico has been a staple of the paquete for some time. Until now, it seems.
According to the independent CubaNet, the "administrators" of one version of the paquete informed readers that Revolico would no longer be available because it has been used to for the purposes of "personal and political defamation against the country and its citizens." Such language is straight out of a Cuban government playbook.
And the timing may not be coincidental. In an effort to get a grip on the burgeoning black market, the government recently launched an off- and on-line competitor to Revolico called Ofertas. Hard copies of the classified circular started circulating a couple weeks ago and an accompanying website is said to be in the works. No one competes with the government in Cuba.
One last notable characteristic of the paquete supports Diaz's theory -- there is no pornography in it. A black hat pirate looking only to make a buck would surely include the most prolific and profitable form of digital entertainment on the planet in his or her package. An official or semi-official offering would by necessity be family-friendly.
The Cuban government and military are notorious for getting the middle of any lucrative sideline on the island, and we have to assume that the paquete is pretty darn profitable. Faced with none of the overhead of a Netflix or Hulu (licensing fees, hosting charges, etc.), the paquete is making someone or something millions of dollars a year. If we assume, very conservatively, that 250,000 of Cuba's 11 million residents pay a dollar for the package each week, that amounts to $12 million in annual revenue, almost all of it profit.

If the paquete is a product of some Cuban ministry or other, the Castros are going to have to 'splaining to do if they ever sit down with the Justice Department.
Scott Norvell is founder and curator-in-chief of CubaNotes.com, an independent and non-partisan source of news from and about Cuba. He has been visiting Cuba since 1991.
Related
Popular in the Community