Guest post by Armando Alvarez. Armando is a 2nd year MD/MPH student at the University of Miami Miller School of Medicine. He is passionate about childhood obesity prevention and increasing the access to care through telemedicine and telehealth services. See more about Armando here.
Who paid you to say that, doc? That question, that highly inappropriate question is what will get you the truth, if they answer it. Major medical associations have been drawing conclusions and taking stances for the general well being of patients, but who is paying for those stances? In September of 2015, the American Academy of Pediatrics (AAP) dropped its allegiance to Coca-Cola after taking 3 million dollars to start the AAP's website healthychildren.org.1,2 In other words, the sugary beverage company whose major products have been associated with the increasing childhood obesity epidemic has stopped giving money to the association who is in charge of making unbiased opinions towards our children's health. It is somewhat unsettling once that sinks in, but that's not all, not by a long shot.
Coca-Cola also funds researchers to study the effects, causes, and health impacts of childhood obesity, arguably the largest epidemic of our generation. Rephrased, the researchers who publish scientific, peer-reviewed studies which are featured in medical journals where clinicians, dietitians, and policy makers make decisions and guidelines concerning the well-being of our children are paid for by the company whose product physicians, dietitians and policy makers tell consumers to limit due to its known deleterious health effects.

Let's not be naïve, Coca-Cola is not the only company who is or has paid for and partnered with science to further its own goals. One notable example of another such unholy union is the unbiased, objective Tobacco Institute (TI). Hopefully the sarcasm and frustration is palpable. The TI was established to punch holes in the research of those who suspected tobacco to be the cause of a host of diseases, most notably cancer.3 Today, it's easy to call the TI crooked and deceiving, but at that moment, it bought time, literally and metaphorically. Why this comparison, tobacco and Coke? Because the strategies and cultural integration are the same. Celebrities wielding their favorite Chesterfield or Camel: Frank Sinatra, Hank Aaron, and Joan Crawford compared to celebrities wielding their favorite coke: Taylor Swift, Lebron James, and the Olympic's athletes.

The irony, yet the brilliance.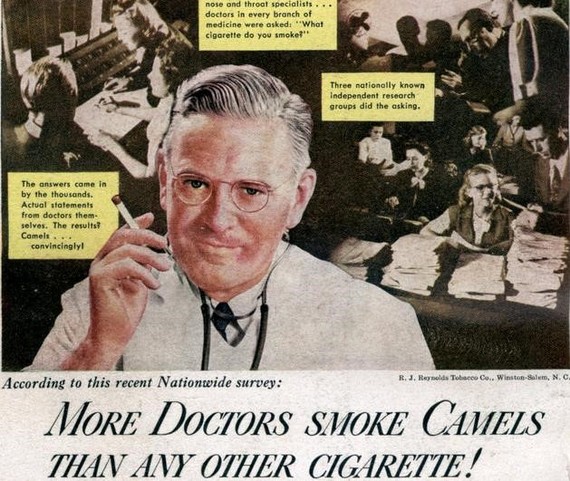 An ad from Popular Science magazine published in March, 1946
Jane Mejdahl, CC BY-SA 2.0
It's a systemic and infrastructural issue--the companies, the diseases, and research. Evidence based medicine needs researchers and those researchers need money. Companies have the money to pay for the research that the scientists need to provide evidence based medicine. It's a dysfunctional and problematic union when capitalism and science marry...when dollar bills become statistically significant.
In November of 2015, the University of Colorado returned one million dollars to Coca-Cola. Not because they chose to or because they felt compelled to. They returned the money because it casts doubt on their research, which turns the attention away from soda and onto exercise.4 The debate over the cause of obesity is difficult; family history, ethnicity, epigenetics, the environment and a host of other factors are being studied. Coca-Cola funds one fundamental obesity research question: calories in and calories out.4 The calories in and calories out philosophy is simple, eat 2500 calories and then burn 3000 calories during the day, you lose weight. It's the approach every gym fanatic and health magazine preaches; basically it's the popular one, but does it make sense? It makes mathematical sense, but does it make biological sense? Is 2500 calories from Coca-Cola, a double cheeseburger, and a diet Hershey pie the same as a salad with hummus and a glass of water? Some science says yes, but what science?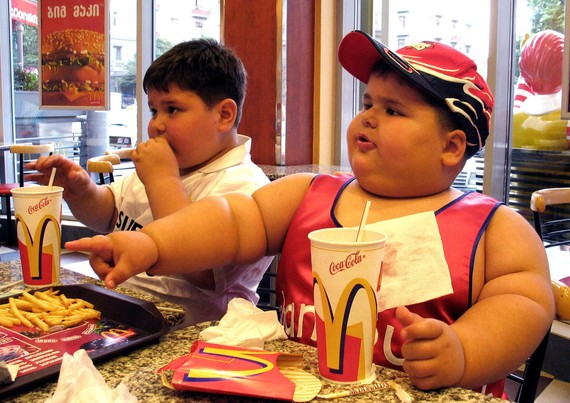 Robin Corps, CC BY-SA 2.0
One group of researchers are firm believers in this train of thought. The Beverage Institute for Health and Wellness favors the idea of increasing exercise and focus less on calories. Reread that last sentence. Yes, there is an actual institute for health and wellness sponsored by Coca-Cola. Eerily similar to the TI. Renowned researchers are among those who believe in this approach to health and wellness. One researcher, Steve Blair, says, "Oh they're eating too much, eating too much, eating too much' blaming fast food, blaming sugary drinks and so on, and there's really virtually no compelling evidence that that, in fact is the cause."4 Steve Blair is no rookie to the scientific community, according to Shape Up America, "Dr. Blair is past-president of the American College of Sports Medicine (ACSM), National Coalition for Promoting Physical Activity, and the American Kinesiology Academy." "He has published over 550 papers and chapters in the scientific literature, and is one of the most highly cited exercise scientists with over 31,000 citations to his body of work. He was the Senior Scientific Editor for the U.S. Surgeon General's Report on Physical Activity and Health."5 The University of South Carolina, where Dr. Blair conducts his research, disclosed that Dr. Blair had received some compensation from a beverage company since 2008.4
Remember that first question, "who paid you to say that, doc?" Ask it now. The answer: Coca-Cola. How much? 3.5 million dollars.4 There is no one answer to the obesity epidemic, but the Benjamins might help you decide.
1.http://topics.nytimes.com/top/reference/timestopics/organizations/a/american_academy_of_pediatrics/index.html
2.http://well.blogs.nytimes.com/2015/11/06/university-returns-1-million-grant-to-coca-cola/
3.http://www.ncbi.nlm.nih.gov/pmc/articles/PMC2600597/
4.http://well.blogs.nytimes.com/2015/08/09/coca-cola-funds-scientists-who-shift-blame-for-obesity-away-from-bad-diets/
5.http://shapeup.org/scientific-advisors/
REAL LIFE. REAL NEWS. REAL VOICES.
Help us tell more of the stories that matter from voices that too often remain unheard.