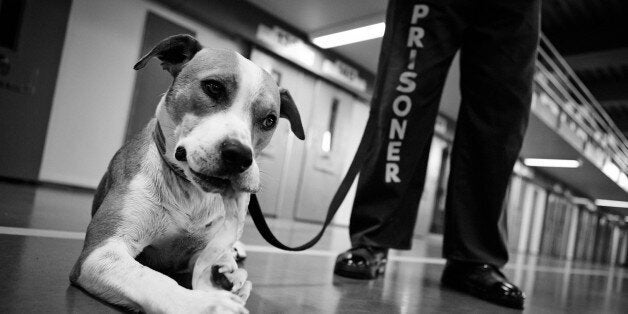 August 9, 2014, was one of the most memorable days of my life. On that day I entered a maximum-security prison in Lancaster, Calif. to witness an extraordinary event connecting the lives of some of its inmates with a pack of rescued shelter dogs. Just a few months ago, five lucky dogs -- Shelby, Oreo, Rendell, Chuey and Eddie -- beat the odds and were pulled from a high-kill shelter in Los Angeles and entered this Level 4 prison for a chance at a better life.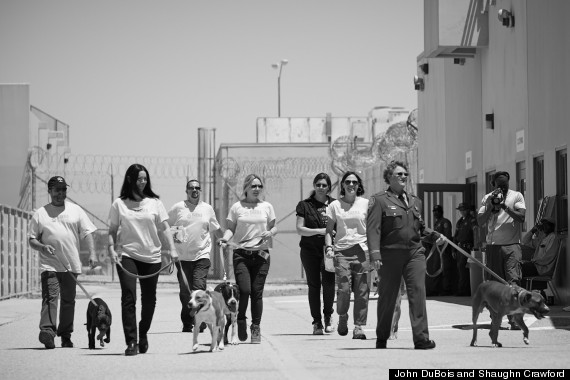 Earlier this year, Karma Rescue, a nonprofit that saves at-risk dogs from high-kill shelters across Southern California, partnered with the California State Prison Los Angeles County in Lancaster to create "Paws for Life," a program that matches rescued dogs with inmates who train them to boost their odds of adoption. Programs that pair inmates with shelter dogs exist across the nation, but this is the first program in California to take place at a high-security prison with inmates serving life sentences.
Karma Rescue has saved the lives of over 2,000 dogs since their inception in 2003, placing them in loving "forever" homes. Education and outreach has always been part of their mission statement, so when officials from the California Department of Corrections and Rehabilitation approached Karma with this unique opportunity, it seemed like a perfect match.
The inmates eligible for the program were part of the prison's Progressive Programming Facility, a voluntary program through which prisoners commit to rehabilitation by upholding an environment free of violence, disruption and illegal drug use.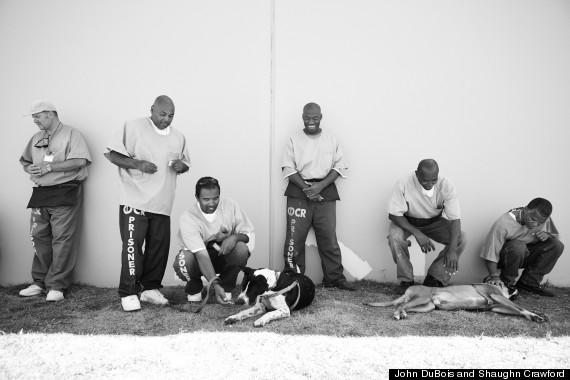 Inmates applied for the limited slots for Paws for Life by participating in interviews and writing essays, often laden with extraordinary reflections on their lives. Here are some excerpts:
It's a pleasure to simply observe dogs and to be observed by them. Caring for them is an opportunity and a privilege to openly display caring and compassion, and at times let my inner child out when playing with the dogs; being mindful of the overall goal of training for adoption. I know that the best of me that I give will be the ensured success of the puppy/dog. It feels good to nurture and care!

I have no inhibitions about availing myself to any aspect of caring for the dogs ...If I've learned nothing else in my life, it's tolerance, patience, and caring for myself and others. However, I have a sneaking suspicion that the dogs might teach me something about myself. -- Jack
I've been in prisons and jails ... since the age of 12 and now I am 40. ... One of a multitude of things I lost out on was raising my dog Tippy...He had an abundance of character and I loved him as one of my family members ...he was my best friend.

If I were chosen to be part of this program, I hope I can help make a dog available for adoption so another family can have as much love and joy in their lives with their adopted dog as my family and I had.

I know some people in society may think that we as prisoners don't have anything good left in ourselves or have redeemable qualities, or be allowed any goodness in our lives; however contrary to that thinking I know in my heart this to be the opposite. Having someone to even suggest that we as prisoners would be good candidates for the Karma Rescue (Paws for Life program) demonstrates my beliefs that we have much left yet to offer society even if we potentially will never again be a part of that society.

Once again, thank you so very much for this program and opportunity. And, hey, who could better identify with a locked up pound dog than us? :) :) -- Christopher
My reason for wanting to be a part of Paws for Life is simple. For most of my life I lived a very selfish lifestyle which led me to prison. I see Paws for Life as a chance to save a dog's life. I understand what it's like to be caged up. Also I know this could be a life saving program for these dogs. Plus Paws for Life gives me the chance to give back, to do something for someone else, to give back to a society that I cheated ... I do understand that a dog trained is a dog that's ready to be adopted, and a dog adopted is a life saved, and changed! -- Travielle
I have been locked up for over twenty two years...The biggest reason why I want to help care for, feed, train and love the dogs; I want to be a part of giving someone something that will always love them and be there for them always. A person can give as much money the he or she has to charity or person, but no amount of money can love a person or go fetch a child's favorite toy or teddy bear. Please allow me to give a person more than words or money. -- Oliver
Fourteen inmates were then selected to train five shelter dogs who stayed at the prison this summer for a 12-week program. From the very beginning, the program struck a chord with everyone involved. Karma Rescue's founder Rande Levine wrote, "Men who had not seen an animal in decades were openly emotional at the sight of the beautiful creatures before them. Just petting our dogs brought many to happy tears. It was a day I will never, ever forget."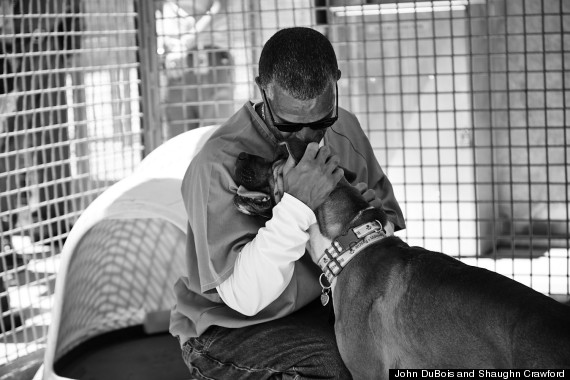 Several times a week, professional dog trainer Mark Tipton and several dedicated Karma Rescue volunteers drove out to the prison to instruct the inmates on how to train their assigned dogs for 'Canine Good Citizen' certification, a designation that increases the chance that a dog will be successfully adopted.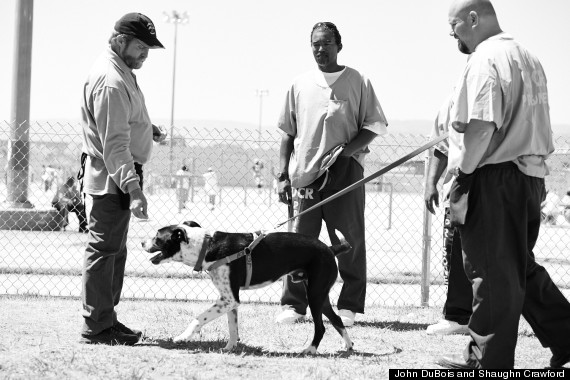 I attended the graduation of the first class of Paws for Life on August 9th, and what made it so powerful was the pervasive sense that absolutely everybody involved in the program -- the volunteers, the prison warden and staff, the inmates, the dogs, and everyone in their vicinity -- was transformed by it.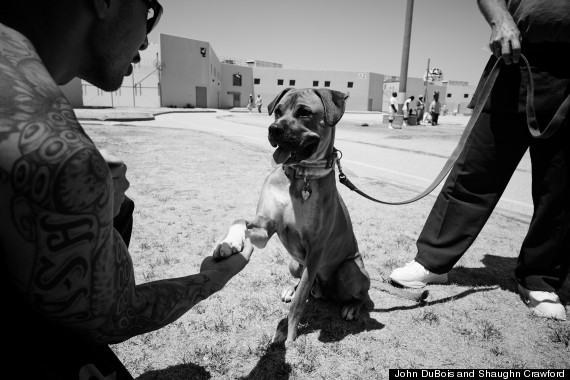 Four of the dogs in the program have already been adopted into loving homes. And the inmates gained experience and skills that renewed their own lives and souls as much as the dogs they shared their lives with during those 12 weeks. The program was so successful that it will continue, with 10 new dogs entering the prison in September.
That afternoon at the graduation ceremony revealed a part of humanity we don't expect to see around a prison yard. When you think of a warden of a maximum security prison, "compassion" is not the first word that you would expect to come to mind -- but the prison warden John Soto seemed to embody the very concept.
"My love for animals was the initial kicker, I loved animals my whole life; my wife is my encouragement to look at ways for our inmates who really want to do well. If I could do anything for them to make a change in their life, it's so worth it ... I tell everybody...the difference between them and us is that we turned left and they turned right, we could have easily have turned down the same road and be faced with the same circumstances they are. I would only hope that someone would give me a chance if it happened to me," Mr. Soto explained.
Although the program was limited to 14 inmates, it was clear there has been a ripple effect through the prison.
"The calming effect of the staff, the interaction between the staff and inmates is amazing. Before it was yes sir, no sir -- now it's more cordial ... it's two human beings having a conversation. The hearts are totally open," said Mr. Soto.
For Captain Crystal Wood, having the Paws for Life program represents a "lifelong dream" of hers to have a dog program at the prison. She noticed a huge change in the inmates in a relatively short time after the dogs entered the prison.
"A lot of times in this setting it's so depressing and you don't show emotion...feelings and when you have a creature that gives you unconditional love and licks you and doesn't care - you see men who've been in prison for 20 and 30 years break down and cry just for the compassion and the humanity. It's just generally made the yard a calmer place," Capt. Wood said.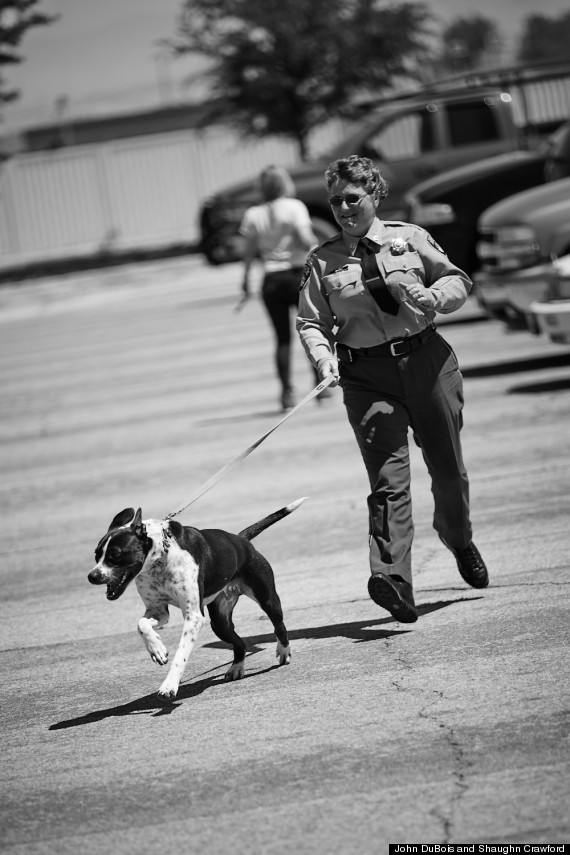 Mark Tipton, the trainer for the inmates, was beaming and proud of his students: "I had high hopes and they met them. When I first came I had one of the officers tell me, 'I've never seen any of these guys smile and I've been here 14, 15 years and now they're coming out smiling like Cheshire cats.' They have smiles on their faces -- happy, happy - and it gives them purpose."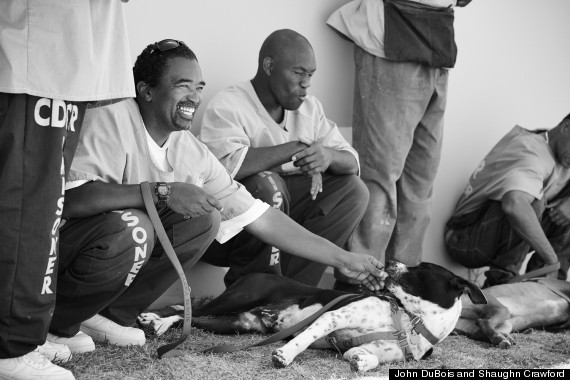 I interviewed some of the inmates involved in the program after their graduation ceremony. Here are some excerpts from their heartfelt testimonies:
Travielle: "I came into prison when I was 19 years old so I haven't had much life experience. My philosophy has always been, 'I don't know if I can.' This program has taught me, 'Yes, I can.' This program has taught me unconditional love. Chuey was my first dog. Chuey did not know why I was in prison, Chuey didn't know that he was even in prison, that I was in prison, and the dogs loved us anyway - and I think [the program] helped connect me to society. It helped me to heal and to a degree they gave me forgiveness because they are connected to society that I can't reach and so I'll be able to reach society through Oreo and Chuey."
Jon: "Everything has improved in my life. This program has given our hearts a chance to heal, has restored my faith in humanity. It's made me feel like a human being, given me self worth again, that I had the ability to give back, brought me closer to my bros that I train with. We worked really hard day and night to make this happen. Every bit of this program has been an honor to be a part of."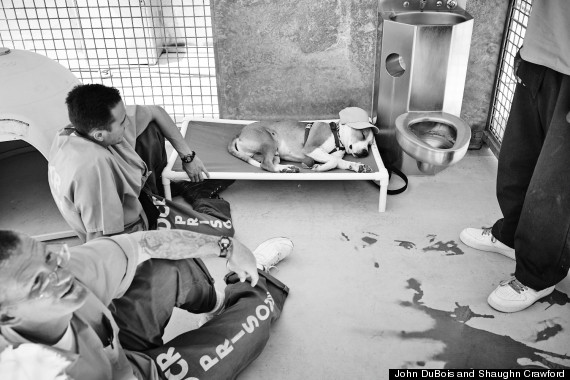 DeAngelo: "The dogs have taught me how to be patient and how to continue to love no matter what's going on around you and to you, just continue to learn how to love. No matter what's going on with the dog, he responds the same way ... he loves you, and that's what I got out of that. Our trainer, Mark, he taught us patience, how to be gentle, how to love. He was very patient with us."
John M.: "This program has saved my life. It's pretty simple. I have been in prison for twenty plus years...The Paws for Life program came along with Karma and all of a sudden I can love again. I can feel love. I can experience emotions that I have been holding down for twenty plus years...I sleep better at night, I'm more able to speak with people, I'm a little bit more literate. All of this comes from having a dog."
Oliver: "It gave me another chance at unconditional love. It's changed the entire yard, there is a lot of peace with the C.O.s (Correctional Officers) and other inmates. It brought everybody closer."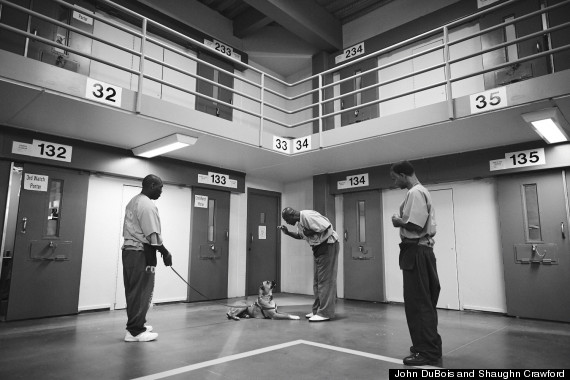 Every inmate that I spoke with expressed how deeply this program had touched their hearts, and shared sincere gratitude for the support of Warden Soto and Captain Wood, often referring to them as "awesome" and "amazing."
Although there were certainly bittersweet moments as the inmates prepared to say goodbye to the dogs they had loved and cared for, they were overjoyed that they could positively contribute to society and meet the people whose lives were now going to be enriched by their new canine companion.
After they received their Paws for Life Certificates of Completion (and the dogs received their Canine Good Citizen status as well as "bacon and cheese diplomas"), the inmates spent quite a bit of time with the families, giving them pointers on how to continue the excellent care that they had given to the dogs. Observing the inmates bond with the families and beam with pride over the dogs was an incredibly moving (and tear jerking -- "happy tears") experience. The energy in the room was electric.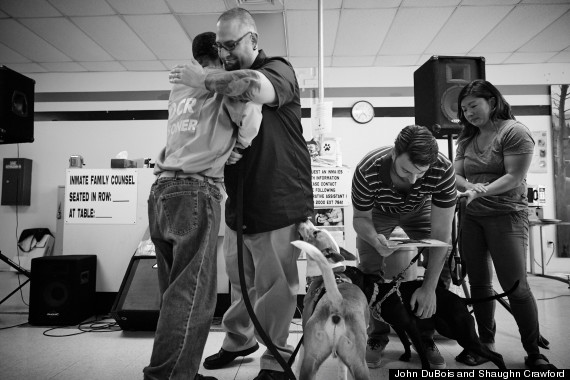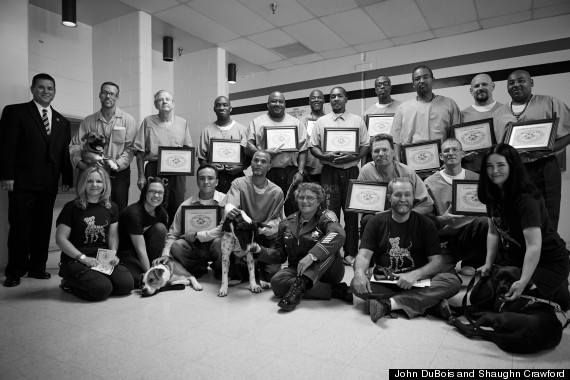 Witnessing this program had an enormous impact on me, and I am deeply grateful for the opportunity. A couple of weeks have passed and my mind still lingers on the occasion; when I think of the graduation ceremony, those happy tears start flowing again. The compassion and care that I witnessed at a maximum-security prison was so thick it could be cut with a knife. And it was genuine. I am thrilled programs like this exist to allow people -- and dogs -- to have a second chance at life.
Five dogs. 12 weeks. Increased compassion. Better sleep. More patience. Peace of mind. Improved relationships. Smiles. Opened hearts. Expressed emotions. More unconditional love. At a maximum security prison.
And the dogs didn't charge for their services.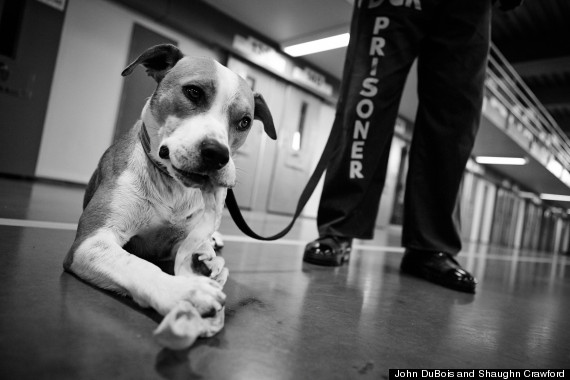 All photos by John DuBois and Shaughn Crawford.
Related