The holiday season is almost upon us, and there's no gift that brings more joy into your home than an adopted or rescued pet. I can't even think of a day without my beautiful dog, Madison! The unconditional love and warmth that a pet adds to your world is as priceless as the animal's life you are saving.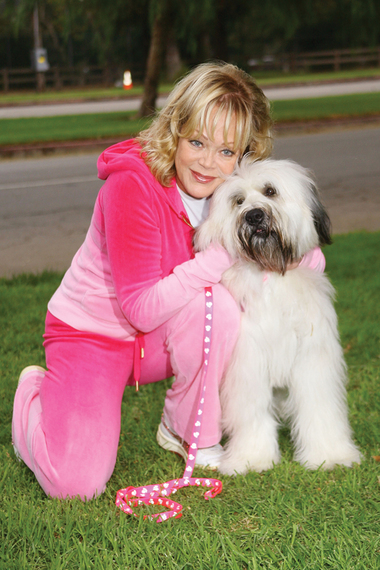 If a pet isn't in the cards but you love animals, donating to your favorite animal charity is a great idea -- or giving the gift of a donation in a loved one's honor is a warm and wonderful way to make a difference.
I am extremely honored to recently become the Vice Chair of American Humane Association's Board of Directors, where I donate my time as well as capital, to do my small part in the bigger picture. American Humane Association is the country's first national humane organization and the only one dedicated to protecting both children and animals. I have always worked to support these issues and am proud to be part of this historic organization, which for 138 years has championed the cause of the most vulnerable.
Speaking of charitable contributions, I am so impressed with Jon Stewart and his beautiful wife, Tracey, both longtime animal welfare advocates. They are partnering with Farm Sanctuary, America's leading farm animal protection organization, renovating the charity's fourth location, Bufflehead Farm in New Jersey, into a non-profit factory-farm animal rescue sanctuary. This is a premiere example of putting money (and lots of hard work) where your mouth is, so let's applaud and support this outstanding couple and their generous labor of love.
Animal activism, compassion and involvement can start at any age, no matter how young or old, but children just seem to "get it," the awareness that living things outside of their own human world are important. Speak with your own children or grandchildren about donating from their piggy banks (or bank accounts) to a favorite animal organization this holiday, and start them on a wonderful habit of caring and giving.
I will do my part too! I will match $1 for the first 5,000 "LIKEs" I receive on this post between November 24th and midnight PST on "Black Friday," November 27th and will donate it to American Humane Association. So please click the LIKE button on this post to help me support this important group.
You can make a difference, too. Visit American Humane Association at www.americanhumane.org and Farm Sanctuary at www.farmsanctuary.org today. I'm sure you will agree that helping animals truly brings an extra dose of joy into your holiday season.
Calling all HuffPost superfans!
Sign up for membership to become a founding member and help shape HuffPost's next chapter